Rare Japanese Manuscript
Early British Appearance at Edo Japan
During Sakoku Isolation Era
Foreigners Forbidden Entry

HMS Mariner Survey Expedition
With Castaway Otokichi
Pre-dating Commodore Perry by Four Years
1849
嘉永二年酉閏四月 暗ヶ利亜舩渡来記
[Kaei Ni-nen Tori-uru Shi-gatsu: Angeria-sen Toraiki. "Record of the Arrival of a Ship from Anglia, Fourth Month of 1849"]

Japan, late Edo period (mid-19th century). Manuscript record of the unexpected arrival of the British HMS Mariner led by Commander Charles Mitchell Mathison in Japan, in 1849, with interest in making surveys around Edo (Tokyo), four years prior to Commodore Perry's arrival, and during Japan's period of isolation (Sakoku) during which most foreigners were prohibited entry in to the country and locals prohibited exit; containing also a description of Japanese castaway Otokichi who was on the British vessel, disguised as a Chinese to evade capital punishment, who later assisted Admiral James Stirling in establishing the 1854 Anglo-Japanese Friendship Treaty. Text is in Japanese. 8vo. 44 pages in manuscript, plus title page, on 23 unpaginated double leaves. Traditional karitoji paper binding string-stitched at spine, fukurotoji style ("bound-pocket" with folded leafs bound into spine), and opening from left to right. Complete in a single volume, measuring approximately 24 x 17 cm. A scant few ink marks to rear leaf margin, indication of some burrowing, unobtrusive to legibility, otherwise in very good condition, beautifully preserved, clean and bright, an exceedingly scarce work.Certainly an assertive manoeuvre, for the British to show up unannounced in the harbour of Edo, Japan was in the state of Sakoku ("locked country"), the isolationist foreign policy of the Tokugawa shogunate under which relations and trade between Japan and other countries were severely limited, and nearly all foreign nationals were barred from entering Japan, while common Japanese people were kept from leaving the country. The long-standing policy had been in place for over two centuries, since 1603, and would last a few more years after the departure of HMS Mariner.It was Commodore Perry in 1853, and his equally brazen arrival with his American Black Ships, that would force the opening of Japan to American trade through a series of treaties called the Convention of Kanagawa, ultimately ending the island's declaration of Sakoku, and facilitating other trade relations with Western nations.On 14 October, 1854, the first limited Anglo-Japanese Friendship Treaty was signed by Admiral Sir James Stirling and representatives of the Tokugawa shogunate (Bakufu). Yamamoto Otokichi (1818-1867), who was onboard HMS Mariner disguised as a Chinese interpreter during the ship's attempted entry in Japan, later played an instrumental role in establishing this treaty, providing Stirling with intel on language and culture during the negotiations.On 26 August 1858, the Anglo-Japanese Treaty of Amity and Commerce was signed by the Scotsman Lord Elgin and representatives of the Tokugawa shogunate for Japan, after the Harris Treaty was concluded. Britain obtained extraterritorial rights on Japanese with the British Supreme Court for China and Japan, in Shanghai. A British iron paddle schooner named Enpiroru was presented to the Tokugawa administration by Bruce as a present for the Emperor from Queen Victoria.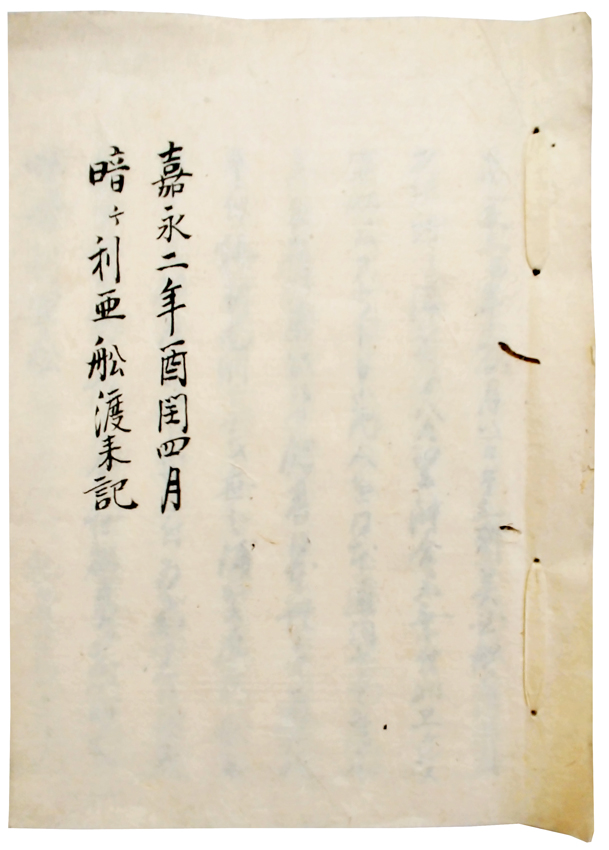 A scarce compilation of records from the Japanese perspective on a pre-Perry interaction between Bakufu authorities and a British ship, with references to Otokichi.This manuscript collates four Japanese reports of the British ship the HMS Mariner, which arrived in Japan from Shanghai in May of 1849 to make a topographical survey of the area around Edo (modern-day Tokyo), led by Commander Charles Mitchell Mathison, who had entered the Royal Navy on 5 August 1819. The event marks a very early British appearance at Japan, also pre-dating by four years the imposing arrival of Commodore Perry and his American Black ships also intent on making surveys.The first record briefly describes the layout of the Mariner and the aim of its visit to Japan. It also mentions the considerable Japanese language abilities of the Chinese interpreter on board who explained things in a way that is easy to understand, he in fact being the Japanese castaway Yamamoto Otokichi (1818-1867).The second section records foreign ship sightings from daimyo with guardhouses on the Miura Peninsula. [daimto were the most powerful landholding magnates holding the largest sections of land]The third report describes the meeting of Commander Mathison and the Bakufu intendant Egawa Tarozaemon (1801-1855), a dispute over a map of Japan, and Japanese observations of the ship and the crew.The last report is a copy of Isenokami Abe's (Masahiro Abe: 1819-1857) message to the bugyo (magistrates) and metsuke (censors/inspectors) in which, with HMS Mariner in mind, he expresses concern about the increase in the number of foreign ship arrivals in recent years and the abandoning of the Edict to Repel Foreign Ships. Abe notes that if the edict is enforced again, while there is no illegality on the part of the foreign ships, a dispute could arise, thus cautioning the noble families on the coast to prepare defenses. [Only a few years after the arrival of HMS Mariner, Isenokami would play a major role in the signing of the Convention of Kanagawa, as a result of pressure from the Perry Expedition.]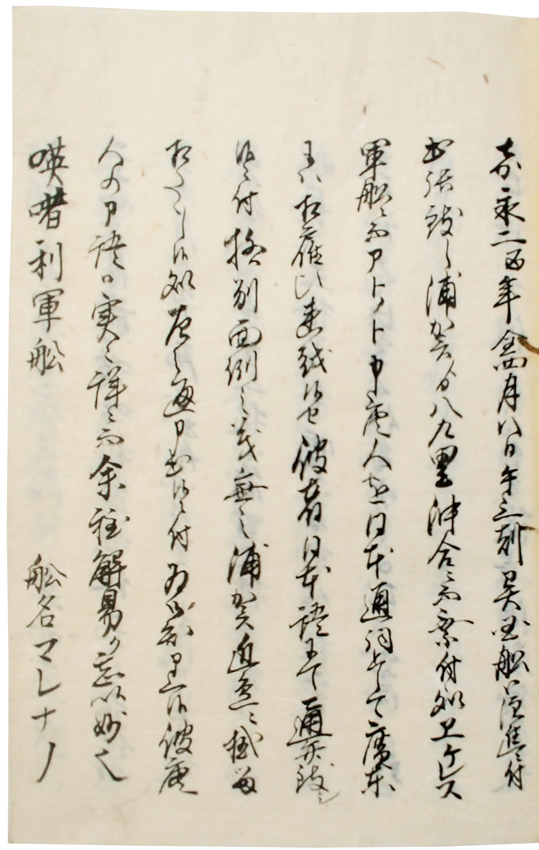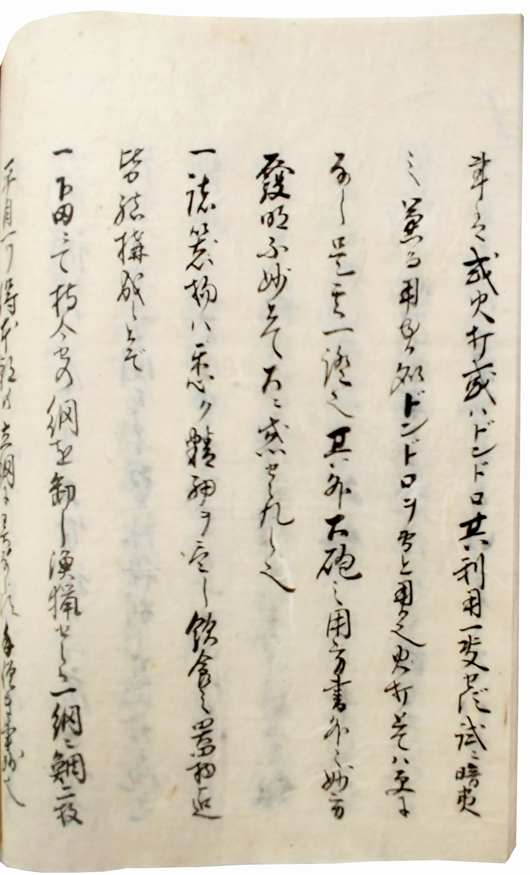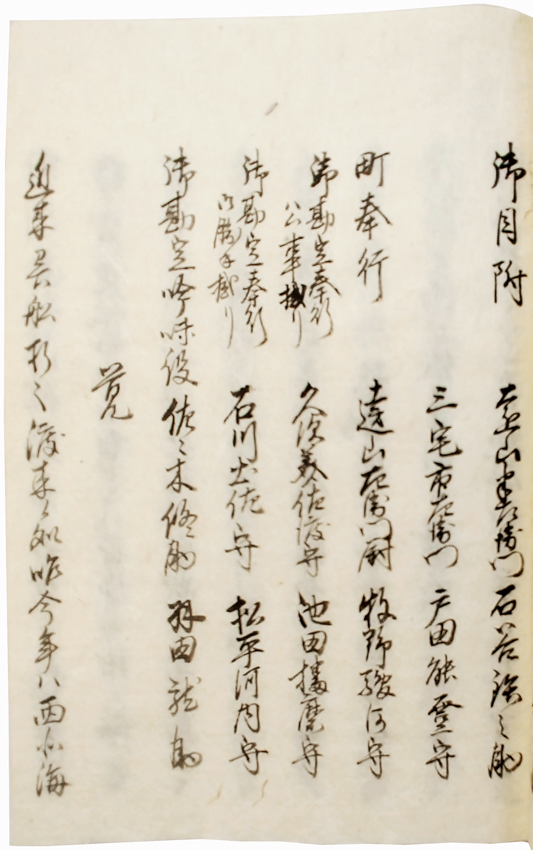 The involvement of Japanese castaway, best remembered simply as Otokichi, adds a particularly fascinating element to this early and already monumental Anglo-Japanese interaction.Otokichi ("Yamamoto Otokichi", later "John Matthew Ottoson": 1818-1867), the "Chinese" interpreter mentioned in the first report, was in fact a Japanese sailor from Mihama, Aichi Prefecture.In 1832, at age 14, he served as a crew member on a transport ship, the Hojunmaru, bound for Edo with a cargo of 150 tons of rice. Departing on 11 October, the modest vessel, without mast or rudder, was caught in a storm and blown off-course, drifting for 14 months across the northern Pacific Ocean by its currents, her crew having only desalinated seawater and the rice onboard for sustenance. Inadvertently, the crew had deserted Japan, departing illegally, which was punishable by death. Most of the crew died on the merciless voyage. There were only three survivors to finally reach land, at Cape Alava, the westernmost point of Washington's Olympic Peninsula, in 1834. The survivors were Iwakichi aged 29, Kyukichi aged 16, and the youngest being Otokichi, then 15.After arriving in North America, Otokichi and the two other castaways were looked after and briefly enslaved by the Makah Indian tribe. They were later handed over to John McLoughlin, the Chief Factor (agent) for the Columbia District at the Hudson's Bay Company, who sent them to England. McLoughlin envisioned an opportunity to use the castaways to open European trade with Japan. To this end, he sent the trio to London on the "Eagle" with hopes that the British Crown would adopt his plan. They reached London in 1835, probably being the first Japanese to do so since Christopher and Cosmas in the 16th century, before the restrictions of Sakoku were implemented. Alas, the British Government ultimately declined interest, and the castaways were instead dispatched to Macau on board the "General Palmer", so that they could be returned to their home country, regardless of their possible fate as illegal exiles.At Macau, Otokichi, Kyukichi and Iwakichi were welcomed by Karl Gutzlaff (1803-1851), a German missionary and Chinese translator for the British Government. Having ambitions of evangelizing Japan, Gützlaff took them under his wing, enthusiastically learned the Japanese language from them, and with their help he made a Japanese translation of the Gospel of St. John into Japanese.In 1837 it seemed like an opportunity arose for Otokichi and his countrymen to return home, when the American trader Charles W. King offered to take them back to Japan, again with the hope of establishing trade relations with the country. In July they and four other castaways boarded the "Morrison, bound for Uraga at the entrance of Edo Bay, but the ship was met with cannon fire. They proceeded to Kagoshima, again being met with cannon fire. They abandoned their mission to establish diplomatic contact and sailed to Canton. The castaways resigned themselves to a life in exile.Otokichi and some of the others seem to have worked as translators for the British trade legation and British missionaries. Otokichi is next recorded to have been working for the British trading company Dent & Co. in Shanghai in 1843. He also worked as a crewman on American ships, and helped Japanese castaways return to Japan on board Chinese or Dutch ships, the only ones allowed to visit the country. He also engaged in business on his own behalf.He subsequently joined the crew of HMS Mariner as interpreter for the British members. The Mariner arrived off the coast of Japan in May of 1849 but was kept at bay (quite literally) by Japanese authorities who boarded the ship to question Commander Mathison on the subject of his visit and denied his requests to land. Otokichi, dressed in Chinese clothes and presenting himself as "Lin Ah Tao", acted as interpreter while pretending to be Chinese to avoid trouble over his unintentional violation in 1832 of the strict ban on Japanese citizens leaving the country. HMS Mariner was not permitted to dock, and returned to China in June.Otokichi later helped Admiral James Stirling establish the 1854 Anglo-Japanese Friendship Treaty. In September 1854, Otokichi returned to Japan a second time, as a member of Admiral Stirling's British fleet and now using his British name "John Matthew Ottoson". The fleet docked at Nagasaki where the Anglo-Japanese Friendship Treaty was negotiated and signed on 14 October. On that occasion, Otokichi met with many Japanese, including Fukuzawa Yukichi. He was apparently offered permission to live in Japan, but he chose to return to his family in Shanghai.He later became a British citizen, and toward the end of his life, Otokichi moved from Shanghai to Singapore, his wife's native island, where he became the first known Japanese resident of Singapore. The British had compensated him generously for his contribution to the treaty with Japan, and he had done well in business deals in Shanghai. He apparently rented a luxurious colonial house on Orchard Road, which is where he died of tuberculosis at the age of 49, in 1867. Otokichi was buried at the Japanese Cemetery of Singapore. Half of his remains were returned to his hometown of Mihama in Japan on 20 February 2005.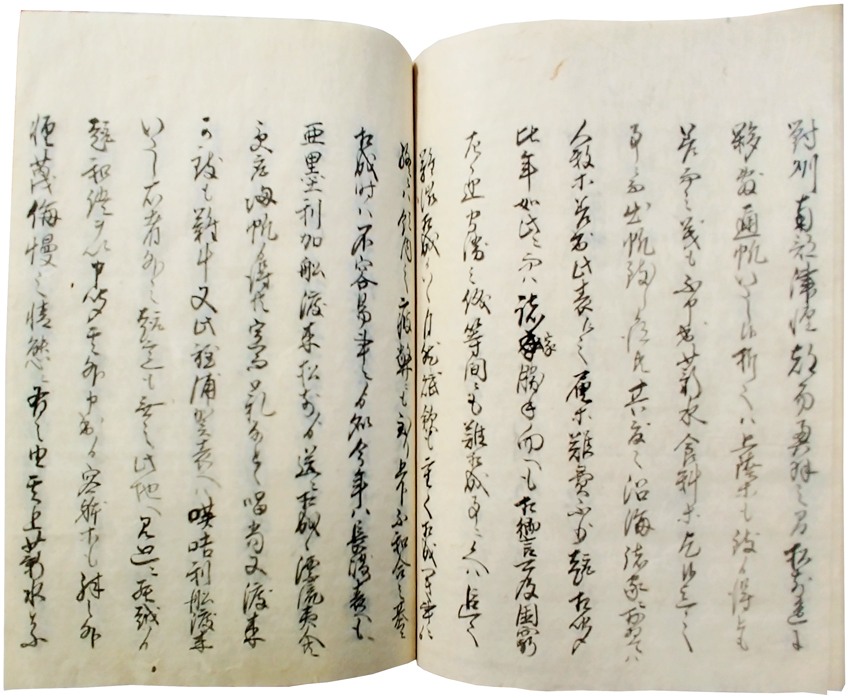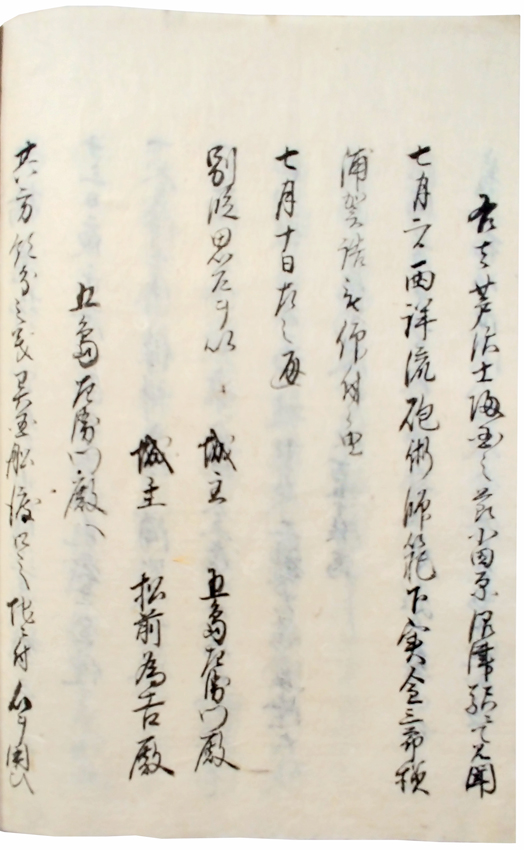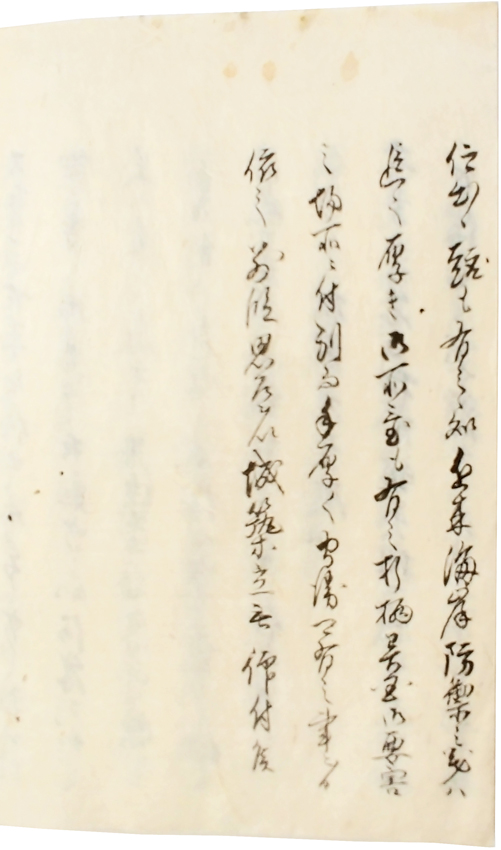 Verso: