Russian Far East
Pioneering Navigation and Commerce
Early Steam Ships
On the Amur and Shilka Rivers
1861-1880

Two Primary Source Manuscript Diaries
Of an English Engineer
Contracted by the Amoor Shipping Company

Includes a Rare 1858 Map
of the Amur River

Nikolayevsk-on-Amur, Chita, Sretensk, Blagoveshchensk, TransBaikal villages, 17 May 1861 – 23 September 1880. Two manuscript journals of an English Engineer in Russian Far East, contracted to test and repair some of the pioneering steamships on the Rivers Amur and Shilka, and other important works in the Trans-Baikal region, beginning his work some 24 years before the founding of the Eastern Siberian Inland Navigation Company, and interacting several notables who were involved in the development projects. 8vo. The earliest volume comprises 113 pages of manuscript entries dating from 17 May 1861 to 22 July 1861 and then a few pages from and then from 1 January 1868 to 22 May 1870, with a tipped-in folding map of the Amur River. The subsequent volume contains 135 pages in manuscript and dates from 14 August 1876 to 23 September 1880. Cloth over marbled boards. Volumes measure approximately 19 x 24 cm and 17 x 20 cm, respectively. Map measures approximately 46 x 20 cm. Wear to boards, hinges loose, otherwise internally clean, an exceedingly scarce and early primary source account of early developments of steam navigation in the Far East of Russia.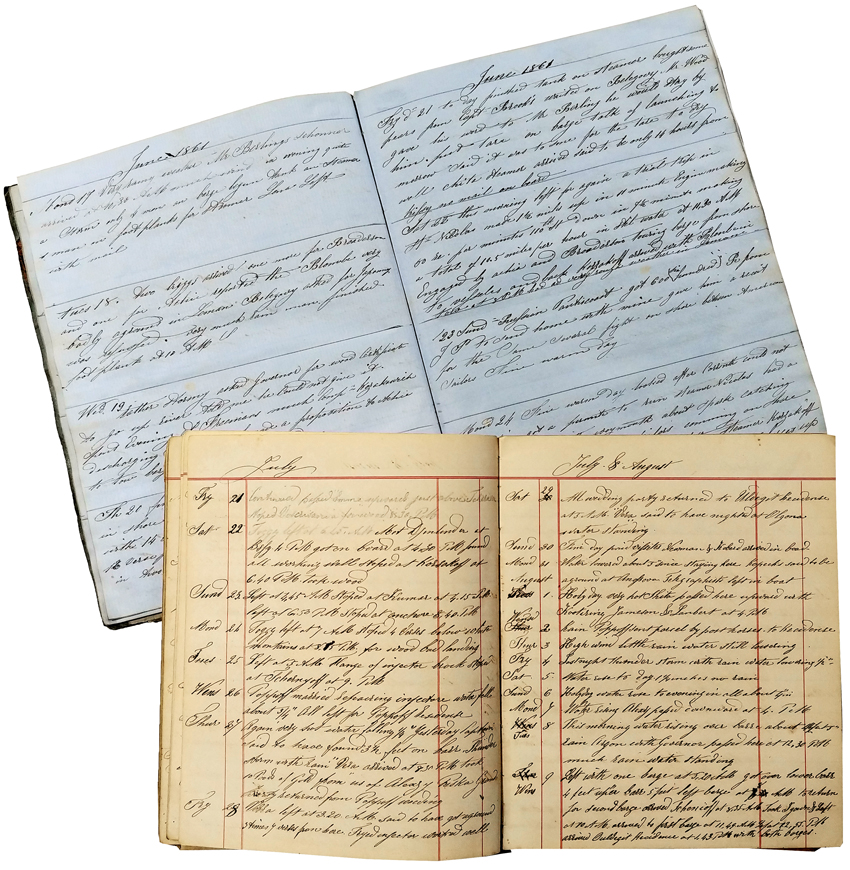 This account is very early for the region, particularly the inner reaches of the Amur river and its tributaries, where there were scarce inhabitants or even visitors, and thus are even fewer surviving manuscript accounts. It pre-dates the founding of the important "Eastern Siberian Inland Navigation Company" which would be founded in 1885, twenty-four years after the writer began his pioneering work. It also pre-dates the Trans-Siberian Railway which would be built between 1891 and 1916 under the supervision of Russian government ministers personally appointed by Tsar Alexander III and his son, the Tsarevich Nicholas (later Tsar Nicholas II).
The writer's arrival occurs only three years after the Aigun Treaty in 1858, through which the area north of the Amur belonging to the Manchu Qing dynasty since the 1689 Treaty of Nerchinsk was suddenly ceded to Russia. The Amur River has formed Russia's border with China since the 1858 Aigun Treaty and the 1860 Treaty of Peking.
A folding map compiled in 1858 according to contemporary Russian sources, delineates the winding route of the Amur River throughout the Russian-Chinese borderlands, from Lake Baikal, to the mountainous Transbaikal region, to the Sea of Okhotsk snd the Strait of Tartary. The map shows the combined geographical discoveries of M. A. Peschurof [Peskchurof] of the Russian Imperial Navy, KFSH (Lieutenant of Corps of Naval Navigators) Ensign Shenurin, Vesilief, G. Radde, Ensign Usolzoff, Pargachevski, and Lieut G. M. Permikin. [Lieutenant Peshchurof had made astronomical observations when he served as part of Admiral Putiatin's journey up the Amur 1855. In the same year, Shenurin, Raebsky and Chikachef travelled by land from Nikolayevsk (Nikolayevsk-on-Amur) to Udsk or Ayan, and then to Yakutsk in the Russian Far East. In the summer of 1856 Usoltzof made a journey to the source of the Gilui and to the Dzeya, beginning his expedition at Ust Strelka, with the provisions being sent from Nerchinsk on rafts down the river.]Following are some close-up cropped views of the map: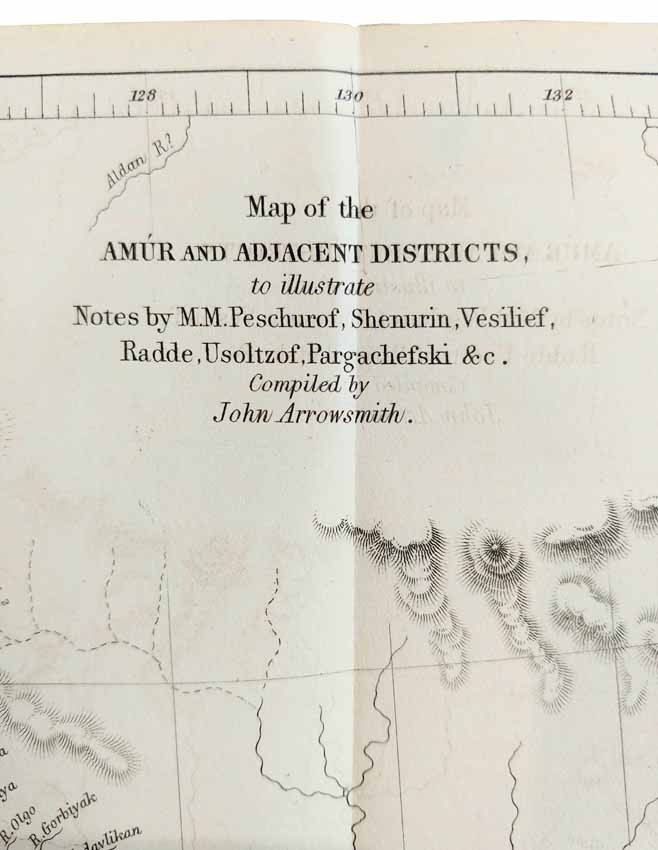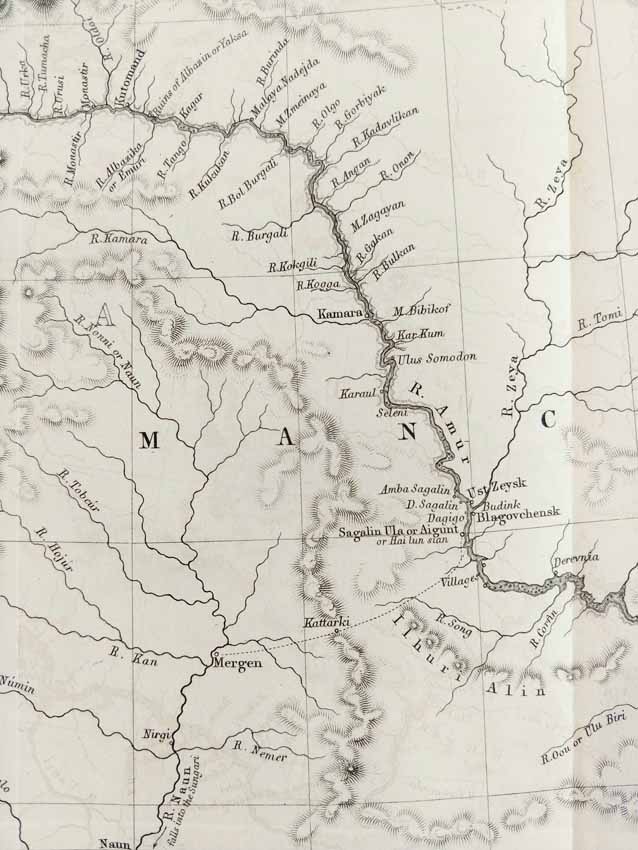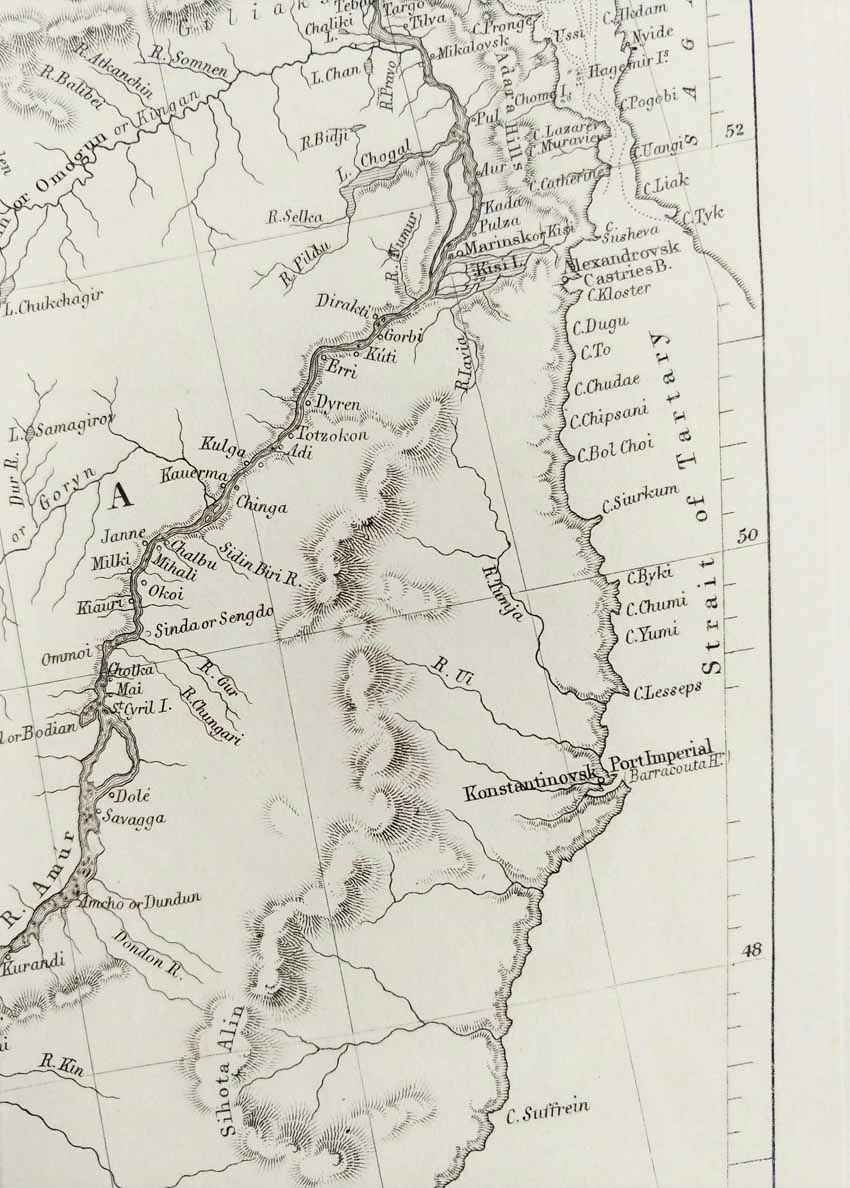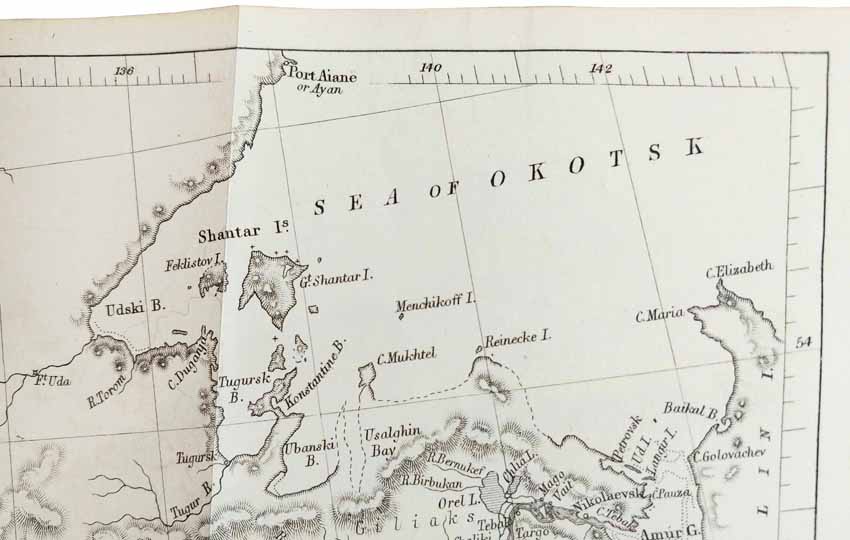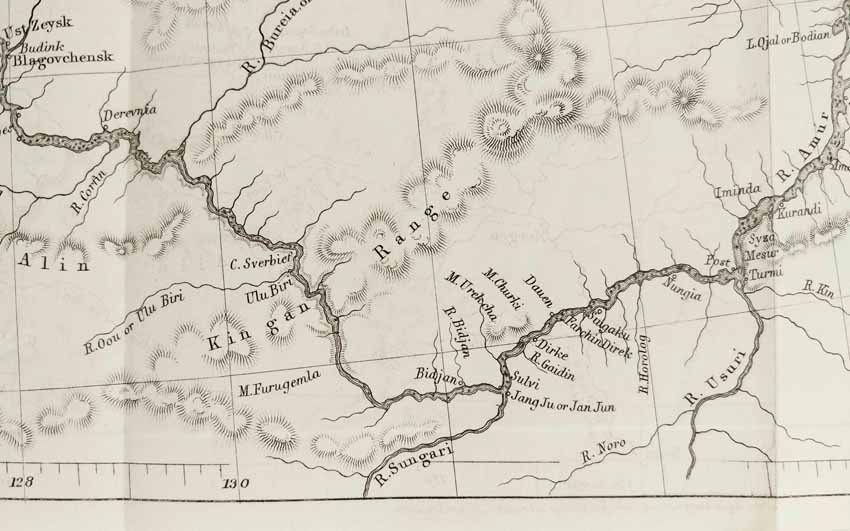 The writer is a skilled engineer and has taken a contract with the Amur Shipping Company, one of the oldest industrial enterprises of the Russian Far East, and its successor, Amur Shipping Company Partnership. Its history is closely connected with emergence and development of navigation in Amur River.
He holds a supervisory role with others reporting to him. He is given charge of one of the earliest steamers on the Amur River. He pays out wages, makes necessary purchases, and is important enough to be invited to the occasional soirée. Those under his direction number in the hundreds. On 3 May 1879 he writes, "[steamships] Emma & Zea left hearly in morning, sent all things on board Andre and left with 300 workmen at 5,20 PM with strong winds downward – stoped 25 verses from Stretensky at 7.20 PM." And on 2 May 1880, "Left on André 500 workmen left at 1 PM found not lesse than 5 feet of water passed."
His skill also appears to be in high demand, as another firm tries to recruit him from time to time. We can deduce from the volumes that he learned the trade from an early age, presumably the family trade, and didn't get a high formal education, owing to the spelling errors throughout. As such, he is a skilled engineer with a wide range of talents; he is sought after and respected for his work. He is married, and his wife immigrates to Russia in 1868, where they begin a family together.
The writer seems to be English, as he returns to London after his many years in Russia, although he may have family connections in America. Further research is warranted. He co-operates particularly well with the American Captain Norwick, who comes to him for all sorts of supplies. The two also exchange ideas concerning a ship repair. The two are clearly on friendly terms when the writer spends Christmas Eve at Captain Mr. and Mrs. Norwick's home in 1868. For reasons undescribed though likely to do with his contract, on 22 January 1869, the writer "told Captain Nordwick [Norwick] not possible to do any more private work, paid him 51 pds [poods] for same." He also remarks on American sailors' behavior upon their arrival at Nikolayevsk-on-Amur. On 22 June he notes having received many letters from home, many in which the news came of the death R. Smith. Evidently a notable man, who so many felt compelled to tell about, he is quite possibly "Raccoon" John Smith (1784-1868) Tennessee, an early leader in the Restoration Movement who worked primarily among the Baptists in Kentucky.
1 June 1861: The writer signs contract with company, given charge of steamship Nicolas:


The writer is working for the Amur Shipping Company:



There are numerous important persons named in the volume, most of which the writer has direct contact with. These include, but may not be limited to the following:
• Nikolay Muravyov-Amursky (1809-1881), who on 5 September 1847 was appointed Governor-General of Irkutsk and Yeniseysk (Eastern Siberia).
• Korsakov Mikhail Semenovich (1826-1871), Lieutenant General of Trans-Baikal, who was very much involved with the earliest trials and the development of expeditions on the Amur, having been appointed by HH Muravyov, Governor-General of Eastern Siberia to lead special assignments.
• Archbishop St. Innocent, born in 1797, whose diocese beginning in 1853 was extended to include the vast region of Yakutsk, a Russian port city on the Lena River, in east Siberia.
• Captain Norwick, who commanded the steamship Amoor on the Amur River as early as 1858, having been commissioned by the Russian Governor, Rear Admiral Kazakevitch for an inland passage up the Amur, departing from Nikolayevsk-on-Amur 5 August 1858.
• Admiral Chestakoff, the Russian Minister of Marine, and was later involved in a reconnaissance mission during the British Occupation of Komundo, Japan, in 1885-1887.
• General Skolkoff, an Admiral, the Russian Emperor's Aide-de-Camp, and chief of the Emperor's personal Naval Staff, who was at the time initiating the construction of a new factory at Khabarovsk.
• Admiral Grigory Butakov (1820-1882), a senior captain of a squadron in the Russian Imperial Army, who is widely credited as being the "father of steam-powered ship tactics" during the 19th century. He was the one who met with the Americans in October 1863 during the American embassy's Official Mission to Russia.
• Freeman, presumably being S.W.K. Freeman who made a survey of the Manchurian coastline around 1855, which was published in 1861.


The official date of opening of the navigation on the Amur is considered the 14 (27) of May of 1854. On that day, following the order of the governor general of Eastern Siberia, N.N. Muravyov, the first Far Eastern steamship "Argun" left the Shilkinsky plant with a military float, and its captain was A.S. Sgibnev. The first steamships on the Amur were state, rather low-power, low-speed and low-efficient. However, the Amur River began to accept vessels made of iron early on, unlike the western basins where navigation appeared much earlier and began with a wooden fleet. Only some domestic vessels had wooden hulls: boilers and machines for them were ordered from the western countries, and hulls from wood were constructed at the Amur shipyards, more frequently in Blagoveshchensk. In the years of settlement of Priamurye, all transportations of mail and state freights were carried out by the vessels of the Siberian military flotilla. But it became more and more obvious that it was necessary to have a dedicated and locally-owned river transport enterprise on the Amur River. "Amurskaya Companiya" (Amur Company) was the first of such enterprises in 1858.
Later, to arrange of the passenger-and-mail service by the Amur River between the communities of Sretenskoe and Nikolaevsk, from Khabarovka by the Ussuri, by Lake Khanka to Kamen-Rybolov post there was a shipping company "Benardaki and Co" founded, later named "Amur Shipping Company Partnership". The charter of "Amur Shipping Company Partnership" was most highly approved on 18 September 1871 to arrange the urgent steamship service of the Amur basin. The establishment of the partnership was supported by the government. In addition, along the Amur, the Ussuri and the Zeya there were organized special towing lines, mainly for floating and transporting timber. In 1871, the partnership bought 9 state steamships belonging to the Naval Ministry. During the 1872 navigation, 13 steamships of the partnership had already been operating. They were "Zeya", "Onon", "Ingoda", "Chita", "Songgachi", "General Ditmarkh", "Telegraph", "Lena", "Ussuri-1", "Ussuri-2", "Nikolaevsk", "Konstantin", "General Korsakov" – several of these being named in the present diaries. From 1876 to 1885 the chairman of the partnership board was the privy councilor, Neronov, who had done much for the development and the profitable work of Amur Shipping Company Partnership.
Due to the opened intensive navigation by the Amur River and its tributaries, the relations between various communities of the area quickened; the settlement of Priamurye by immigrants from the Central Russia intensified; trade, gold mining and forest industry began to take off. It was of great importance for the shipping company development that the cargoes by the Amur River were transported free of charge.
"… Governer [Nikolay Muravyov-Amursky] on board to visite Youzery":


"General Korsakoff [Korsakov Mikhail Semenovich] was quite satisified with all of my works…"


Supplies for Bootakoof [Admiral Grigory Butakov]:



"Private work for Chestakoff [Russian Minister of Marine] on his locomotives:


The earliest diary entries, 17 May to 22 July 1861, provide an exceedingly scarce and perhaps the only surviving primary source manuscript account of the earliest developments of steamship service on the Russian Amur River. The writer is employed by the historically important Amur Shipping Company and visiting little-inhabited settlements, some of which are principle cities in our present-day.
He is first based near Nikolayevsk-on-Amur, testing and working on new steamships on the Amur River, and its estuary at the Sea of Okhotsk. The early steamship navigation endeavors were initially intended for mail and communications between remote villages, although it quickly becomes apparent that its value was seen for developing commerce. Notable passengers include Governor General of Siberia Nikolay Muravyov-Amursky and Archishop Innocent.
Nikolayevsk-on-Amur had only been founded in 1850 by Russian navigator Gennady Nevelskoy, the small Russian settlement then named Nikolayevsky Post, after Tsar Nicholas I.
The settlement quickly became one of the main economic centres on the Pacific coast of the Russian Empire, in fact becoming Russia's main Pacific harbour (replacing Petropavlovsk) in 1855 after the Siege of Petropavlovsk of 1854. It was granted town status and renamed Nikolayevsk-on-Amur, when in October 1856 Primorskaya Oblast was established. Admiral Vasily Zavoyko had supervised the construction of a naval base there a few months earlier. The town emerged as an important commercial harbour; however, due to navigational difficulties caused by the sandbanks in the Amur estuary and because sea ice made the harbour unusable for five months each year, the main Russian shipping activities in the Pacific transferred to the better situated Vladivostok in the early 1870s. The town remained the administrative centre of this region until 1880, when the governor relocated to Khabarovsk.
At the start of the first volume, in the morning of 17 May 1861, the writer is working on a steamship's casing. He gets steam on board but not on the engine. He discusses the wedding of a Mr. Newser [presumably Neuser] which he will soon attend, then returns to his work, setting frames for a barge.
Two days later, 19 May 1861, his location is revealed. He is working on the Amur River, noting in his entry, "… found Amoor still rising, boat only leeked 1/0 mil in 24 hours, told Mr Norton that Barre had called him… Pollock and myself would bear witness of the same. Purgachesky endeavored to convince Pollock he did not know I wanted to stay in Company service but he told him differently." The following day again his Russian manager causes trouble and undermines him, this time "Purgachesky caused water to be let in to Barge… with it all fisherman taken off steamer without me knowing it gone for good." [Interesting to note, already the commerce of fishing around Nikolayevsk-on-Amur seems to have been a consideration for the early steamships.]
On the 22nd, he reports, "West River open at 12 Midday steamer Zee in sight, gave my resignation to Purgachesky. Zee landed passengers at 5 PM in a small boat Kozakaurich. Admiral arrived in Zee with much news. Agent spoke to me in evening asking me on what termes I wanted for this year told him it was too late I had given my word to Mr Chase."
It seems he was well respected in the field and even sought after, as the following day, the company agent wanted to withdraw his letter of resignation, offering him 300 R per month to stay. He informed a Mr. Hayounios [?], presumably connected to Mr. Chase who had just offered him employment the day before, and Hayounios warned him that the agent had no authority to offer such a wage. Said agent was dismissed the same day.
On 24 May, he receives 3 letters from his wife, dated December 1860, January and February 1861; he learns of the American Civil War that had just begun in April; and he confirms that he cannot withdraw his letter, and thus has finally settled the matter of his employment.
On 25 May he reports, among other matters, that the Governor was onboard the steamship Zee [Governor General of Siberia, Nikolay Muravyov-Amursky, was most likely returning from an important meeting held 14-15 Feburary 1861 concerning considering a proposal by the Minister of Finance on trade with China, specifically on allowing the import of Cantonese tea into the Russian Empire] "… told Agent required three sailors and boatsman continuoly a board – said he would see to it. Zee left at 1 P.M with Governer on board to visite Youzery [Ozery, Ozyory, a town in Moscow Oblast]. at 1.30 P.M lighted fire on board actionary started Engines. at 3 PM worked remarkably well all joint tight stoped at 6 PM Engine with full steam made 76 revolutions a minute. Agent dissired Carpenter to work to morrow. wrote to my wife'. "
[The Governor he is referring to is Nikolay Muravyov-Amursky (1809-1881), who on 5 September 1847 was appointed Governor-General of Irkutsk and Yeniseysk (Eastern Siberia). His appointment was a subject of much controversy, as it was unusual for a person of his age (only 38 at the time) to be put in charge of such a vast territory. He pursued the exploration and settlement of the territories north of the Amur River, often utilizing the help of political exiles. Many of his actions were aimed to expand commerce in the Far Eastern region. An expedition in 1855 transported the first Russian settlers to the Amur's estuary. Muravyov started negotiations with the Chinese about that time, a border along the Amur River. During the last expedition of 1858, Muravyov concluded the Treaty of Aigun with the Qing official Yishan. The Treaty of Aigun expanded by the provisions of the Beijing Treaty of 1860, which granted Russia right to the Ussuri krai and southern parts of Primorye. Muravyov-Amursky made numerous attempts to settle the shores of the Amur River. These attempts were mostly unsuccessful as very few people wanted to move to the Amur voluntarily. Muravyov had to transfer several Baikal Cossacks detachments to populate the area. He also attempted to organize steamboat transportation on the Amur (illustrated in this primary source diary account) and to build a postal road. As the main objection of the St. Petersburg officials against taking over the left bank of the Amur was lack of people to defend the new territories, Muravyov-Amursky successfully petitioned to free Nerchinsk peasants from mandatory works in the ore mines. With these people, a 12,000 corps of Amur Cossacks was formed and used to settle some of the lands, the military core being the Cossacks transferred from the Transbaikalia. He retired from his post of Governor General in 1861 (the same year as the writer's report) after his proposal to divide Eastern Siberia into two separate governorates general was declined. He was subsequently appointed as a member of the State Council. is seen as Governor General Mouravieff in American newspapers of the period.]
On 26 May he mentions the Bishop [Archbishop Innocent], and on the 27th "Honkey, Bishop and several visitors their [sic] went on a little trip with Amoor Steamer…" He also gets report that the steamer engine was not up to par with its revs per minute, noting that he had advised the agent of the inadequacy one month previous.
[Bishop Innocent, born in 1797, was elevated to the rank of archbishop in April 1850. Two years later his diocese extended to include the vast region of Yakutsk, a Russian port city on the Lena River, in east Siberia. In September 1853 he arrived in the city of Yakutsk, where he would serve for many years. Archbishop St. Innocent was summoned to St. Petersburg twice (in 1860 and 1861), as the Holy Synod was to approve his proposal for transferring the See from Yakutsk to Amur and to establish vicarages in New Archangel, on the Sitka Island and Yakutsk. The bishop made archpastoral and missionary trips along the Amur and Ussuri Rivers.]
On May 28th we learn that Mr. Hayounios[?] is an interpreter, and on June 1st the writer has a newborn son, and finally signs his contract, which gives him full charge of steamer Nicolas effective the next day. [Steamer Nicholas I had been launched in 1843 and dismantled in 1856, therefore this steamer 'Nicholas' is its successor.] After a celebratory soirée, preparations were made on 3 June 1861 to host a dinner for "60 persons on board Nicolas on her trial trip…"
On the 4th, the writer reports that he "paid a to visit Amoor Company… stoped at Chenerack."
[Amoor company mentioned by the writer is "Amur Shipping Company," one of the oldest industrial enterprises of the Russian Far East. Its history is closely connected with emergence and development of navigation in Amur River. The official date of opening of the navigation on the Amur is considered the 14 (27) of May of 1854. On that day, following the order of the governor general of Eastern Siberia, N.N. Muravyov, the first Far Eastern steamship "Argun" left the Shilkinsky plant with a military float, and its captain was A.S. Sgibnev (a settlement on the upper Amur is called after his name).]
In June 1861, the writer would head up several trial voyages and tests for the new steamer Nicolas. On the 6th, the engine was tested and found that the engine worked well, but not the pump. After some adjustments the following day, the reverse occurred; the engine choking but the pump functioning well. On Saturday the 8th he obtained more red lead from Freeman, and candles for the steamer. He also paid off two of the men employed on the steamer the past week.
[Freeman is frequently mentioned in the volume, and provides the writer with wood, iron, etc. S.W.K. Freeman made a survey of the Manchurian coastline around 1855, which was published in 1861, and filed with the Admiralty charts. Perhaps he settled in the area.]
On the 10th, more "running about after articles for trial trip to morrow" and a Mr. Etravo asked him to produce his "certificate of a Englishman."
The entry of 11 June 1861 reads, "at 9 AM priest blessed steamer Nicolas at 11.30 AM started on trial trip with many officers on board run from Koska to Chinerack in 38 minute Engine at most making 36 revolutions towed Corrinth barge up the last … fell overboard arrived home at about 8 P.M…"
On 13 June 1861, "at 7 AM had a trial trip with English steamer Korzakoff run well made 1 ½ Miles marks 9 minutes up 6 ½ down run round Lena (evidently a small riverside settlement named after the river Lena)… Belegory expressed himself perfectly satisfied gave me 500 R. as also J.P."
On 14 June 1861 the Korzakoff [steamer] "left for Leman went down as far as Chinierack return in a small boat with Belegory and dined with him got back at 2 PM… got 2 letters from home". [Leman is the Amur Liman which connects the Sakhalin Gulf of the Sea of Okhotsk with the main body of the Strait of Tartary via the Nevelskoy Strait. "Amur Liman" is often translated as "Amur Estuary" or "Amur Mouth"]
Progress in the town is indicated with the entry of 15 June 1861, "at 1 PM two Briggs and two Schooner arrived got charts from Desrey and sent them to Capt Crely many strangers arrived got some iron from Amoor Company two plates… two angle iron…" The following day supplies are purchased from a Russian merchant's store, vessels come and go, and "charts are marked."
The momentum continues from this point, with more brigs and schooners arriving. One of these finds itself "aground in Leman [Amur Liman]." On 19 June the writer "asked Governor for wood certificate to go up river" which was denied.
On 20 June, he reports, "… got three anchors out to pul steamer in shore to get tank to Korzakoff arrived at 4 PM with 14 Bullock and three horses and two barges made 12 verse [verst] per hour going up … left again in two hours to fetch Palonbe in the Leman [Amur Liman]" The following day we find the first mention of Chita, with a steamer from that place arriving, " Chita steamer arrived said to be only 14 hours from Kissy no mail on board." [Chita is the last Russian city before the trans-Siberian railway enters China. Mongolia lies even closer to the south.]
A few days later there is mention of Americans in the region, "several fight on shore between American sailors." On the 25th a fine English steamer arrives. The writer is measuring wood to build a float barge. More English names begin to appear in his entries from here on. A Japanese schooner also appears on scene, the port town slowly becoming recognized abroad.
On 7 July, he notes that he was deemed not responsible for some kind of catastrophe. He also remarks that he "received letter from Amur Comp requesting me to return home…"
On 17 July we find the first mention of the town Nikolayevsky, as he is evidently making a passage for home "… started at 6.30 PM from Nikolavsky droped anchor at 9.15 PM 7 verses [versts] below Sebaek… told Admiral I whould if profitable get the 141 on from Alexandroff for sugar…" On the 20th he left "Meculostky" and stopped at "Kisy" to get some wood. The following day, still searching for wood, he called in at "Sophisk" where he succeeded in obtaining a permit. As he travels, he searches for stations along the Amur, and continues to work on various vessels. This portion of the diary ends on 22 July 1861 as he assesses a paddle wheel and a boiler.
In addition to his main employment the author does a bit of trading on the side. On 3 October 1868 he writes: "Sold Petherick tea 32 bricks for 28 RS", and on 9 April 1870: "Sold my silver to Zablosky for 1,25." And on 7 January 1869: "Received from Dïtch 10 Rs for Iron sold of Jew [in] Bienking, and 17 Rs for oven boy Jew, one sailor left work without notice."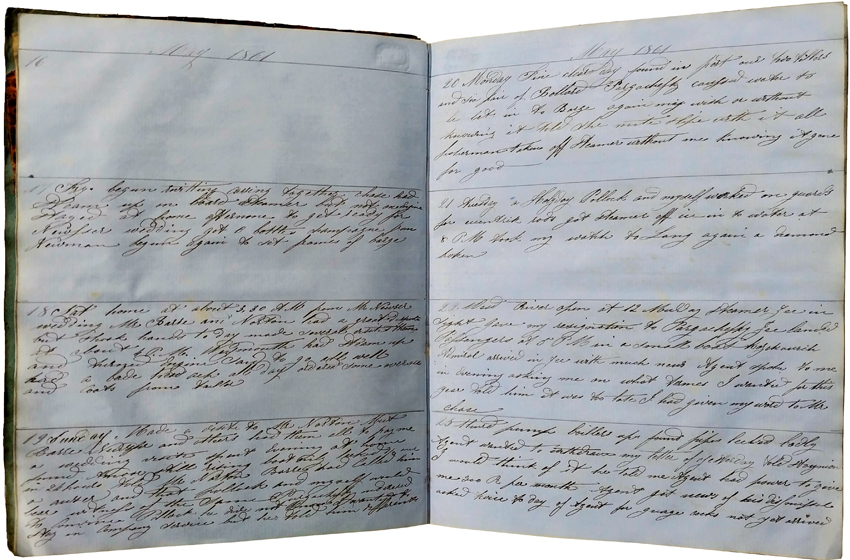 Steamship Nicolas's first trip voyage, writer visits Amur Company office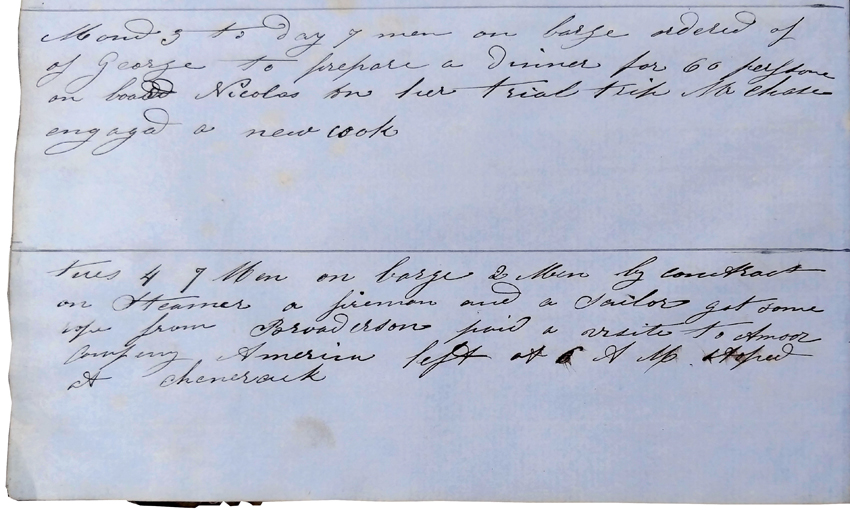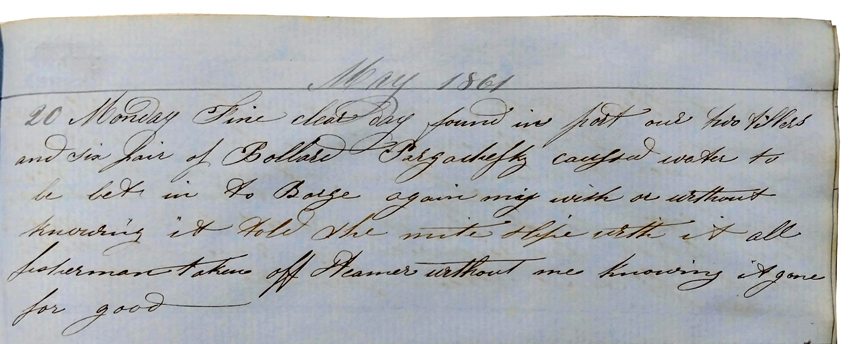 "… asked Governor for wood certificate to go up river…
could not give it… Discharging schooner…"

"… started at 6.30 PM from Nikolavsky droped anchor at 9.15 PM…"



Thirty months more of regular diary entries, from December 1867 to May 1870, continue to reveal ongoing development of remote river navigation and access in the remote regions of Southeast Siberia, this time on the Shilka river. We find the writer at Shilka, Sretensk, possibly at Karymskoe, and Blagoveshchensk, all of these being then only modest settlements. He also mentions the Katorga prisoners from Nerchinsk, a group of Polish men performing forced labour.

His work on the pioneering steamships is directly applauded by Lieutenant General of Trans-Baikal, Korsakov Mikhail Semenovich (1826-1871), who was very much involved with the earliest trials and the development of expeditions on the Amur, having been appointed by HH Muravyov, Governor-General of Eastern Siberia to lead special assignments. He was also approached by General Skolkoff, the Russian Emperor's Aide-de-Camp, being solicited for a contract to build a new factory at Khabarovsk.
After a page with only two entries from September 1866, the writer begins to record his work in the volume once again, with three entries from November-December 1867, revealing that he remains in the same line of work and is still in Russia. From January 1868 to May 1870 he journals almost daily. We quickly learn that his wife is now living with him in Russia.
Being in a very continental subarctic climate with very cold winters, at times rivers would have a thick frozen crust of ice, and land transportation was facilitated by Russian horses pulling sleds, all of which he describes in the diary. Also being remote, and in fact pioneering the means by which these locales would eventually gain access to goods, throughout the volume, the author is engaged in a constant struggle for parts and labour.
He starts the year 1868 with an ongoing and frustrating search for coal for the steamships. On 1 January 1868 he is "In Bienking by Kaparacky Mill" [possibly referring to Karymskoe, then situated on the left bank of the Ingoda river], waiting for "coals for blacksmith," and around this time the lack of coals for blacksmith is a common complaint. On 17 January he describes the urgency "told Prodrasky that if I did not soone have coals I should not be able to get Steamers ready, left for Bienking in evening at 5 PM." He spends quite some time in January working on the Kaparacky mill, hired directly by the government. An important work indeed, soon all hands were employed at on the mill, perhaps rebuilding it, until the end of the month.
Back to working on the vessels, on 23 February he is busy with an iron barge and the steamer Korsakoff. We begin to notice production increasing and quality of materials evolving. On 7 March a transport vessel arrives with 127 horses and the writer procured "streit iron for hoop, iron and steel gone." On 9 March he is "still" working on large iron and the hull of steamship Korsakoff. The harsh northern winters take their toll on workflow however. As early as 11 March, the writer is contending with freezing waterways, "Obliged to leave off work on hull of Korsakoff to clear ice from under her…" The following day he "Sent 25Rs to Troeven [?] for India Rubber for Korsakoff head or delevery valve…"
Captain Norwick is mentioned several times from this point, and to the end of the volume, the captain requesting steamship boilers and the like, the two being in communication and often collaborating with jobs and supplies.
[A seasoned commander, Captain Norwick commanded the steamship Amoor on the Amur River as early as 1858. He is mentioned in the New York Herald of 20 April 1859, reporting that with the consent of the Russian Governor, Rear Admiral Kazakevitch had commissioned the latter for an inland passage up the Amur, departing from Nikolayevsk-on-Amur 5 August 1858. Evidently the steamship Amoor was American built, as were others. And, at this time, the Russian government possessed a small fleet of 5 steamers on the Amur, 3 of them however being non-operational. These vessels were named Amoor, Shilka, Lena, Nadoshka, and the towboat Argoon. P.V. Kazakevich was the first military governor of Primorsky Krai, at the time called Primor'e. In 1866 he called for a "rapid formation of a maritime settlement" and the next few years he attracted a small group of fishermen from the Caspian Sea to Nikolayevsk, believing that they could transfer their sturgeon fishing skills to the lower Amur. The lack of markets resulted in a short-lived plan.]
On 17 March 1868 we learn that one of his colleagues, Barislatfsky, had gone to Chita, which would become aa more regular occurrence. His entry describes a typical busy day, "Cold, took condenser of Korsakoff to pieces to get under her to repair hull sent a letter to Petherick by Miss Devideva Barishafsky returned from Shita [Chita], gave in Estimation for Material for 1869," Two days later he writes, "Sent money for soap and candles for Petherick and a letter to Soderoff to say his lath was finished Lutz said he expected the repairs of his Steamer to cost 300 Rs I told him not more than 200 in Machine shop very wharm day, not finished cleaning under Korsakoff for 1 patch more spoke long about it."
[Chita (formerly known as Chitinsk) is a city and the administrative center of present-day Zabaykalsky Krai, in southeast Siberia in Russia, located at the confluence of the Chita and Ingoda Rivers. In the mid-19th century, Chitinsk became one of the most important strongholds in the development of the Amur River region. In an effort to strengthen Transbaikalia and on the urgent recommendation of the Governor-General of Eastern Siberia Nikolai Muravyov-Amursky, Emperor Nicholas I created the Transbaikal Cossack army of six horse regiments with a military administrative center in Chitinsk. In 1851, with a population of 659 people, Chita received the status of a town and became the center of the newly created separate Zabaykalsky (Trans-Baikal) Oblast. When Richard Maack visited the city in 1855, he saw a wooden town, with one, also wooden, church. He estimated Chita's population at under 1,000, but predicted that the city would soon experience fast growth, due to the upcoming annexation of the Amur valley by Russia. Indeed, the rapid growth and development of Chita began. In 1863, the population totaled 3,140 people and by 1885 Chita's population had reached 5,728. By 1897 it had increased to 11,848. Still then, most of the buildings in the town were wooden.]
On 2 April, he mentions water being on the Chilka and bad roads, this suggesting that he is posted in the small settlement of Shilka, situated on the banks of the river for which it was named. [Shilka was settled in the 18th century, but would not gain town status in 1951, not for another century after the writer's time there. Today it is the administrative center of Shilkinsky District in Zabaykalsky Krai.] Again on the 7th, Barislafsky returned from Chita, which is only some 248 kilometers (154 mi) west of Shilka. On 16 April, he remarks "water rising in Chilka" [Shilka river]. On the 22nd, he is pleased to have found a crank part for the steamer Korsakoff which came from Irkvotsk [Irkutsk], and on the 23rd the "Shilka shook her ice for about 2 verse [versts]." The following day the "river opened with high water [and] iron barge leeked but little…", and soon enough the same barge ran aground.
He occasionally visits Stretchensky [Sretensk] which at the time was but another small settlement, usually to test the repairs on the steamships. He writes on 11 May 1868, "Zea and myself on board [Korsakoff] went to Stretchensky all worked well, gone to Somoff…" He also remarks that "16 Gov't barges from Shita [Chita]… all work stoped for cleaning factory by orders of captain."
[Sretensk is a town and the administrative center of Sretensky District in Zabaykalsky Krai, located on the right bank of the Shilka River (Amur basin), 385 kilometers (239 mi) east of Chita. Founded in 1689, between October 1914 and 1921, it accommodated the Sretensk prisoner of war camp, and finally in 1926 it was granted town status.]
On 20 May, the writer receives accolades by none other than Russian statesman Lieutenant General Korsakoff of Trans-Baikal. He writes in his diary, "Saw Korsakoff off at 10.30… was told by G C Shoulman that it was reported that I wanted to leave told him I would not leave before my contract was out and that was a long way… was told by him that G. Korsakoff was quite satisfied with all my works and doing…"
[Korsakov Mikhail Semenovich (1826-1871), in 1848 was appointed official on special assignments to HH Muravyov, Governor-General of Eastern Siberia. At the beginning of 1849, Korsakov was sent on a secret mission to the Sea of Okhotsk to meet the Baikal transport sent for reconnaissance at the mouth of the Amur. In 1854, already in the rank of lieutenant colonel Korsakov, in Irkutsk, he disposed of all the preparatory work for equipping the Russian expedition to Amur; having traveled along the Amur along with Muraviev himself, he supervised the supply of Ayansk port and the coast of Kamchatka with all the necessary supplies. In December 1854, Korsakov outfitted the second expedition to Amur, with which he sailed along the Amur in May 1855, after which he was appointed commander of the troops concentrated at the mouth of the Amur.]
An entry in June reveals that convict labour had begun in the new steamship driven commerce, those from Nerchinsk. He writes, "June. Wens 10. Much rain but still low water in Shilka [river] was told a certain convict a gents son had run away from Nertchinsk, a new set of convicts "
[Katorga, as it was called, was a system of penal labor in the Russian Empire and the Soviet Union. Prisoners were sent to remote penal colonies in vast uninhabited areas of Siberia and Russian Far East where voluntary settlers and workers were never available in sufficient numbers. The prisoners had to perform forced labor under harsh conditions. In the area of the Nerchinsk Mining District [ru], which encompassed a large part of eastern Transbaikalia (today's Chita Oblast), labor was used for mining lead ore and silver on tsar's private lands (so called cabinet lands) and in foundries, also for wine-making and salt-processing factories. From 1850 to 1890, katorga labor was used at Kara gold fields and for the construction of prison buildings. According to George Kennan, "a few of the Decembrist conspirators of 1825" and "thousands of Polish insurgents" from their unsuccessful insurrection of 1863″ were transported to the Nerchinsk silver-mining district.]
An entry on 1 July 1868 reveals that Archbishop Innocent had paid a visit to the area again, travelling by steamer on the Amur river of course. And on the 6th "Governor Korsackoff arrived & went to Stretentchsky on Ingoda." The following day "Korsackoff left on board Shita for Nikolayevsk."
On 7 July the writer announces that a carpenter had finished his house.
As more steamships are built, they continue to be named after local towns and the rivers. For example, steamers are named Shilka, Onon, Ingoda, Nikolayevsk, the latter "arrived with 21 poods of gold."
On 10 August we find that the town of Blagoweshen [Blagoveshchensk] is now a port of call, this place situated at the confluence of the Amur and Zeya Rivers. A miscellaneous note at the end of the volume has for a heading "Wanted at Blagowcshensky [Blagoveshchensk]" and is followed by a list of items to bring to Admiral Bootakoff.
[Although Russian settlers had lived in the area as early as 1644 and were known as "Hailanpao" the Chinese name for the city), the present-day city began in 1856 as the military outpost of Ust-Zeysky; this name means settlement at the mouth of the Zeya River in Russian. Tsar Alexander II gave approval for the founding of the city in 1858 as the seat of government for the Amur region, to be named Blagoveshchensk (literally "the city of good news") after the parish church which was dedicated to the Annunciation. According to Blagoveshchensk authorities, by 1877 the city had some 8,000 residents, with merely 15 foreigners (presumably, Chinese) among them.]
An entry on November 1868 mentions the Polish convicts, "… Order from Shita [Chita] through Barislafsky to send away the last three Poles prostrated against it, convict received 250 lashes…"
A change of routine occurs in the early part of the year, being commissioned for a contract. The 13 February 1869 entry reads, "Got private work for Chestakoff on his locomotive." [Admiral Chestakoff was the Russian Minister of Marine, and was later involved in a reconnaissance mission during the British Occupation of Komundo, Japan, in 1885-1887.]
It seems that Captain Norwick is beginning to lose favour. On 10 March 1869, an entry states, "Nordwick had a dispute with Captains through them not been willing to undersign papers of receiving materials." And on 16 April, "Lutz bought Nordwick's house." In spite of the situation, the writer continues to trade with Norwick.
The author's work appears to be arduous and unrelenting. One of the few references to recreation involves a horse race, with the author writing on 18 March 1869, "Great race for 1000Rs against 200 with Samsonowich and Golbert the later won, my horse took fright."
On 14 September 1869 begins a revealing passage, including the summary of the writer's firsthand conversation with General Skolkoff, the Russian Emperor's Aide-de-Camp, who was initiating the construction of a new factory at Khabarovsk, and evidently sought the writer's involvement in the important project The event unfolds as follows, "General Ditmare arrived and left on Onon at 4 PM he going to Kara and Onon to the Amoor. Colonel Gertz arrived to review material in harbour.
15 September: Began, With Col Gertz to weight materials, Nicolaefsky arrived at 5 PM, expecting Skolkoff.
16 September: Weighing materiale of Harbour was sent on board Nicolaefsky found boiler a little burnt other things all well.
17 September: Fine day finished Materiales Admiral Skolkoff arrived on Zea at 9 PM.
18 September: Admiral out in harbour had a long talk with him said he wishes to have this factory in Kabarofsky [Khabarovsk] Left on Zea at 11. AM for Brenking Nordwick not in Uniform to Receive him
1 October: Zea returned from Brenking, saw Barislofsky told me Korsakoff wished him to speak with me about contract got a letter from Barre".
[General Skolkoff is described in The Times of 14 May 1874 as 'an Admiral, Aide -de-Camp General, and chief of the Emperor's personal Naval Staff.' After the 1858 Treaty of Aigun, the Russians founded the military outpost of Khabarovka, named after seventeenth century Russian adventurer Yerofey Khabarov who is best known for his exploring the Amur river region and his attempts to colonize the area for Russia. The post later became an important industrial center for the region. Town status was granted in 1880. In 1893, it was given its present name of Khabarovsk.]
On 2 October 1869 his entry reveals Captain Nordwick's involvement in convict conveyance, "… Orders from Zagaring to send all convicts to Kara, Koskawich arrived at 6 PM all well, Nordwick sent Telegram to Governor for permission to retain convicts."
And on 3-4 November 1869, more dealings with Cpatain Nordwick, "Saw Barrislafsky asked him about boiler for fire engine, told me it was for harbour not for him. Told Nordwick of same when he said we had a round one which would do for us I told him it would be of no use but he thought different, asked for bricklayer to see to ovens of factory and my house… Much ice in Chilka no bricklayer sent to see to oven, asked Nordwick about 4 large tubes for water in factory in case of fire."
So much remains to be learned from this volume, which continues until 20 May 1870. Before concluding, the writer documents the end of his current work and an imminent relocating, "11 May 1870. Had an interview privately with Gen. Karsakoff was well received. Thurs 12 Gave machine shop over to Clotz, low water in Chilka [Shilka river]… Sund 22 Baptized Maria and prayer meeting in my house. Leave to morrow if can get house all packed up."


… crank for Korsakoff which came from Irkvotsk [Irkutsk]…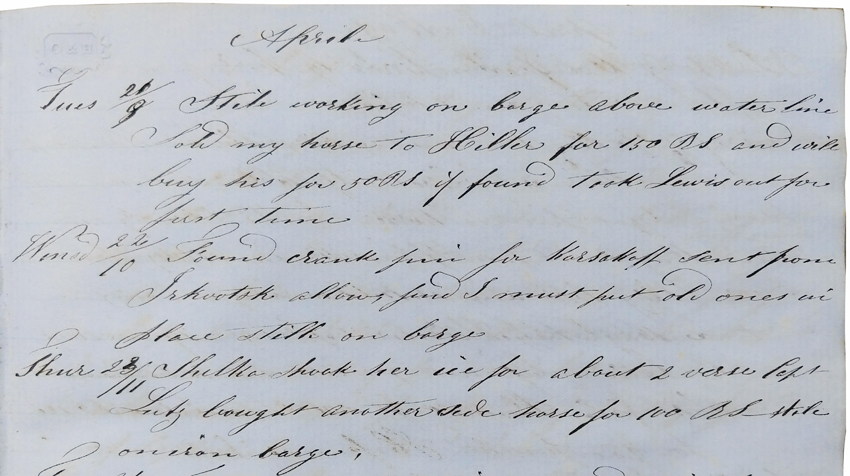 Nerchinsk mining district prisoners used as labour:



Death of R. Smith: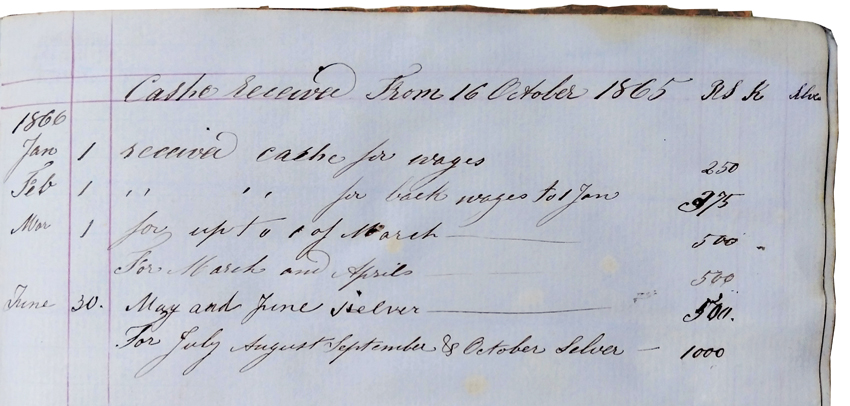 The second volume begins six years later, and continues to yield fascinating information from the formative years of Russia's Far East communications. The writer is by this time a very seasoned engineer, continuously gaining respect from the leaders directly connected to the Russian monarchy. More notables are mentioned.
With the heading "Journale Andre 1876" this volume begins 14 August 1876, once again working in the Trans-Baikal region. Andre, sometimes seen as Andree, is a new steamship which the writer was testing and perfecting for navigation in the complex and challenging river system. The writer testing the performance of an engine by taking a steamship up river. On the 20th he remarks, "Helena arrives, entered protest", perhaps referring to events brewing in the conflict between Russian Workers and Intelligenty, which would ultimately culminate into the Kazan Square Demonstration in December the same year.
Some details from a cursory look through this volume:
Low water levels in May 1877 cause some hardships, and we also learn that some form of lochs have been constructed on the Shilka river. On 4 May 1877, "Ditmare a ground just outside of locks. Could not move further water in Schilka Standing… a little rain." The following day again the writer was "out at harbour at 7 AM found Ditmare aground and all asleep 12 men waiting, returned to town & sent out 20 more men… at 4 PM out again at harbour and brought Ditmare to Stretensky, at 7 PM informed Pauloloff she was quite ready. water stoped rising. Water standing." On 6 May, there seems to be hope for progress, "Water rising 1″ per day got all lugage on board Ditmare… Telegrame from Skapalzine that only 2′ of water in Schilka." On 7 May he equips the vessel, "Left on board Ditmare at 1,50 PM with 220 men 500 Poods Sukary [dates] 5 cask of Spirits, 2 Verses [versts] above Mongady found 3 ft of water but concluded nearer shore to have 3 1/2 of water. Stoped at village Ouledgesh." An arduous procedure ensues the following few days to get the ship afloat and on its voyage, requiring continuous stops to measure water levels and adjust its path accordingly, this interjected with periods of waiting for water to rise.
On 16 May 1877 he reports, "Andree again a trial trip upward 4 verses [versts] with Director on board all worked well and all quite satisfiyed with Steamer Andree…".
Another run of locomotive work begins on 17 January 1879. He writes, "Work finished and packed up all machinery for André at 11. A.M. Lebotking ordered 1 sleigh for me to morrow morning himself left at 11 PM Feodoroff drunk.
18 January. Lower Demetry Locomobile again started after 3 days & night repaires. Myself with Stop valve for Andree left Priska at 9. AM. arrived at Residense at 9. PM found Lebotking Mykoff & Jelvettre here
19 January. Boiler of Nicolaefsky and frames ready loaded for Priska. Leboking & Mykoff left at 11 PM….
27 January. 22 of cold Feodoroff arrived here at 9.AM Told me le locomobile of lower saw mill was brought back to shop to change all tubes
28 January. 21 of degrees Spirit arrived from Stretensky Doctore & F returned at 11. PM the worse for wine."
On 29 March 1879 he describes a catastrophe in Sretensk, "At 2 AM Fire broke out in old stores in market place Stretensky and burnt down 19 shops and hotel got most of my things out and took lodgings by Pauveloff at 7 AM all this time on Schilka [Shilka River]."
On 30 August 1879 he writes: "Bootakoff name day he went to see barge in Platoke returned at 12 MD said would be finished to day." The writer is speaking of Admiral Grigory Butakov (1820-1882) who appears to have been in the region for some months following.
On 21 November 1879 the diary reveals that not all men were keen on his presence: "Bootakoff again insulted by Goshcoff," and the following day, "Bootakoff left to complain in Albazine."
[Admiral Grigory Butakov (1820-1882), known as "Captain Bootakoff from Oslaba," was a senior captain of a squadron in the Russian Imperial Army. Butakov is widely credited as being the father of steam-powered ship tactics during the 19th century. He was the one who met with the Americans in October 1863 during the American embassy's Official Mission to Russia, led by Hon. G.V. Fox. Samuel D. Tillman, Chairman of the American Institute Polytechnic Association had invited the Rear Admiral S. Lessoffsky to a discussion about iron-clad vessels, including iron plating. Lessoffsky was unable to attend and sent Butakov in his place. This was a significant event and garnered attention in Europe as well, being reported in London Standard Newspaper, the Freeman's Journal from Dublin, and possibly other news. In 1881 Butakov assumed the role of Commander-in-Chief of the Port of St. Petersburg.]
The volume ends with a short list of repairs made to the steamer Andrée, and a more substantial list of the same for steamer Djinlinder in the years 1878-79.

With the last entries in the second volume, written in August 1880, he travels via Tomsk and St Petersburg, and after a quick passage arrives by rail in London at the now historic Cannon Street Road. He is immediately taken ill with a fever, from which he is still suffering, under the care of a Dr Vickers, as the journal ends on 23 September 1880.

Of added interest, this volume features some quick gold-digging expeditions made by the writer in his spare time. [Russia has a handful of major gold producing regions in the east; Krasnoyarsk, Irkutsk, Magadan, Amur, and Chelyabinsk. Krasnoyarsk in particular is one of the more prolific gold mining regions in the world.]
He writes on 15 December 1878, "Left for gold washing at 10AM with doctore" and the following day "Arrived at Vassiloff gold washing at 1 midnight nighted by Doctore Footerine here but left at 9 P.M."
Again on 11 January 1880, he sets out to find the precious mineral, though it seems that the company was involved as one of the ships were used for the voyage, "Nerpine left at 10 AM for Residense Larring at 4 PM for procuring new place for gold 120 verses [versts] from here," and a week later: "Larring returned from seeking gold but found none." Another attempt is made on 18 February 1880, "Nerpine directore returned at 4 PM from Alexzy. gold washing good gold found at last years place To day left good to transport to gold washings."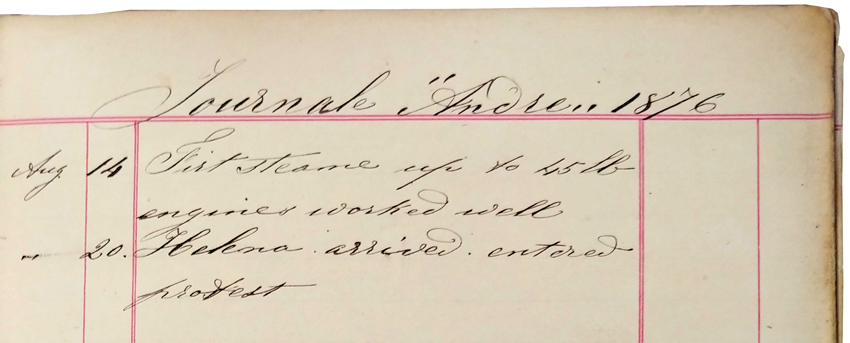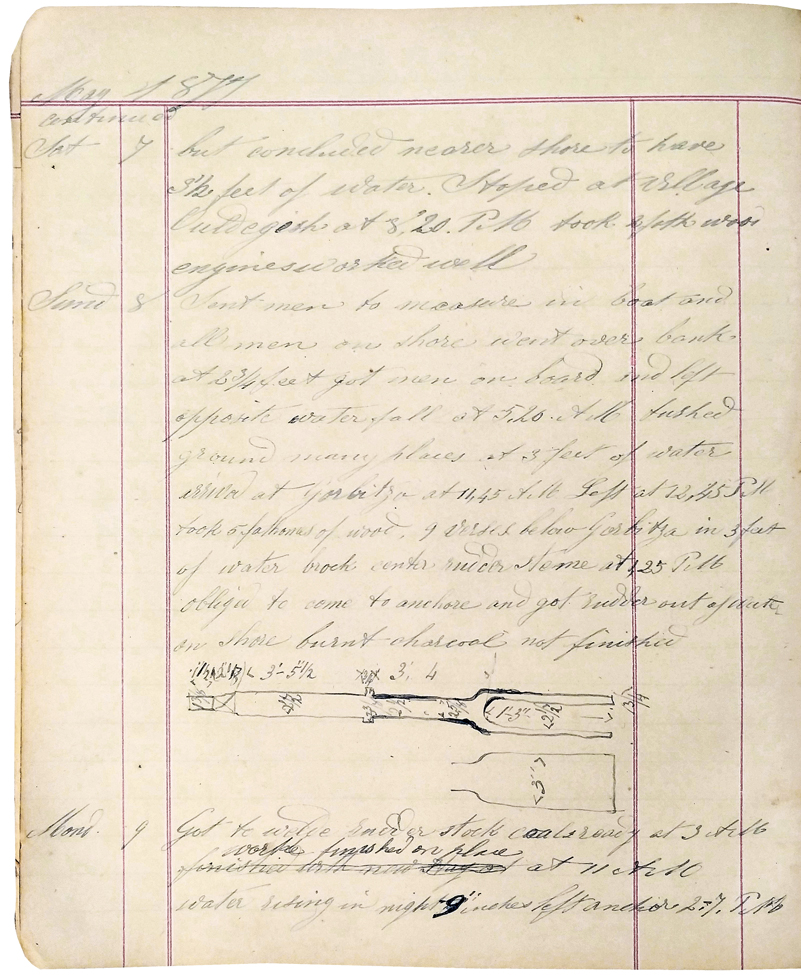 Fire in Sretensk market:


Gold washing: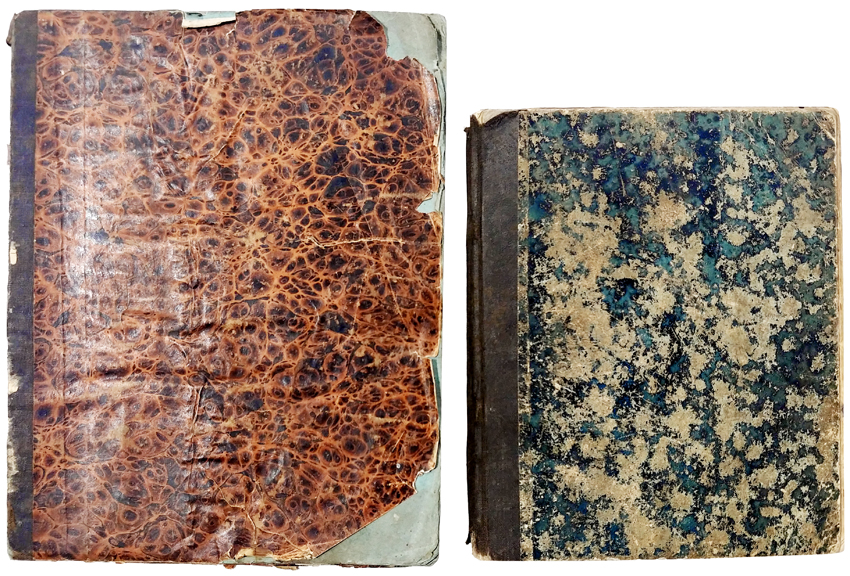 Brief history of Chita and area:
The writer is for a time in the Chita area, in present-day Zabaykalsky Krai. Chita was incorporated as a town in 1851 – only 10 years before the present journals begin and the writer arrives in the region. He was employed by wealthy Russian and Siberian pioneers of steamship navigation on the Amur River. Chita was a mining center in a region that was only just beginning to develop, largely due to the Jewish exiles known as Decembrists, who had settled there. They educated the small Russian population and are responsible for the increase in trade, which was primarily timber, gold and uranium, all harvested from the region.
The settlement of Chita, in Siberia's Trans-Baikal region, is known since 1653, but it had been overshadowed by Nerchinsk until the twentieth century. Since the end of the 17th century, this settlement was known successively as Chitinskoye plotbishche, Chitinskaya sloboda, Chitinskiy fort, Chitisnkoye settlement, and simply Chitinsk.
In the early 1820s, there were 300 residents and 26 houses. After 1825 several (some say approximately 85) of the Decembrists suffered exile to Chita, and thus, Chita is on occasion called the "City of Exiles". Many of the Decembrists were intellectuals and members of the middle class, and consequently their arrival had a positive effect.
In 1836, the Russian Tsar, Nicholas I allowed some Jews of the Pale of Settlement to establish themselves permanently in Siberia and become, unusually in Jewish history, agriculturists. A notable migration of Jews to the Chita region occurred in the second half of the 19th century, due to building of silver plants and mines in Transbaikal, and its closeness to the Russian border with China which helped the newly built townlets enjoy an international trade. There were four ranks of Jewish immigrants allowed in Transbaikal, divided into top traders, specialists or craftsmen; soldiers (former cantonists and their families); and political exiles. As a result, most of the Jewish population which moved to Chita and other townlets were male.
The well-educated exiles made an effort to educate the citizens of Chita and pursue trade. Through these efforts, the City would eventually become a major trading portal in Siberia, particularly since the natural resources of the area included timber, gold and uranium.
When Richard Maack visited the city in 1855, he saw a wooden town, with one, also wooden, church. He estimated Chita's population at under 1,000. He predicted that the city would soon experience fast growth, due to the upcoming annexation of the Amur valley by Russia. Indeed, by 1885 Chita's population had reached 5,728, and by 1897 it increased to 11,500.
Located at the confluence of the Chita and Ingoda Rivers and on the Trans-Siberian Railway, 900 kilometers (560 mi) east of Irkutsk, today, Chita is a city and the administrative center of present-day Zabaykalsky Krai, in southeast Siberia in Russia.
Steamship building on Lake Baikal had also only just begun, but unlike the iron-clad Amur River steamships, these vessels were made of wood.
In 1823 the engineer-mechanic Rozen put the idea about steamship building on Lake Baikal into mind. But the Departments of Navy and Budget didn't support the project. Nikita Fedorivich Myasnikov went at a hard task in organization of the steamship building here. Nikita Fedorivich Myasnikov was a merchant belonging to the top guild from Rostov, commercial counselor. He was the son of Siberian millionaire Fedor Borisovich Myasnokov and also the gold-miner, owner of distilleries and water mills.
Myasnikov petitioned the Ministry of Finance for the accordance of a privilege to him for shipping organization on the Siberian rivers. On 8 December 1839 such privilege was given to him. It admitted the exclusive right to found and to support the shipping company on Lake Baikal and rivers Ob', Tobol, Irtysh, Yenisei, Lena and its tributaries for a 10-year period.
The place for steamships building was chosen in 18 verst (63 000 ft) above Irkutsk on the left bank of the Angara River by village Grudinino. On 29 March 1843 the foundation of the first steamship's wooden hull was laid, and on 15 September the first ship, named Nicholas I, was launched. It was 35 m long, 4 m wide and 8 m with paddle guards. The barge for haulage was built together with the steamship. The second ship Successor Cesarevitch (Crown Prince) and the second barge were laid after the first ship's launching. …..
'Emperor Nicholas I' was damaged during the storm but repaired in 1854, and then it got burnt and stripped down in 1856. 'Crown Prince' maintained a regular service on Lake Baikal, but it went down in 1860. Myasnokovs didn't have any ships more, but the shipping company's activity continued on Lake Baikal, the Rivers Angara and Selenga. D. Benardaki, a retired lieutenant, participant of Amur campaign, built two ships in Listvyanichnoe in 1858: the first was named for the sake of governor-general – Muravjev-Amurskij, and he gave his own name to the second ship without false modesty – Benardaki.
The Eastern-Siberian Inland Navigation Company on Lake Baikal was founded in 1885. The Ministry's Committee Regulations about the steam navigation on the Angara River was approved on 17 August 1885. This date is deemed to be the day of firm's establishment.