Rare Original Albumen Photograph
Japanese Sericulture
Sorting Cocoons
Feeding Silkworms
1890s
Japan, circa 1890s. Original numbered albumen photograph taken by an unidentified Japanese photographer, titled "Feeding Silk Worrms" (sic), showing four females doing the task and one man sorting cocoons in a basket. Photograph measures approximately 26 cm x 20,5 cm. Very faint age-toning, soft crease to one corner, otherwise in very good and original condition, beautifully hand coloured and nicely preserved. Suitable for framing.Silkworms are being fed mulberry leaves, their only food source in their natural habitat, and critical for their survival. They were to be fed as much as possible before they shed their skins. During the month between hatching and spinning, the cocoons needed to be fed every few hours, day and night. As seen in the photograph, silkworms were reared in rectangular mats made of rush or bamboo. The mats were typically stacked on a wooden rack.Producing silk was a lengthy, complex process. The men took responsibility for the mulberry trees, growing the only food silkworms eat, and the women were responsible for the critical task of feeding the leaves to the silkworms. Silkworms do not spin cocoons on demand; timing and temperature have to be handled carefully. If properly coddled with ideal conditions and consistent feeding, the worms eventually spin cocoons for several days, each cocoon made up of a strand of silk several thousand feet long. Over two thousand silkworms are needed to produce one pound of silk.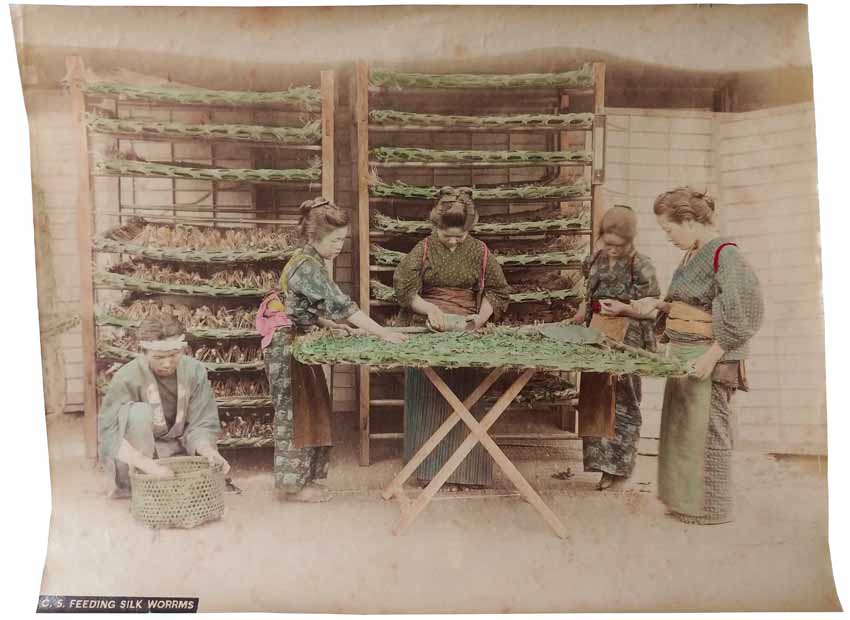 The fully domesticated Bombyx mori moth, the dominant silkworm variety used for the finest silk textiles today is the same species used in silk production thousands of years ago. The process of silk production begins when the female silk Bombyx mori moths lay their eggs. Each one will lay from 200 to 500 eggs.