Roosevelt Family
Self Portrait Miniature Painting
Cameo Pendant
Made 1900-1908

Artist and Sitter
Maud Sutton Pickhard
Illegitimate Daughter of Politician Robert B Roosevelt, Sr.
First Cousin of President 'Teddy' Roosevelt

Also Related to President Franklin Roosevelt
And First Lady Eleonore Roosevelt

Original miniature self-portrait painting by Roosevelt family member Maud Sutton Pickhard (née Fortescue 1880-1961), in a most elegant daytime "best" dress, signed MSP by the artist. As she looks fairly young in this image, had a London address, and at the time was still using the title "Mrs," the painting was made no earlier than 1900 and presumably in 1908 or earlier while she was still married. Inscribed in manuscript to verso "No 1. Title: A Study in Silver. Artist: (Mrs) Maud F Sutton Pickhard R.B.A. Flat 8, 31 Buckingham Gate S.W." Mounted in a large oval pendant with copper frame over glass, expertly crafted with six copper pins securing the cloth covered cardstock mount into the frame, measuring approximately 8 x 7 x 0,5 cm. Contained in a recent purpose-made clamshell box with foam padding for protection. Very slight age-toning to frame, otherwise in Very Good to Near Fine, original condition.
The artist was a published female author born into the prominent Roosevelt family through rather scandalous circumstances. She is first cousin to President 'Teddy' Roosevelt, and first cousin once removed to Miss Eleanor Roosevelt. She is also twice connected to President Franklin D. Roosevelt, through lineage as fifth cousins once removed, and more closely through Eleonore's marriage to Franklin.
The American Roosevelt family of business and political fame include two United States Presidents, a First Lady, various merchants, politicians, inventors, clergymen, artists, and socialites. Progeny of a mid-17th century Dutch immigrant to New Amsterdam, many members of the family became locally prominent in New York City business and politics and intermarried with prominent colonial families. Two distantly related branches of the family from Oyster Bay on Long Island and Hyde Park in Dutchess County rose to national political prominence with the elections of Presidents Theodore Roosevelt (1901-1909) and his fifth cousin Franklin D. Roosevelt (1933-1945), whose wife, First Lady Eleanor Roosevelt, was Theodore's niece.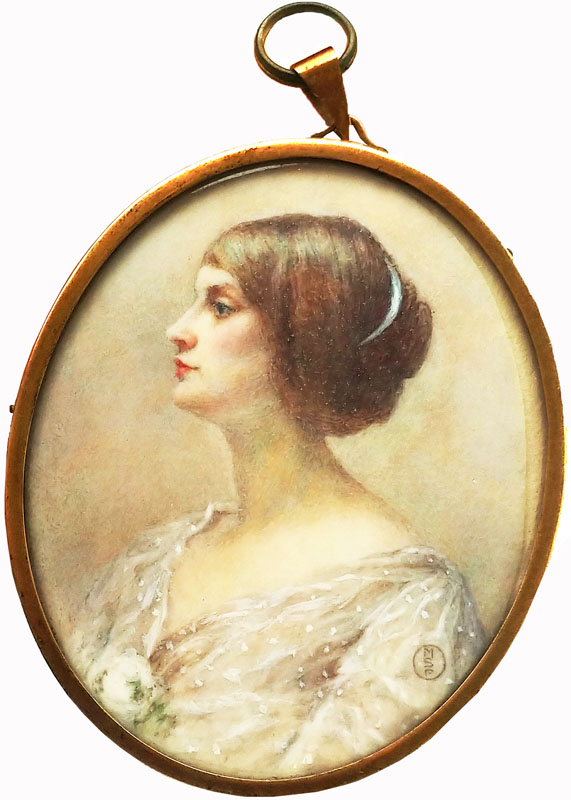 A remarkable miniature oval self-portrait pendant with numerous illustrious Roosevelt connections, the artist herself being a published female author, little-known for her skill as a painter.
Maud Sutton Pickhard née Fortescue (born 25 August 1880 in Manhattan, died 1961) was the illegitimate child of U.S. Congressman Robert Barnwell Roosevelt, Sr. (1829-1906) and his Irish immigrant mistress Marion Theresa "Minnie" O'Shea Fortescue (1849-1902).
At the time of her birth, her father was still married to his first wife, Elizabeth Ellis. Robert initially established a satellite family in Manhattan on the same street as his primary family's residence, listing himself in the New York City Directory as a fictitious lawyer named Robert F. Fortescue with Marion as his wife. After Ellis' death, in 1888, Robert married Marion in a Roman Catholic Church in Clapham, England, Marion officially becoming his second wife. He subsequently adopted Maud and her two brothers. The three children that he had conceived with Minnie before their marriage were known as his stepchildren. The children maintained the Fortescue name throughout their lives, even though they were born into the Roosevelt family. Maud's father was known as a ladies' man, having had several mistresses over the years. He reputedly purchased garish green gloves at a sale in A. T. Stewart's Department Store, and distributed them to his paramours. For years his friends amused themselves, while strolling down Fifth Avenue or riding in Central Park, by looking to see who was wearing "the green gloves."
At twenty years of age, in 1900, Maud left a relatively sedate life, to marry Ernest William Sutton-Pickhard, the son of German-born Manhattan millionaire Ernest Wilhelm Pickhardt who had made his fortune in the dye industry. She moved with her husband to London, although the births of their two children, Roland in 1901 and Marion in 1904, occurred in New York. Maude and Pickhardt were divorced at the time of his suicide in 1909. She had anglicized her name to Pickhard. Maud returned intermittently to Manhattan.
Mid-September 1914 she set off from Charing Cross depot, London, to see what France was like in war time, thinking she could convey "to those who are obliged to remain at home some idea of the great work which is being done in France by the Red Cross and other kindred organisations". She took with her a letter addressed to a Doctor Turner who was based in a Paris hospital, formerly the Lycee Pasteur, where she hoped to work as a VAD because she was under the impression this facility was short of nurses and untrained volunteers. In Folkstone, she was obligated to fill out a form to prove she was not a spy, and was made to hand over her newspapers. She described her arrival at Dieppe as a "scene of a great exodus… over twenty-thousand refugees… a mad struggle" to get on boats travelling to England. Maud fearlessly pressed on, convinced her social connections would open doors and keep her from harm.
Maud indeed volunteered as a nurse in France during the early part of the Great War. She wrote of her experiences in 'France in war time, 1914-1915' published by Metheun in 1915. In 1941 she also published 'The Roosevelts and America' which charts the history of the Roosevelt family in America over a period of 300 years. In 1945 Maude married Brigadier General Richard L. A. Pennington.

Maud's Roosevelt connections:
Robert Roosevelt (Maud's father), was the brother of Theodore Roosevelt, Sr. (1831-1878), and therefore uncle of 26th US President Theodore 'Teddy' Roosevelt, Jr. (1858-1919) and great-uncle of Eleanor Roosevelt.
Maud's brother Kenyon Fortescue (1870-1939), was a Sayville resident and a partner in the Manhattan law firm of Roosevelt and Kobbe; he never married.
Her brother Granville Fortescue (1875-1952), was an American soldier who served with his cousin, Theodore Roosevelt in Cuba. He was a presidential aide in the first Roosevelt administration and later a journalist and war correspondent. He was laid to rest in Arlington National Cemetery, the only Roosevelt to be buried there.
Granville's daughter, Maud's niece, is American actress Helene Whitney (born Kenyon Fortescue, 1914-1990). She appeared in films in the late 1930s and 1940s. She was known as Helene Reynolds after her marriage to Julian Louis Reynolds, son of Richard S. Reynolds, Sr. and heir to the Reynolds aluminum and tobacco fortunes.A quality crafted brass pendant with jewelry pins: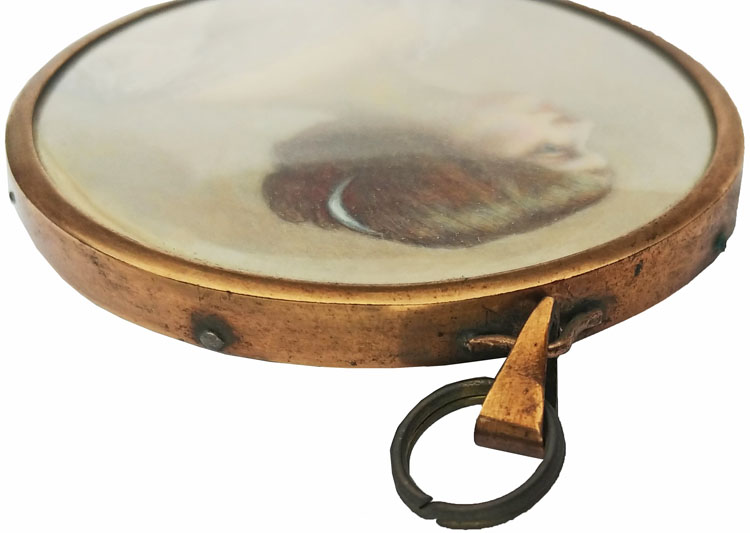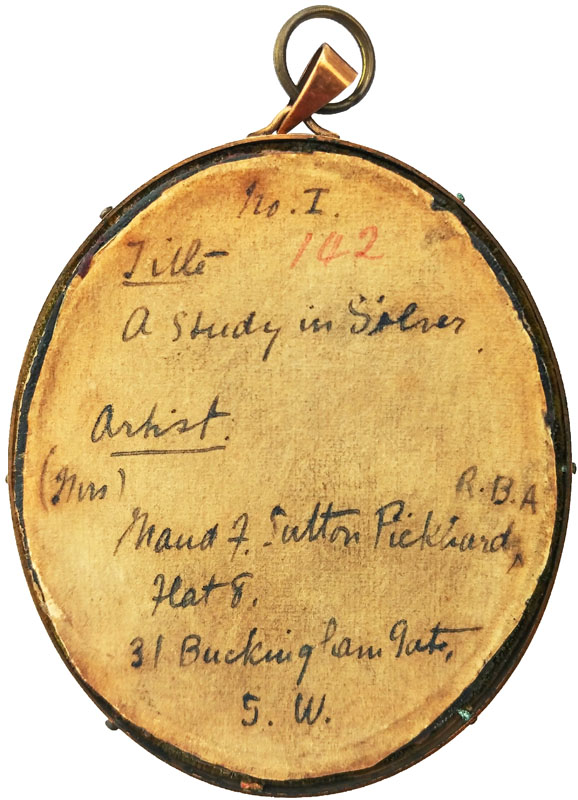 Signature of Maud Sutton Pickhard (née Fortescue):