German Photo Illustrated Monthly Magazine
Describing the Far East
China – Japan – Korea – Indochina

Der Ferne Osten
By Carl Fink
Very Scarce Near-Complete Run
1902-1906

Carl FinkTitle: Der Ferne Osten. [The Far East].Shanghai: C. Fink, Deutsche Druckerei und Verlagsanstalt, 1902-1906. Exceedingly scarce consecutive and nearly-complete run of the noteworthy and pioneering German illustrated monthly magazine, produced by Carl Fink, one of the foremost journalists and publishers in China who is regarded as the most important German in China during the period. The lot consists of the first three volumes; within these 11 of the 12 issues are present and complete. Edited and published by Carl Fink, at the German printing and publishing house in Shanghai. 8vo. Volumes 1 to 3, nearly complete with the exception of only one quarterly issue. Altogether 1219 pages of text with profuse illustration, plus title pages, frontispieces, additional photographic plates. Features some zincograph photos, and some coloured and gilted artistic frontis illustrations. All ads are present in the first seven issues. All text is in German. The seven earlies issues in original boards, illustrated paper over cloth, titled in German to recto, Chinese symbol to verso. A lovely circa mid-century binding houses five issues, one of which is a duplicate of the issues in original binding, this volume half calf over marbled boards, spine tooled and titled in gilt. Minor wear to boards, otherwise in very good condition, most pleasing with several issues in original binding, crisp and clean internally, exceedingly scarce to find so many consecutive numbers. Sets this complete are not found even in libraries.This lot includes the following:Individual volumes, each issue in original bindings:
Volume 1, published in 1902: Issues 1-4, paginated 1-408 consecutively
Volume 2, published in 1903-1904: Issues 1,2,4 which includes pages 1-100, 101-180, 287-386, respectively (lacking quarterly issue 3 of vol. 2)
Rebound volume containing:
Volume 2, Issue 1 only, page 1-100 (duplicate from above)
Volume 3, published in 1905-1906: pages 1-432, one issue as released
Note: This volume does not contain the ads; contents are otherwise complete.
"Der Ferne Osten" was a German illustrated monthly magazine, produced in Shanghai by Carl Fink from January 1902 to 1911. It was a non-political work, designed to present the customs and cultures of the Far East to an audience of foreign residents in China. Content focused largely on the Chinese ways of life, secondly Japanese, also examining to an extent Indo-China and Korea. Fink also published a monthly version of it in English, titled "The East of Asia" from 1902-1906.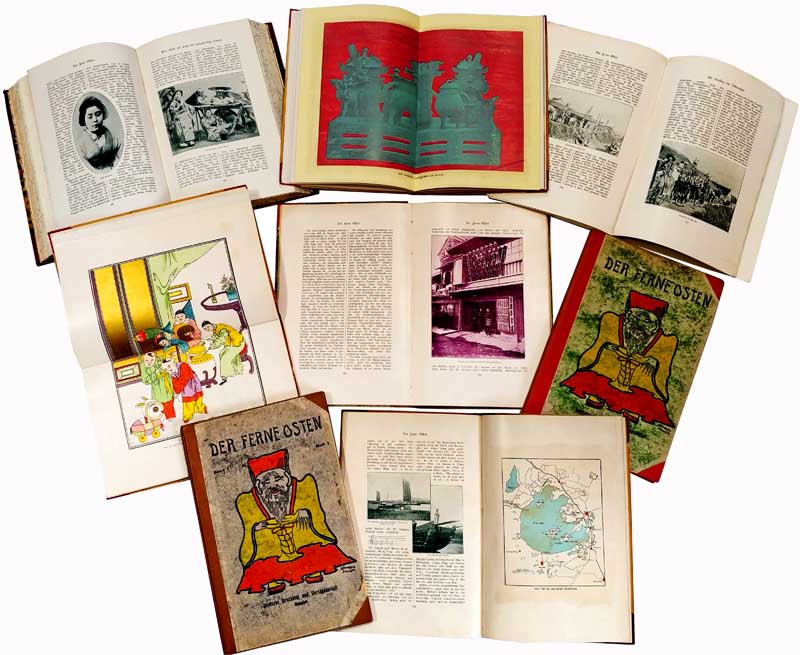 Carl Fink (1861-1943) was a journalist, editor, publisher, and founder of several newspapers and periodicals in China, in German, English, and also one in the local Chinese language. Acclaimed as the most important of all Germans in China at the turn of the century, he was most instrumental in establishing the German news service for East Asia "Deutscher Nachrichtendienst fr Ostasien, from which German newspapers around the world drew information.Born in Lübeck, he studied law and state sciences at the Universities of Leipzig and Berlin. After a period of time in Mexico and Central America, in 1888 he began work as a journalist in the USA, subsequently doing the same for several years in Germany. In 1898 he was sent to Shanghai for a new appointment as "Chefredakteur" [Editor-in-Chief] of the weekly newspaper "Der Ostasiatische Lloyd" [The East-Asian Lloyd], retaining this post until 1917.Fink was one of the foremost journalists in China to become intricately involved in Chinese politics, not only as an observer or reporter, but taking a key active in political causes. Little-known about Fink is how early he began his involvement, for example in the "Hundred Days of Reform" movement of 1898. As it were, the daily journal, which appeared in 1898 called "Shiwu ribao," then published by the influential periodical "Shiwu Bao [Chinese Progress]" was quickly suppressed by the reform movement. However, it was Carl Fink who enabled it to continue publication, by changing its title to "Zhongwai robao" and publishing it under a German firm owned by him.Among his other notable works in China, he founded the daily "Tsingtauer Neueste Nachrichten" [Tsingtau Latest News] which was published in Qindao from 1904 to 1914, during German occupation. Its success caused the local Tsingtau weekly paper "Deutsch-Asiatische Warte [German-Asian Viewpoint]" to terminate. He also founded the daily newspaper "Deutsche Zeitung in China" [German Gazette in China] during the Great War.Continuing as an influencer, and advocating his political views, he was during the First World War greatly involved in spreading "friendship propaganda" to maintain Sino-German relations. During the war, although many German newspapers were forced to stop, Der Ostasiatische Lloyd, edited by Fink, continued to be published. Later, he temporarily took over the political and general sections of the "Ostasiatischen Rundschau" [East Asian Magazine]. From 1926, he was editor for the journal of the Federation of Foreign Germans, "Deutschen Auslandswarte" [German Foreign Office]. From 1929 to 1934 he directed the magazines of the German Fleet Association and the Association of German Fleet Clubs.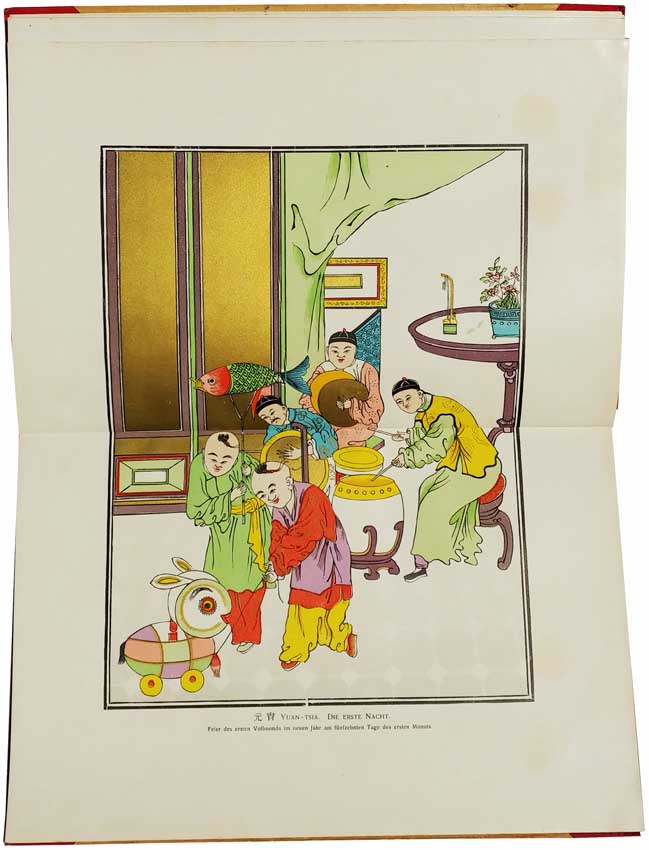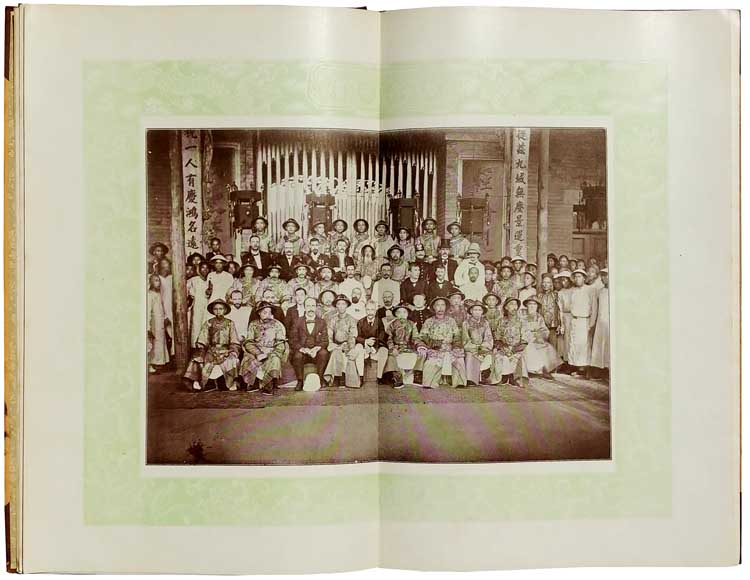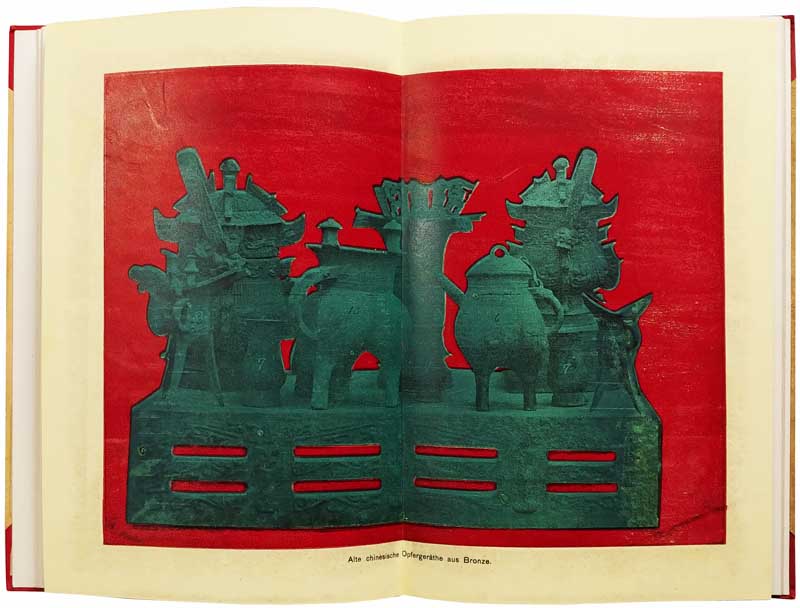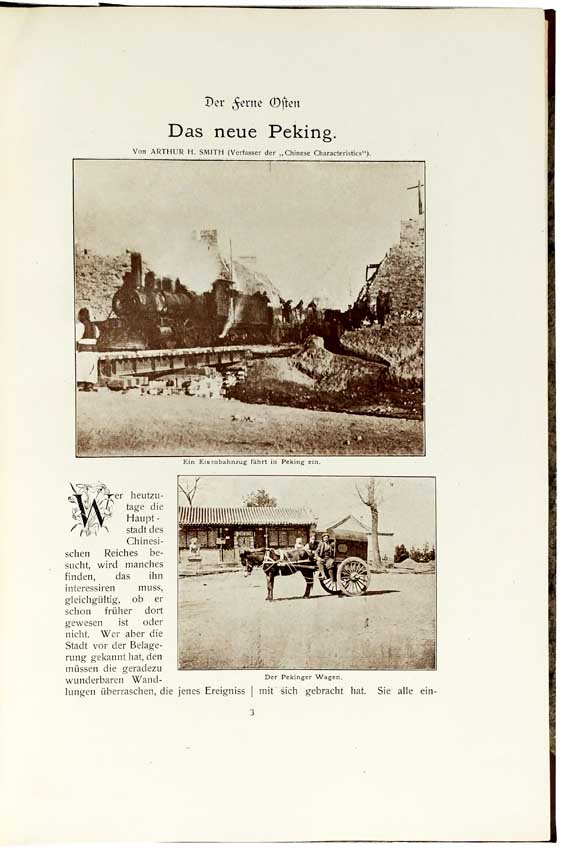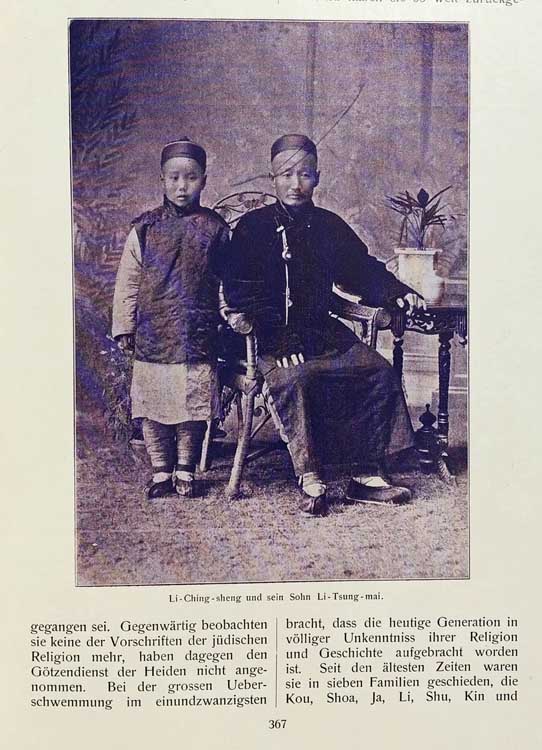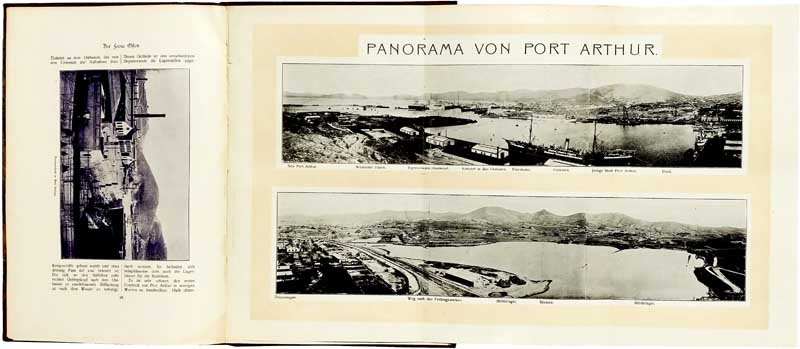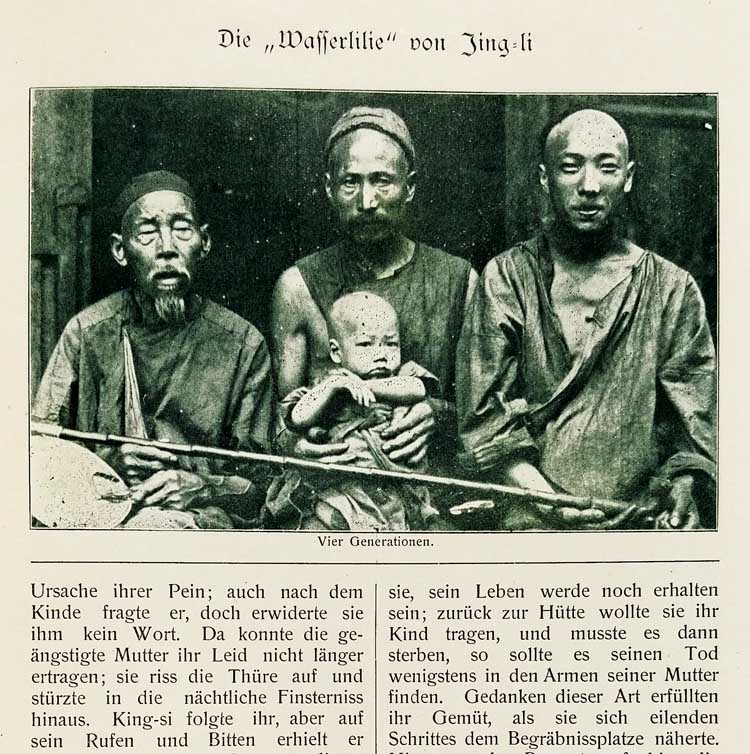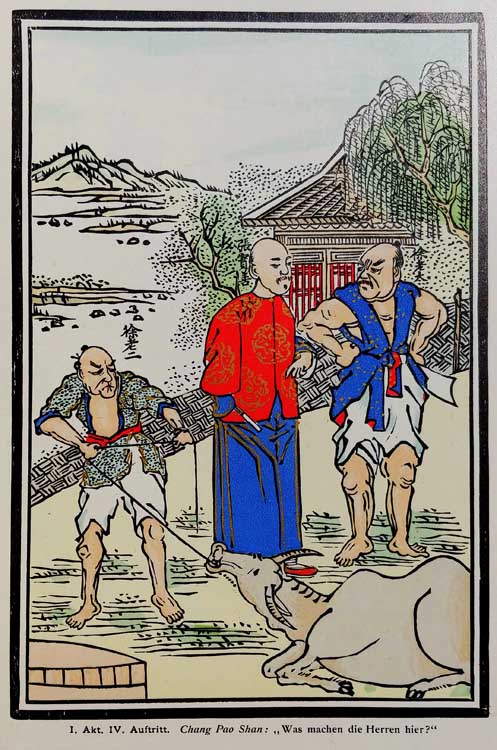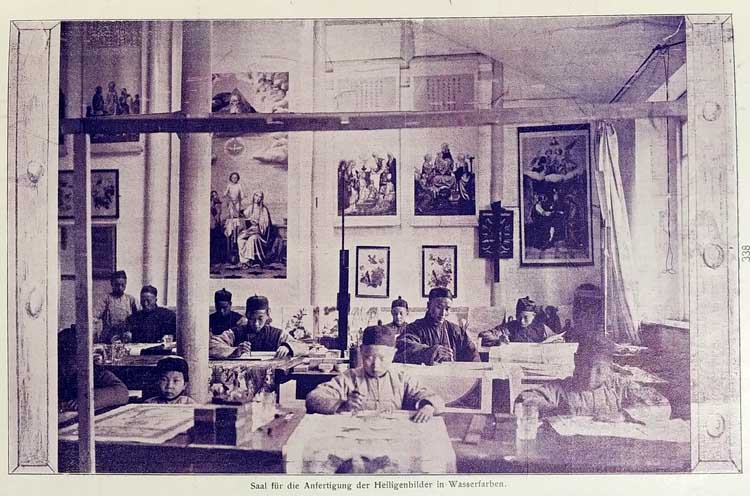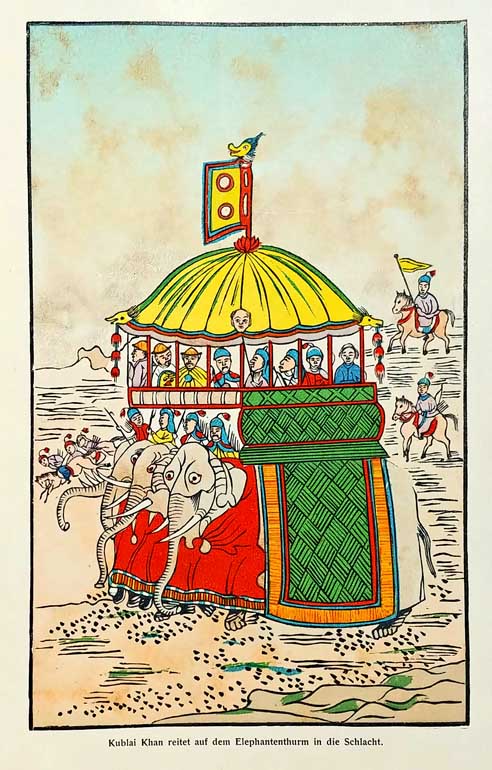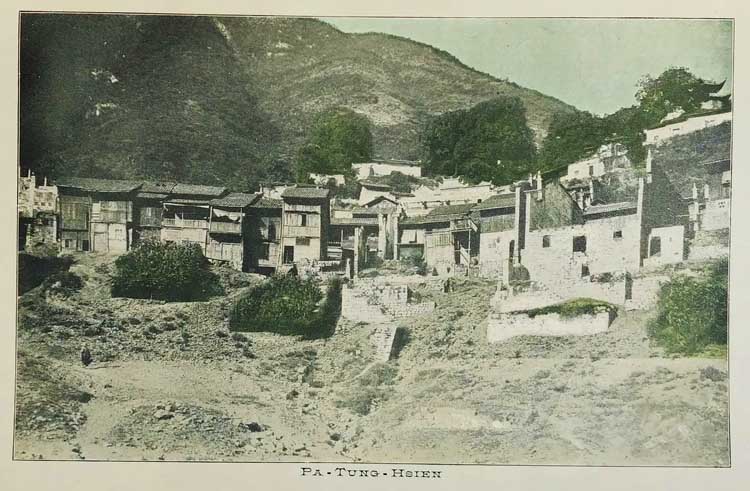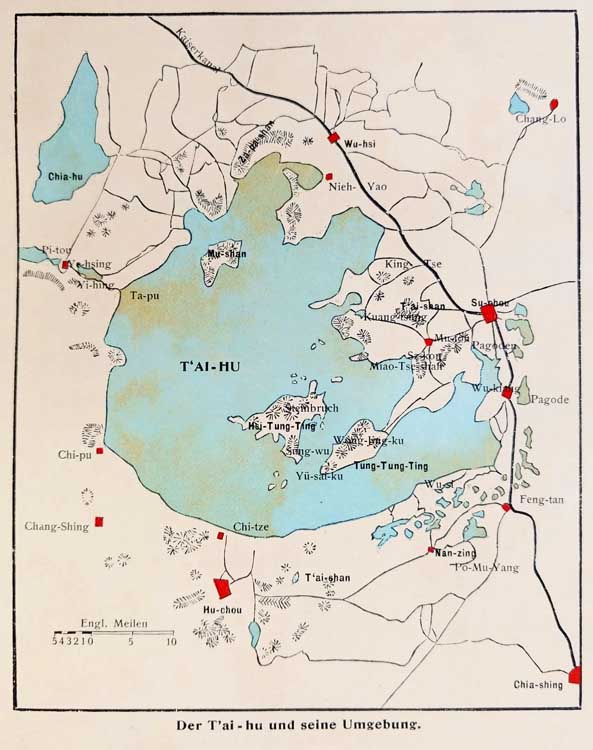 Rare illustrated German magazines produced in Shanghai to disseminate knowledge of East Asian culture while also cementing Sino-German relations, this is a substantial lot, a near-complete run of consecutive issues from the very first and spanning five years.It is interesting to note that this publication began one year after the Boxer Rebellion ended, and its creator was a pioneer publisher in Shanghai, and one of the earliest to engage in political affairs. Although the content was strictly non-political, it was designed to foster better Sino-German relations by introducing Chinese custom in a most favourable manner to the German colonial settlers.At the time, Sino-German relations were rather tentative, owing to the Germans participation in the crushing of the Boxer Rebellion, and even before that, with Germany joining imperialist powers like Great Britain and France in carving out spheres of influence in the Chinese empire. [In 1900, Germany took part in the Eight-Nation Alliance that was sent to relieve the Siege of the International Legations in Beijing during the Boxer Uprising.]Luzac's Oriental List, Vol. XIV, for January to December, 1903, published the following review of Der Ferne Osten which had only been in publication for one year: "Der Ferne Osten is a new periodical which cannot fail to be welcome to all who take an interest in the Far East. The three first numbers give us a clear idea as to the line on which the publication is evidently to be conducted – not the highly scientific line – but one which which will give complete satisfaction both to the man of learning and to the general reader. The purely scientific spirit is preponderant only in a few articles, in most, however, it keeps itself decently in the background, the authors wisely contenting themselves with communicating how China, Japan, Korea and Indo-China appear to the eye of the ordinary visitor. Such a periodical must prove a thorough success. It opens brilliantly with a well-written description of Modern Peking by Arthur H. Smith, the well-known author of the invaluable "Chinese Characteristics" and "Village Life in China". The first number contains an interesting Chinese drama, translated by Professor Forke of Berlin, and elaborate descriptions of Port Arthur, Wei-hai-wei and Kiautschau. ln the second and third numbers we have a description of Peking Lamaseries and sketches of some of the episodes and some of the great men in China's history. They also contain elaborate details of the Western Imperial Cemetery – the wonderful grandeur of which, is here depicted for us for the first time; a description of Buddhist monasteries and monastic life in China, and a variety of other articles. The work is profusely illustrated with good or tolerably good zincographs. The editors have had the good idea of publishing an edition in English at the same time. This is sure to greatly further the circulation of this new periodical. (See pp. 142, 167)."Glancing through the present volumes:The very first issue of the first volume is present here, and features a German translation of an account of Peking [Beijing] by American missionary and author Arthur Henderson Smith (1845-1932) who spent 54 years in service in China. A four-act theatrical play titled Revenge, "Die vergeltung. Schauspiel in vier Akten von Yu-Chin," contains drawings made by Chinese artist Hsu Chung-Pao illustrating the justice system and sentences of torture, among other scenes. In a comparison between Russian, English and German districts in North China, we find a fold-out panoramic view of Port Arthur.Peking's lama monasteries appear at the start of the second issue, with a detailed account with photographic illustration including ancient Tibetan text and a fourteenth century dynastic stone inscription. A large fold-out in this volume shows Bangkok's Wat Phra Kaew, commonly known in English as the Temple of the Emerald Buddha. Following this is a description of Siam. A historical sketch on China centers on its ancient leaders, beginning with Emperor Qin Shi Huang, founder of the Qin dynasty. Other accounts describe ancient Chinese coinage and minting, as well as the Great Wall. Rather uncommon for the period, is a substantial account of Seoul in Korea.The second half of the year 1902, issues 3 and 4, present more highlights from Peking, Buddhist cloisters, an historic gravesite, rock tombs, the various Chinese boats including rafts and sampans, a history of Tsingtau, a description of Shashi [Jingzhou] which is here called "the center of the middle kingdom" by the article's title, a four-page honorary account to Guangxu Emperor who had in the same year returned to the capital after the withdrawal of the foreign powers, a description of Chinese Jews, university education in Canton, and Japanese proverbs.The second volume, produced quarterly in 1903, begins with Chinese festivals and related traditions. Other matters of interest are monuments, Confucius, a tour through the Yangtse Gorges, the city and a tidal wave at Hangzhou, Chinese music, Northern Yunnan, a collection of bronzes owned by a Chinese viceroy, the people of Fukien, foreign missionaries, the Korean school system, and much more.The third volume, which was produced in 1905-1906, is contained in a single binding, which also contains one issue from the previous volume. Accounts extend into the interior of China, beginning with Si-an-fu [Xi'an]. Other titles describe Pakhoi [Beihai] and the hinterland extending beyond, railroad development between Seoul and Fusan, the railway crossing in North Korea, the long-standing philosophy of naturalism, ancient proverbs, the lives of Chinese children, a novel by Koyo Sanjin (1867-1903). A thirteen-page account describes West Lake in Hangzhou. There is a description of Hanoi – the capital of Vietnam, and a biogeographical sketch of the island of Hokkaido, a twelve-page account on rock tombs in the Szechuan region, remarks on Fuzhou and the Min River (in an account titled The Chinese Rhine for comparison), and poisonous snakes in Middle China. We also find a short poem from Shi King [Shijing, Shih-ching], a Classic in ancient literature, which is the oldest existing collection of Chinese poetry, comprising 305 works dating from the 11th to 7th centuries BC.The classic Der Ferne Osten volumes yield so much more than what is listed here. Covering all aspects of life in the Far East, particularly China, from ancient days to the turn of the century, and profusely illustrated, they are exceedingly scarce and especially invaluable as a set so complete as this.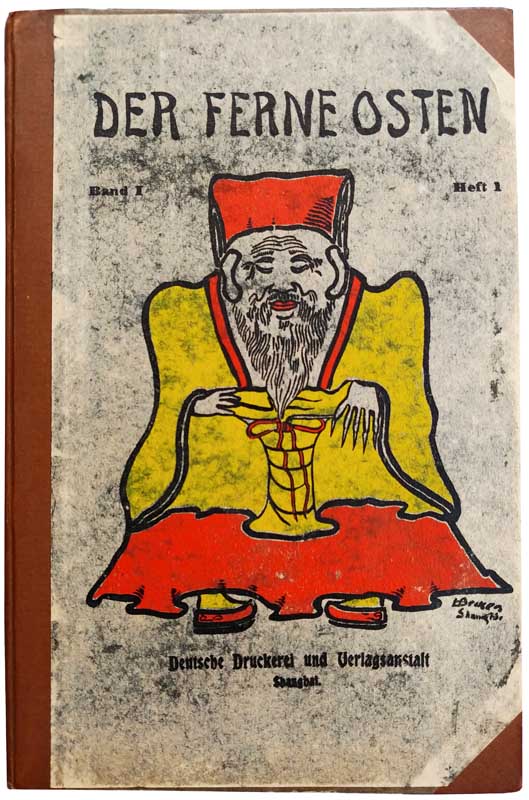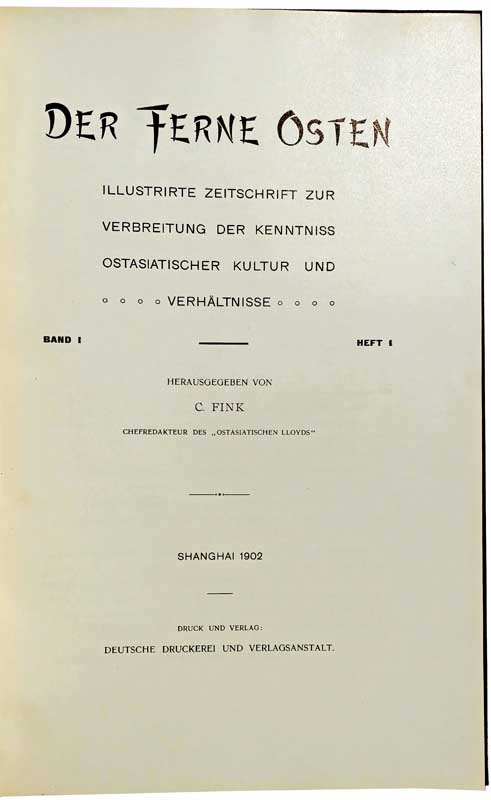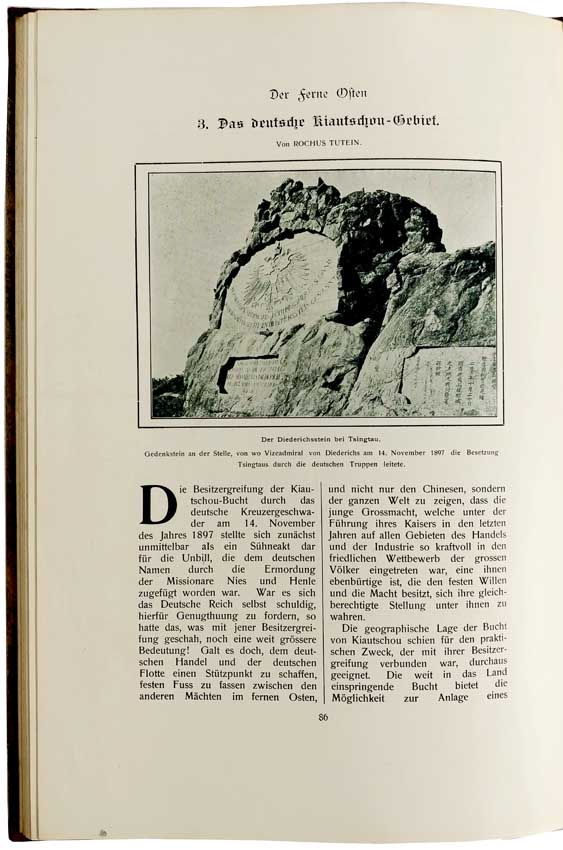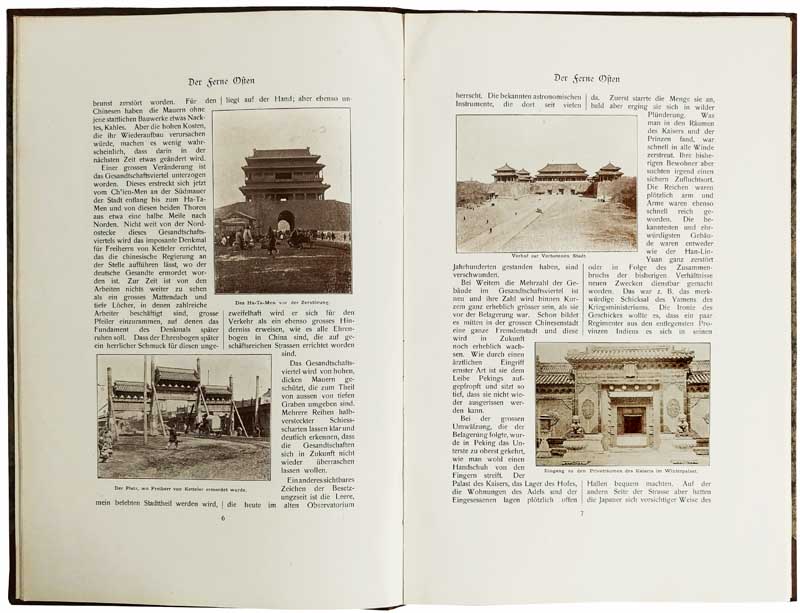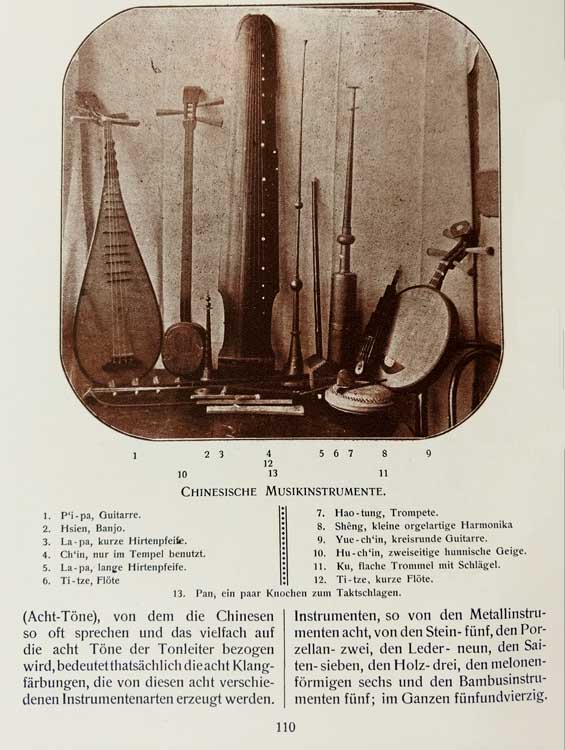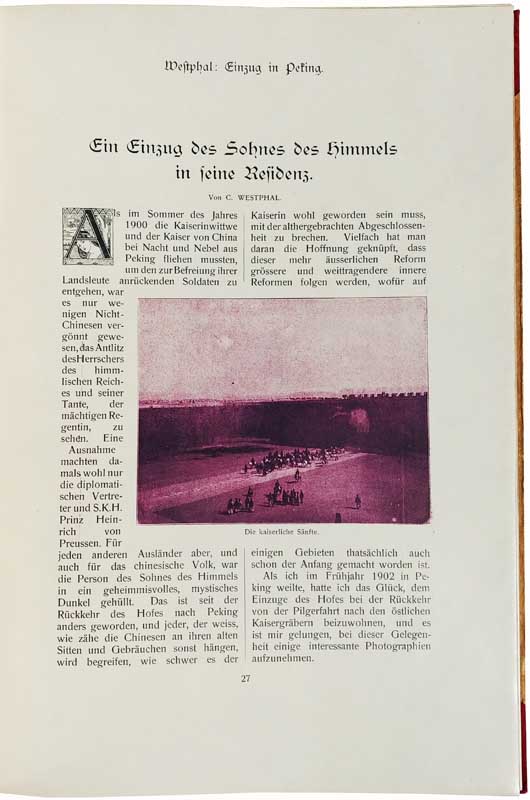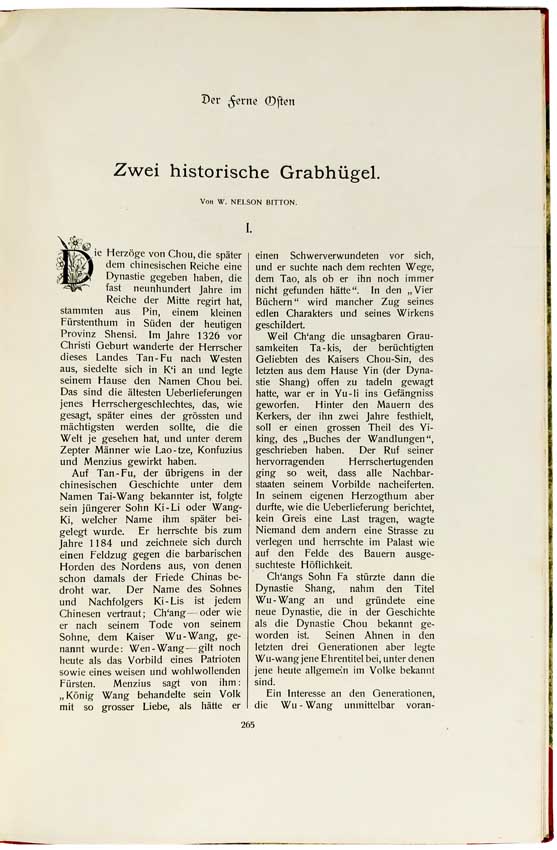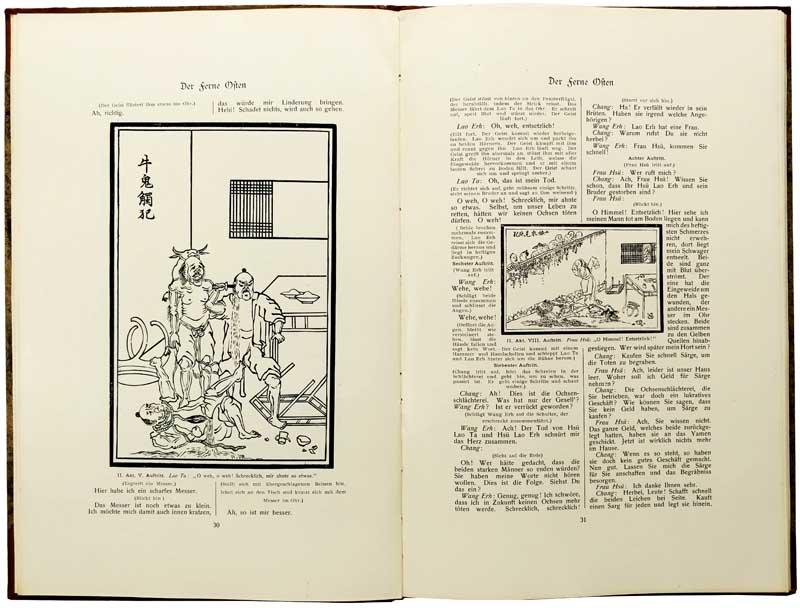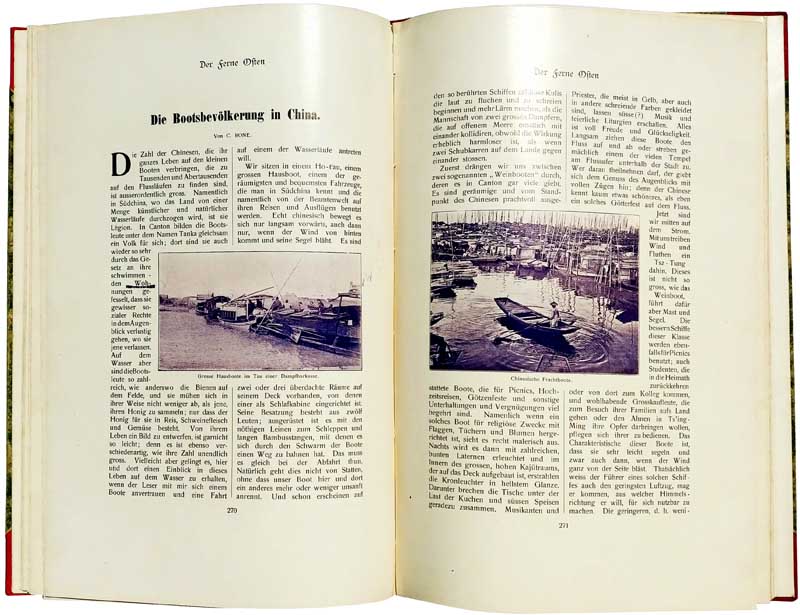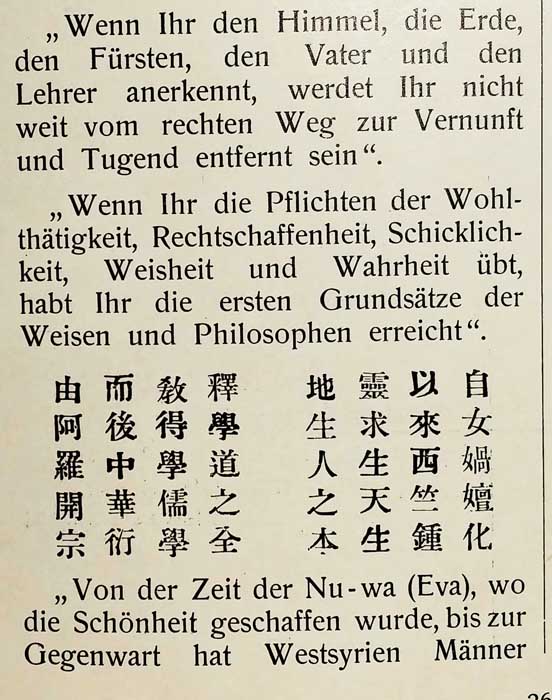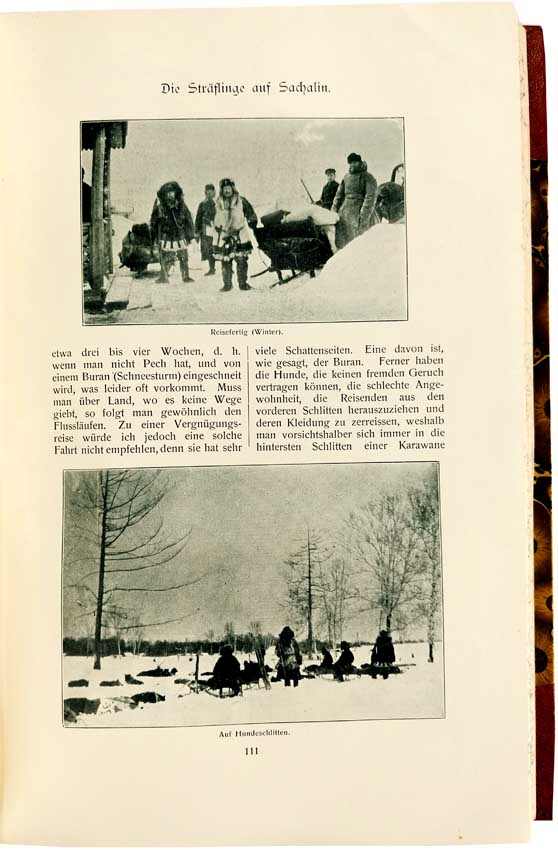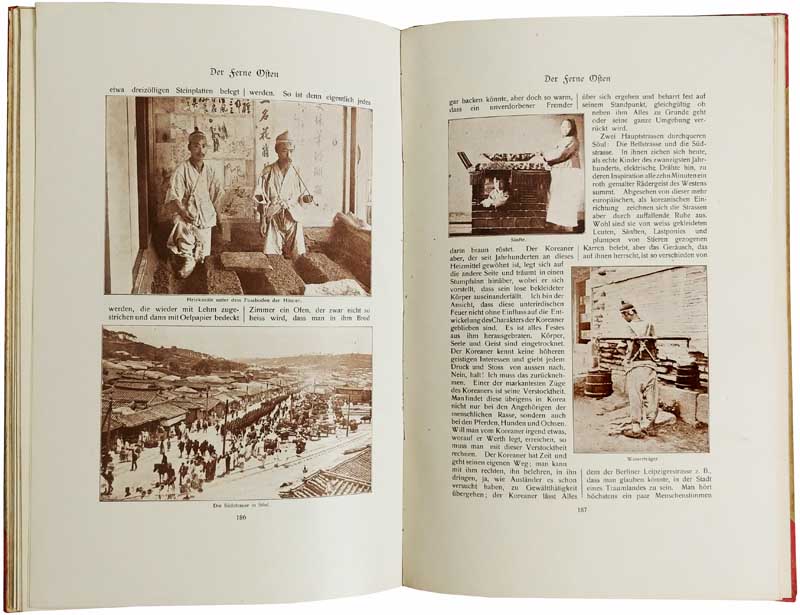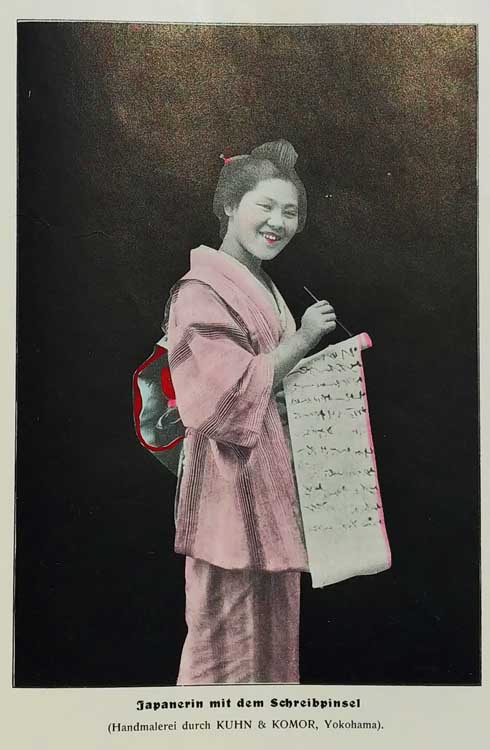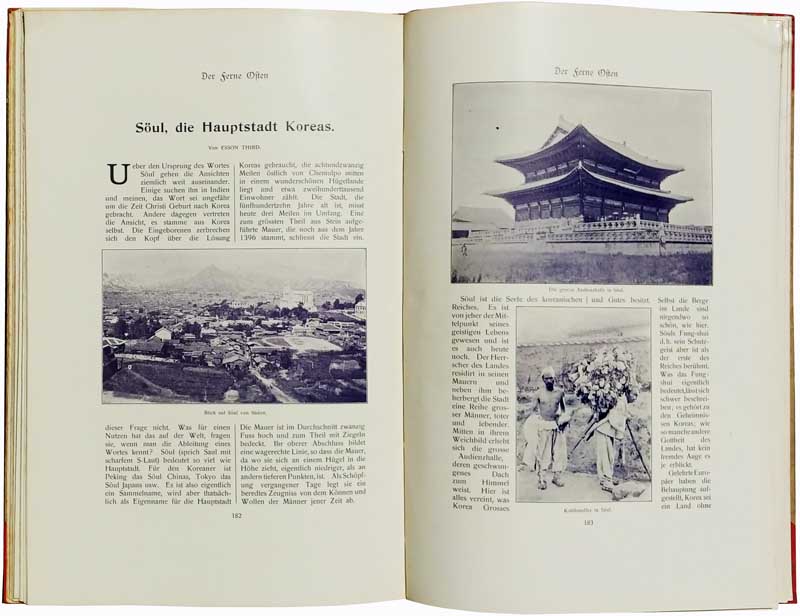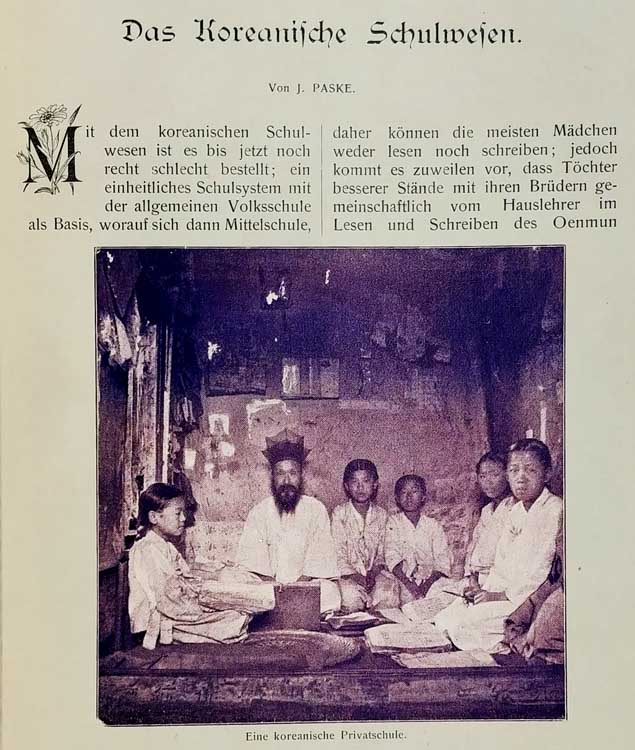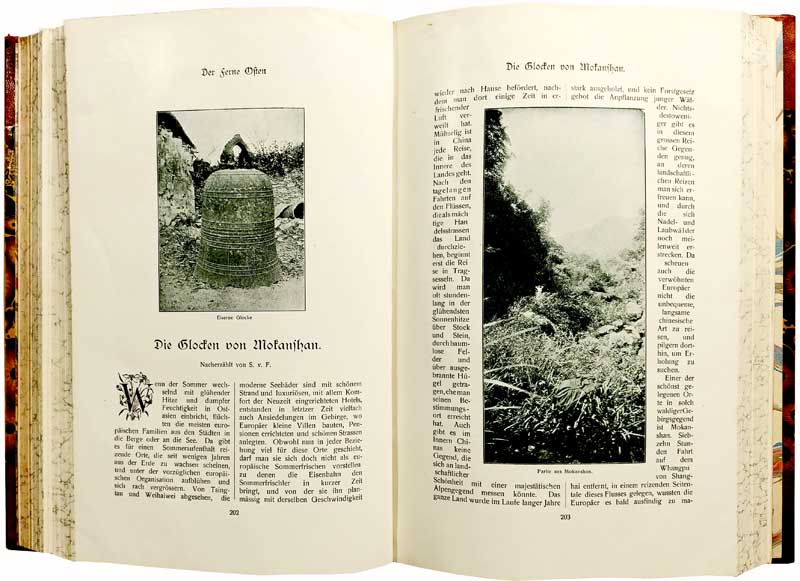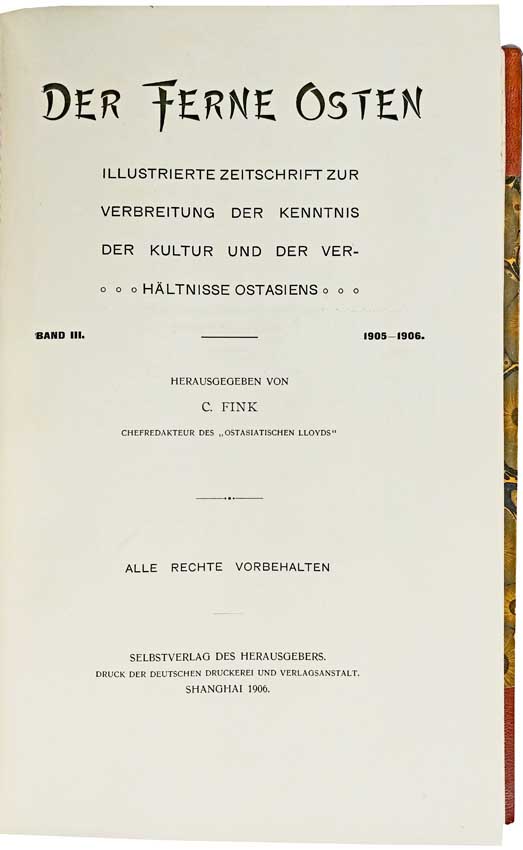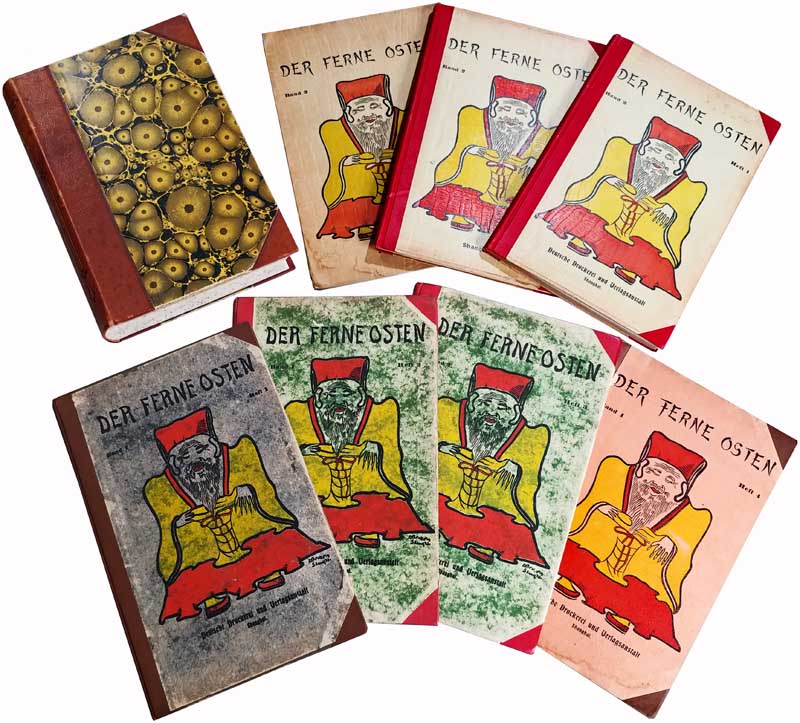 Carl Fink's later involvement in war propaganda:The First World War saw the rise of state-organized propaganda as a new weapon in war. In the decade before World War I, politics began to play an important role in China's world of newspapers. Official governmental newspapers were competing with both a rising reform press that had begun to spread from the foreign concession areas into the hinterland, and also a largely private press market especially in Shanghai, consisting of tabloid papers, literary magazines, and politically oriented newspapers. With the outbreak of war, Germany began to spread "in neutral countries the German version of the causes of the war, and the hostile intentions of its enemies." France and Great Britain acted quickly, though uncoordinated in the beginning.In 1914, after Japan defeated Germany's colonial forces in Shandong Province, the closure of German schools and the Qingdao newspapers, German propaganda activities were severely reduced. Nonetheless, German propaganda did continue, with the objective of maintaining friendly relations with China and influencing her from joining any war efforts on the allied side.Great Britain first concentrated on dismantling Germany's international communication network, and in September 1915 the last German Atlantic cables were cut. Germany's most-renowned papers, Der Ostasiatische Lloyd and the Deutsche Zeitung für China (Hua De ribao) continued to be published in Shanghai, however. These promoted news regarding science, technology, and merchandize, and included messages of German power and war victories as well as examples of Sino-German friendship.Der Ostasiatische Lloyd (OAL) was a German language newspaper published in Shanghai, China, and is the oldest German newspaper in China. It was considered to be the highest quality German language newspaper in China. Most of the content focused on economics and politics, while it also had some cultural pages. Founded as a daily newspaper in Shanghai, its third editor was Carl Fink (1861-1943), serving from 1900 to 1917. Fink changed the newspaper into a weekly publication.Fink also founded the daily newspaper "Deutsche Zeitung in China" [German Gazette in China] during the Great War.Fink's work was applauded by many, including his peers in the field. Hartmut Walravens, author of "German Influence on the Press in China," said "there is no doubt among specialists that the Ostasiatischer Lloyd, especially under his editorship, has been not only the first but also the best German newspaper in China." In 1916 A.P. Winston, the author of "Chinese Finance Under the Republic," described the newspaper, which was managed by trained scholars, as the "chief organ of the German interests in the Far East" and that the newspaper "deserves to rank with the better class of European or American journals devoted to commerce and finance."A multi-page article titled "Propaganda in China" published by the British "North China Herald" on 1 February 1919, criticized the aforementioned German News Service edited by "the notorious Dr. Fink," making it responsible for what it called the German "fiction factory."The effectiveness of German propaganda was based on Germany's positive reputation and a set of well-organized intertwined propaganda tactics. Germany transmitted news via the most powerful telegraphic transmitting station in the world at Nauen and the government affiliated Overseas Transocean Company (GmbH). Supported by neutral powers, "news were thus cabled to Asia via San Francisco and Guam to Manila and Shanghai. By May 1915, Transocean cabled 25,000 words monthly, approximately as much as Reuters.Continuing as an influencer, and advocating his political views, he was during the First World War greatly involved in spreading "friendship propaganda" to maintain Sino-German relations. During the war, although many German newspapers were forced to stop, Der Ostasiatische Lloyd, edited by Fink, continued to be published.


Carl Fink, Journalist (Biographie u. Foto in Ostasiatische Rundschau, 22.Jhg., 1941, S. 67. Außerdem DBE 3, S.302)29.3.1861 in Lübeck. Er studierte an den Univ. Leipzig und Berlin Rechts- und Staats-wissenschaften. Nach einem Aufenthalt in Mexiko und Mittelamerika arbeitete er seit 1888 als Journalist in den USA. Anschließend mehrere Jahre in Deutschland tätig. 1898 wurde er nach Shanghai berufen, wo er bis 1917 Herausgeber und Chefredakteur der Wochenzeitung "Der Ostasiatische Lloyd" war. Für Tsingtau schuf er ab 1.11. 1904 die Tageszeitung "Tsingtauer Neueste Nachrichten", die sich bis 1914 hielt. Die lokale Tsingtauer Wochenzeitung "Deutsch-Asiatische Warte" stellte daraufhin ihr Erscheinen ein. Er gründete in China weitere deutsche, englische und chinesische Zeitschriften und während des Weltkrieges die Tageszeitung "Deutsche Zeitung in China". 1919 Deportierung nach Deutschland durch die Briten. Trat hier in die Schriftleitung der Transocean-Gesellschaft ein. Er redigierte die durch die Funkstation von Nauen in englischer Sprache in die ganze Welt verbreiteten politischen und wirtschaftlichen deutschen Nachrichten. Später übernahm er vorübergehend den politischen und allgemeinen Teil der "Ostasiatischen Rundschau" und (seit 1926) der "Deutschen Auslandswarte", die Zeitschrift des Bundes der Auslandsdeutschen. Von 1929-34 leitete er die Zeitschriften des Deutschen Flottenvereins und des Verbandes der Deutschen Flottenvereine. Fink starb im Jahre 1943.