South Africa Botanicals
Album of Watercolour Albums
1906

[South Africa], 1906. Album of watercolours devoted to flowering plants native to South Africa. Contains 30 images hand drawn and painted recto only one per leaf, most named in manuscript by the artist. A presentation copy inscribed to front pastedown, "E. Lawdon. From J. Bincker Dec. 1906". Oblong 8vo. sketch book made by Winsor & Newton whose label is affixed to front pastedown, with Whatman's drawing paper, taupe cloth boards, pencil sleeve (pencil not present), and a stretch band for secure closure. Volume measures approximately 19 x 13 cm. Minor age-toning to boards, small ink marks to verso, otherwise in very good condition, internally clean and bright, A pleasing work with lovely renderings of South African flora.
Some of the flora painted in the present album include:
• Protea
• various Erica (there 860 species in South Africa)
• Morea (commonly known as the Cape tulip)
• Aloe Davyama
• Erythina Caffra (the African Coral tree)
• Ornithogalum
• various Gladiolous
• Striilitzia
• Vellozia retinerius
• Striga elegans
• Watsonia
• Crassula
• Hypoxis
• Salvia africana
• Gomphocarpus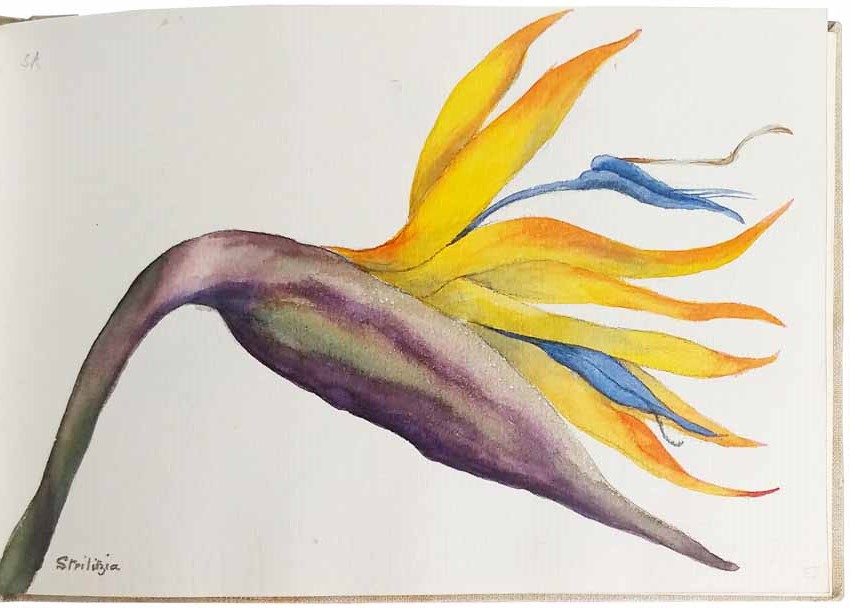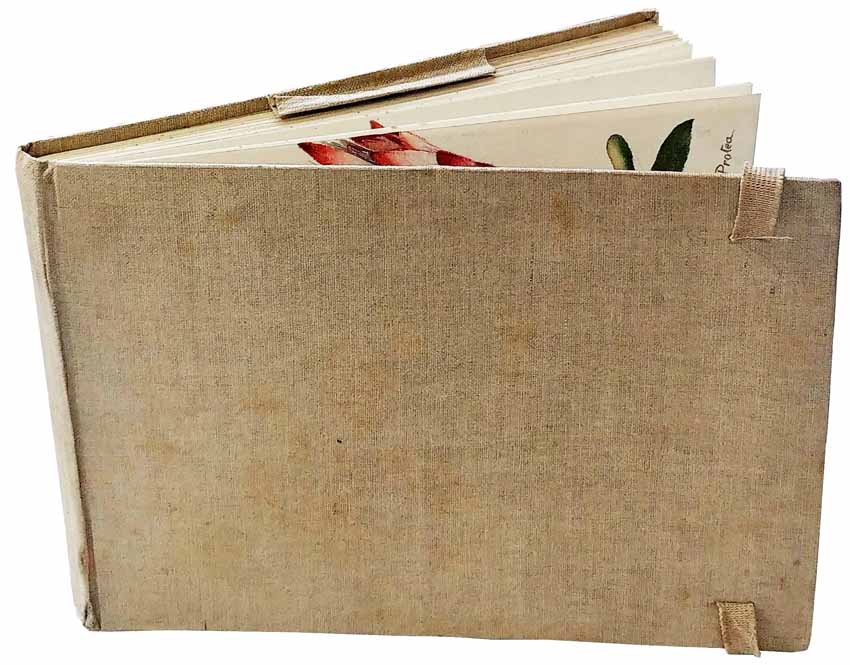 The artist may be Johanna Jacoba Brincker (1842-1923, née KNAB) of Stellenbosch, South Africa. Johanna Jacoba Knab was born in South Africa, on 12 June 1842 in Stellenbosch. Little is known about Johanna, though she lived in South Africa and Southwest Africa [now Namibia] for her whole life, and she was a missionary to the Herero people, having a complete understanding of their language and customs. We get a fuller picture of her adult life through her husband, putting her in the circles of notable German Rhenish missionaries. On 10 February 1864 in Stellenbosch she married German missionary Peter Heinrich Brinckner, born 9 May 1836 in Isselhorst, Westfalen.
Brinckner had arrived in South Africa in 1863. After completing his theological training, Brincker was ordained in November 1862 and seconded to German South West Africa on 5 November 1862, with the task of proselytizing the Herero and Nama, who were at odds with one another. After an 83-day journey, he landed in Cape Town at the beginning of February 1863. In Stellenbosch, about 50 kilometers east of Cape Town, he was welcomed by missionary brothers. There he met his future wife Johanna Rath and became engaged to her. Missionary Johann Rath, who had worked with the Herero for 15 years, introduced Brincker to the Herero language.
[Incidentally, upon his arrival, the later famed Johanna Gertze (born Uerieta Kazahendike, and became the first Christian Herero woman) was employed as Peter Brincker's housekeeper. At age 11, Uerieta had been the caretaker for the children of missionary Carl Hugo Hahn in Otjikango, present-day Gross Barmen in Namibia, and she was among missionaries for many years. She would become instrumental as a proofreader for the translation gospel works into Herero. It is through Hahn that she met Brincker.] In 1863, Brincker stepped up to continue Hahn's mission, as Hahn had returned to Germany, exasperated by the disturbances led by Jonker Afrikaner, the last Captain of the Orlam Afrikaners who were constantly attacking the Herero people and the mission. On 15 June 1863, the most important of the Herero chiefs, Kamaherero, stood up to declare his independence from Hottentot domination, and proceeded to entrench himself at Otjimbingue. A fierce battle ensued, the Hereros defending themselves with great courage, the Hottentot losing 200 men including their leader. This event was the commencement of the Herero war of independence.
By early 1864 Peter had returned to Stellenbosch, where he married Johanna. Together, on 20 February 1864, they took over the work in the mission station of Otjikango, called Klein-Barmen, which had been founded twenty years earlier. Because of fighting between Herero and Nama, the couple had to flee to Otjimbingwe seven times over the next year and a half. In September 1865 the station in Otjikango was destroyed by the Nama and had to be painstakingly rebuilt.
In 1876, Peter Heinrich Brinckner played a role in the negotiations and establishment of a new mission station at Omburo, east of Omaruru (in present-day Namibia), to be led by Rhenish missionary Eduard Dannert. This was part of the Palgrave Commission (1876-1885), a series of diplomatic missions undertaken by Special Commissioner William Coates Palgrave to the territory of South West Africa (modern Namibia). Negotiations concerning the Omburo mission took place between Palgrave and Petrus Swartbooi from Ameib at Otjimbingwe, in May. In June, the Ovaherero chiefs and Palgrave hold the Conference of Okahandja, with missionary Brincker as translator. From 4-9 June, the Ovaherero chiefs and Palgrave held the Main Conference of Okahandja. Kambazembi did not attend. The letter to Cape Governor Barkly was signed by Maharero, Christian Wilhelm Zeraua from Omaruru, the Ovambanderu Chief, Salomo Aponda from Otjikango and Wilhelm Maharero, oldest son of Maharero. As witnesses, the letter is also signed by missionaries Peter Heinrich Brincker, Carl Ludwig Hermann Hegner and Botolf Bernhard Björklund, and traders Heinrich Kleinschmidt, Robert Lewis and JJ Christie.
He essentially spent 1879 in Germany. In early February 1880, he returned to German South West Africa with a new assignment. Instead of going back to Otjikango, he now served in Otjimbingwe as director of the Augustineum, a school for teachers and evangelists founded in 1866, where he succeeded Carl Gotthilf Büttner. The goal of the school, developed by missionary Carl Hugo Hahn, was to give the sons of the Herero leaders, and later also the Nama, a Christian education.
After nine years, in 1889, at the age of 53, Brincker had to give up active missionary service because of old age. In 1890 he moved with his wife, four sons and three daughters to Stellenbosch. There he worked on the publication of numerous ethnological and linguistic works. He was the author of an important dictionary of the Herero language. It is safe to assume that Johanna was involved in this work alongside him. He published Luther's Small Catechism and the New Testament in Herero. He also published a substantial three-volume ethnological work titled, "Die Stämme Südwestafrikas I. Nach der Geschichte; II. Nach Sitten und Gebräuchen; III. Nach Sprachen." [The Tribes of South-West Africa: I. Their history. II. Their manners and customs. III. Their languages.] In 1892 Brincker retired. In 1899 he was awarded an honorary doctorate from the University of Cape Town for his scientific work.
Peter and Johanna Brinckers had 8 children. When their daughter Louisa Catharina "Lucy" was born on 24 November 1875, the family lived in Damaraland, Odendaalsrus, Orange Free State. [They also had a daughter named Johanna Brincker.]
Peter died 26 November 1904, in Stellenbosch. Two years after her husband's death, Johanna signed and dedicated the present watercolour album to a friend. Johanna survived her husband by 17 years; she died 14 January 1923 in her hometown of Stellenbosch.
Stellenbosch is a town in the Western Cape province of South Africa, situated about 50 kilometres (31 miles) east of Cape Town.