Literature – Theatre – Film
Works of Peter Ulrich Weiss
1960s

Document Archive
From New York City's
Miss Joan Daves

Renowned Female Literary Agent
Who Represented
Six Nobel Laureates
Including Martin Luther King, Jr.

New York City, Frankfurt, Stockholm, etc., 1961-1966. Substantial archive of documents concerning the publication and production of several notable literary works and theatrical plays by Peter Ulrich Weiss, including correspondence, draft agreements, contracts signed with leading publishers and producers, as well as some programmes and peer reviews, being the working files of his New York agent, Joan Daves. Together with 3 LP record box sets of the first and complete Broadway original cast music recording for the Marat/Sade play. Octavo and Folio documents and letters, ranging in size and number of pages, some signed in the original. Most are in English; some are in German; the lot neatly contained in four ring binders. The vast majority of the documents date to the 1960s, with a scant few being later including a letter regarding a special television production in 1979 with NBC. Occasional wear to extremities, otherwise in very good condition, beautifully preserved, clean and bright. A generous and comprehensive archive chronicling the work and partnership of a leading literary agent in the rise of German-American publishing, and one of her notable German writers.
Provenance: From the desk of Weiss' literary agent for the US, Joan Daves.
Joan Daves (1919-1997) was a leading literary agent with her own agency in New York, whose client list boasts six Nobel Prize winners including Martin Luther King, Jr. Daves had a profound effect on the very existence of German literature in America. Born Liselotte Davidson in Berlin, she escaped Nazi Germany by fleeing to Paris and England before emigrating to the United States in 1940. Her agency, established in 1948, handled the original works of several American authors. She handled Martin Luther King, Jr.'s literary property from 1957 until her death. Of great emphasis with her firm was the representation of several major German publishers, such as Suhrkamp, Piper, S. Fischer Verlag and others. It was the prime time of German writers such as Peter Weiss, Uwe Johnson, Max Frisch, Heinar Kipphardt, Hans Magnus Enzensberger, and Hermann Hesse.
In the mid-1960s, communication with German publishers was quite different from today. A shipment of galleys was prepared with a 'by sea mail' label. When the New York Times printed the date and time the next ship would leave the harbor, delivery of the parcels of documents to that specific ship was requested.
Peter Ulrich Weiss (1916-1982) was a German author, playwright, and experimental filmmaker, who gained celebrity fame on Broadway in the 1960s. He is particularly known for his plays "Marat/Sade" of 1963/65 which is largely represented in the present archive and which was enormously successful, for "The Investigation" of 1965, and for his later novel "The Aesthetics of Resistance" (1971-81). In the 1960s Weiss also embraced and promoted politically controversial groups, standing for revolutionary Cuba, standing against US intervention in Vietnam, and joining Sweden's eurocommunist party.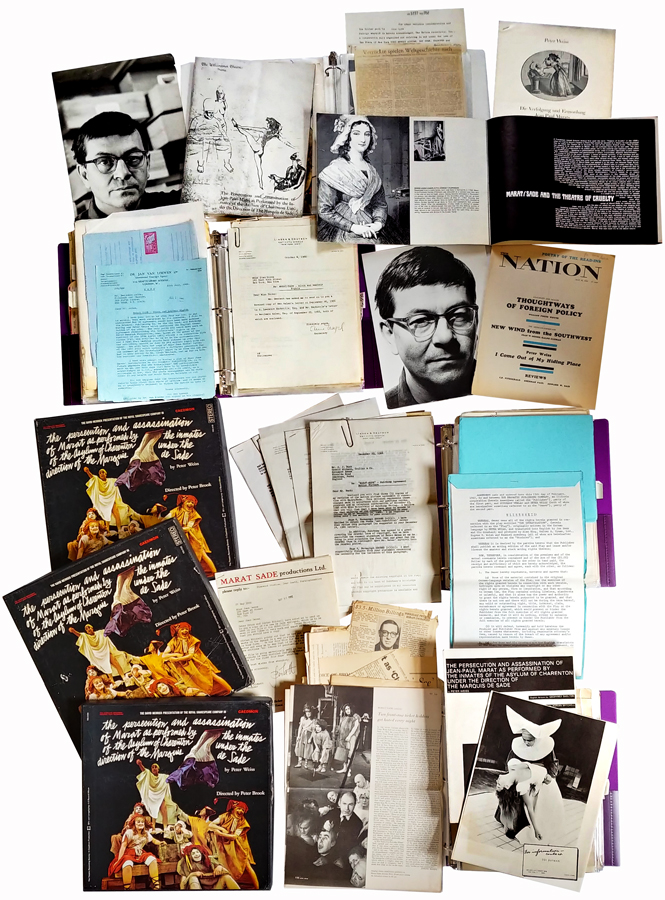 Peter Ulrich Weiss earned his reputation in the post-war German literary world as the proponent of an avant-garde, meticulously descriptive writing, as an exponent of autobiographical prose, and also as a politically engaged dramatist.
In an era of heightened creativity, irreverence and extravagance in the music and literature, especially among youths. Weiss, although already in his fifties, gained international success with Marat/Sade, the American production of which was awarded a Tony Award and its subsequent film adaptation directed by Peter Brook. His Auschwitz Oratorium (The Investigation), served to broaden the debates over the so-called Aufarbeitung der Vergangenheit (formerly called Vergangenheitsbewältigung ) or "politics of history."
In the 1960s Weiss became increasingly radical and publicly spoken in his political convictions. Weiss' magnum opus was The Aesthetics of Resistance, which has been called the most important German-language work of the 70s and 80s.

Following are some of Weiss' career highlights and awards, pertaining to and/or related to his works which are discussed in the present documents:
• In 1959 he began working on Abschied von den Eltern (Leavetaking, also known as Farewell to the Parents). The prestigious Suhrkamp Publishing House becomes Weiss' publisher for all of his works, following the success of publishing his "Shadow of the Coachman's Body".
• In 1960 Abschied von den Eltern (Leavetaking) was published.
• In 1961 Fluchtpunkt (Vanishing Point) was published.
• In 1962 Das Gespräch der drei Gehenden (The Conversation of Three Wanderers) was published.
• In 1963 he is awarded the Charles Veillon prize, by the city of Stockholm, for his Fluchtpunkt (Vanishing Point).
• In 1964 his play Marat/Sade premiered at Schillertheater in West Berlin, and from that date Weiss is considered as one of the most important post-war European playwrights. Being enormously popular, that same year the play was translated into English by Geoffrey Skelton, with lyric adaptation by Adrian Mitchell.
• In 1965, British director Peter Brook staged Marat/Sade at the Royal Shakespeare Theatre in London. Also in 1965, Weiss' play about Auschwitz titled Die Ermittlung (The Investigation) was premiered simultaneously on 16 stages in both West and East Germany. In this same year, Weiss was awarded the Lessing Prize, by the city of Hamburg, as well as a literature prize by the Swedish labour movement.
• In 1966 Marat/Sade won the American Theater Wing's Tony award for best play. Also, a two-hour version of Weiss' The Investigation was presented at the Ambassador Theater on Broadway in 1966, under the direction of Ulu Grosbard.
• In 1966 Weiss visited the United States, together with the West German writers group Gruppe 47. During a conference at Princeton University, arranged by Gruppe 47, he denounced the US war against North Vietnam, which seems to have scandalized his German colleagues more than his US hosts. This was the first time he publicly expressed his position regarding the Vietnam War, in his important speech: "I Come Out of My Hiding Place". [After this reveal, he wrote a series of political plays, thus also becoming one of the most influential European intellectuals, and a travelling spokesman for Left politics.] Also in 1966, the East Berlin Academy of Arts awarded him with the Heinrich-Mann prize. Weiss became an active member of the Swedish Communist party in 1966. During his visit, he attended at least one of the Broadway premiers, according to a letter in the present archive.
• In May 1966, Weiss names Miss Joan Daves as his power of attorney.
• It 1967 Marat/Sade was produced as a Broadway show in the United States, and Brook's film version, also in 1967, turned Marat/Sade into an international cultural icon. In 1967 Weiss was awarded the Carl Albert Anderson Prize, a Swedish culture prize. He participated in the anti-war Russell Tribunal in Stockholm. This year he also protested Israel's policy after the Six-Day War.
• In 1968 he visited North Vietnam, and his Viet Nam Diskurs (Discourse) was premiered in Frankfurt am Main. He also and published a book about his trip. Weiss's play, The Song of the Lusitanian Bogey, was performed in New York in 1968, as the first production of the new Negro Ensemble Company. It was an indictment of Portuguese policies in Angola, Mozambique and Portuguese Guinea.
• In 1982 he was posthumously awarded the Georg Büchner Prize, which is one of the two most important and prestigious literary prizes for the German language, the other being the Goethe Prize.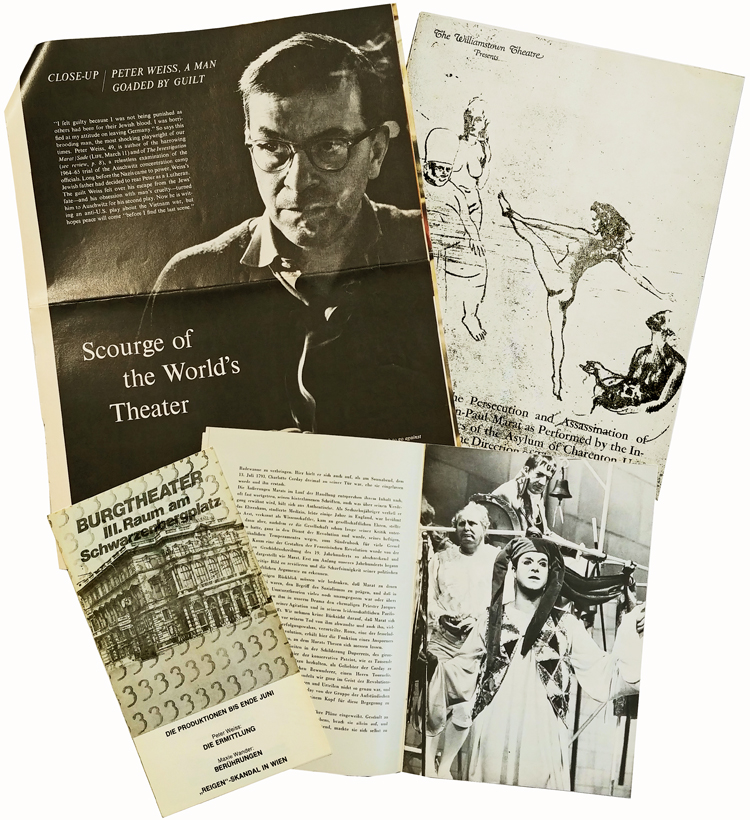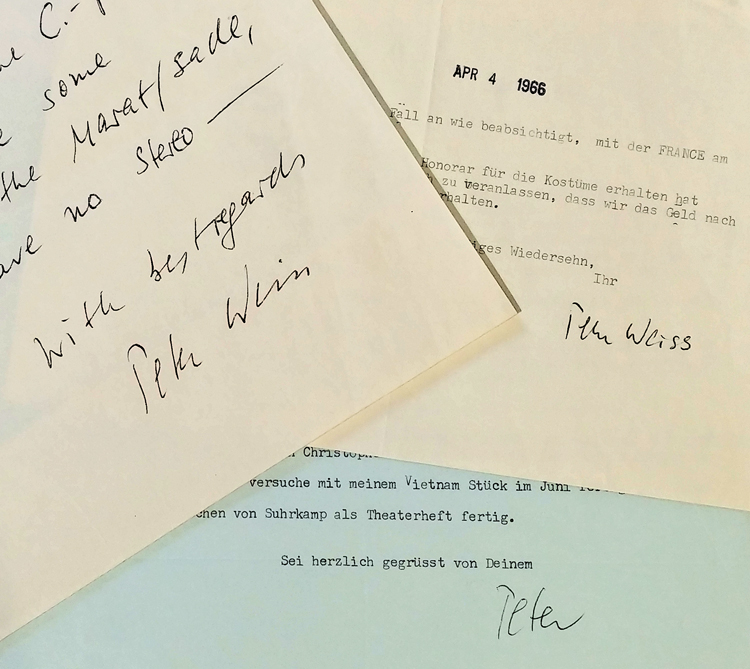 "The Persecution of Marat/Sade" earned Weiss critical acclaim instantly. The present archive presents a singular, step-by-step, primary source chronicle of the making of the book, the play, the music recordings, the film, and a live tour, for the American audience specifically.
Among the documents, we find plenty of correspondence and agreements, which together form a most detailed and thorough history of the English translation and publication of the book, the Broadway play, and also the first film production of Marat/Sade. Parties involved in the negotiations and final transactions include Peter Weiss himself, his agent Joan Daves, publishing firms, film directors, touring companies, attorneys, translators, and others. The extensive and ongoing discourse illustrates the magnitude, the complexities and even the politics involved in such endeavours, especially in producing such a grand affair in New York's prime Broadway theatres.
Popularly known as "Marat/Sade," his play became an overnight a sensation. "Die Verfolgung und Ermordung Jean Paul Marats dargestellt durch die Schauspielgruppe des Hospizes zu Charenton unter Anleitung des Herrn de Sade" [The Persecution and Assassination of Jean Paul Marat As Performed by the Inmates of the Asylum of Charenton Under the Direction of Monsieur de Sade] was first performed in West Berlin in 1964. It quickly brought Weiss to fame, The following year, 1965, British director Peter Brook staged it at the Royal Shakespeare Theatre in London. It 1967 Marat Sade was produced as a Broadway show, and Brook's film version, also in 1967, turned Marat/Sade into an international cultural icon.
The story has to do with the French Revolution. Set in the historical Charenton Asylum insane asylum, constantly in danger of being overwhelmed by madness and chaos, the play explores the place of writers and intellectuals in a time of revolutionary upheaval. At its center are two very different historical figures, Jean-Paul Marat, a writer and leading intellectual of the French Revolution, and the Marquis de Sade, a writer and intellectual as well, whose attitude towards the revolution is much more ambivalent and who was egocentrically obsessed with eroticism, hedonism, and pain. [The terms sadism and sadist are derived from his name. Sade was incarcerated in various prisons and an insane asylum for some 32 years.]
In the play, Weiss draws both on Antonin Artaud's Theater of Cruelty, and its opposite, Brecht's theater of reason. In the words of de Sade: "Our intent in creating such dialogues as these, was to experiment with various antitheses, to oppose each to each so that we might, upon our many doubts shed some light".
Much of the ongoing discussion of the play has focused on whether it is Marat's or Sade's position which prevails. Beginning with Marat/Sade, Weiss's work increasingly attracted the attention of communist East Germany.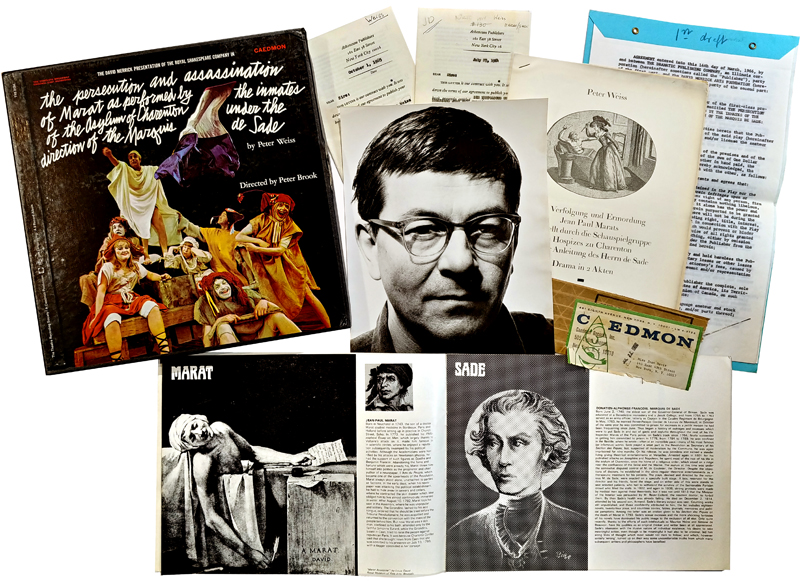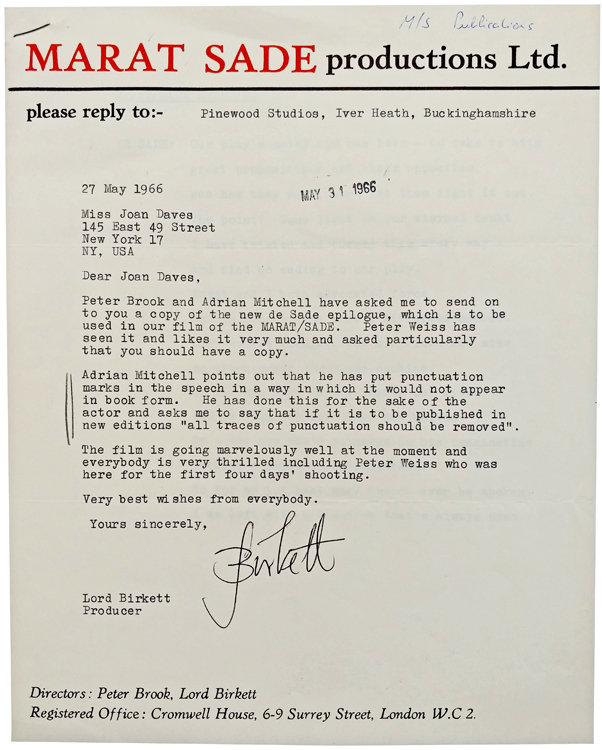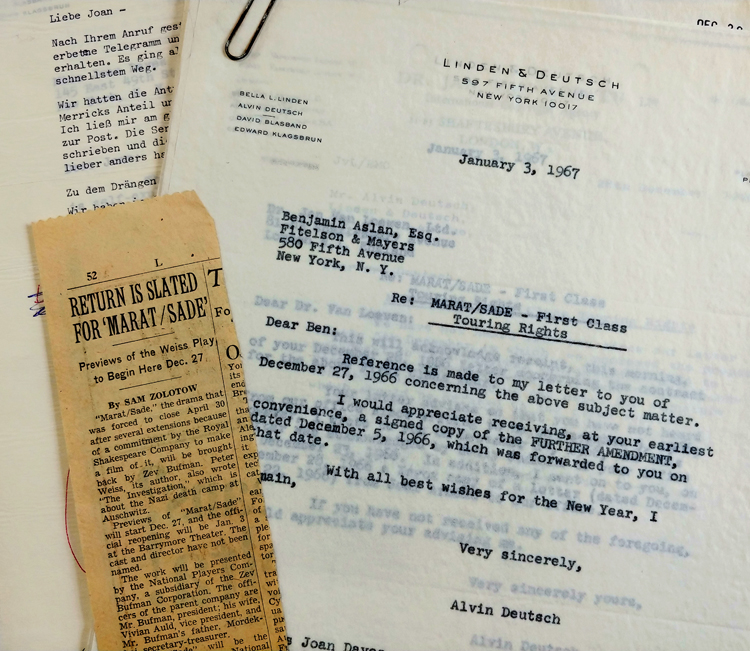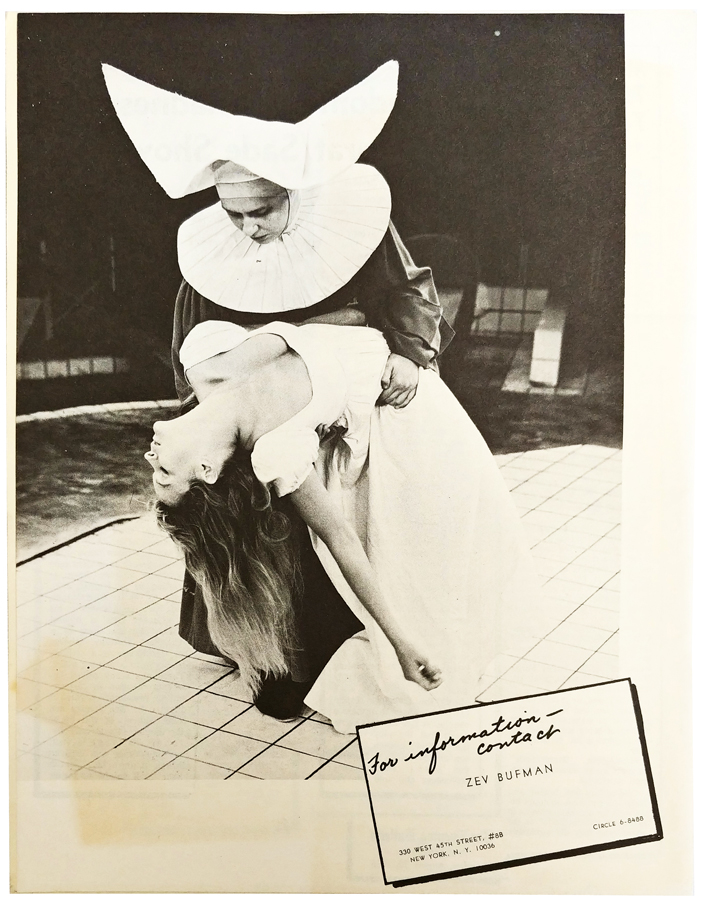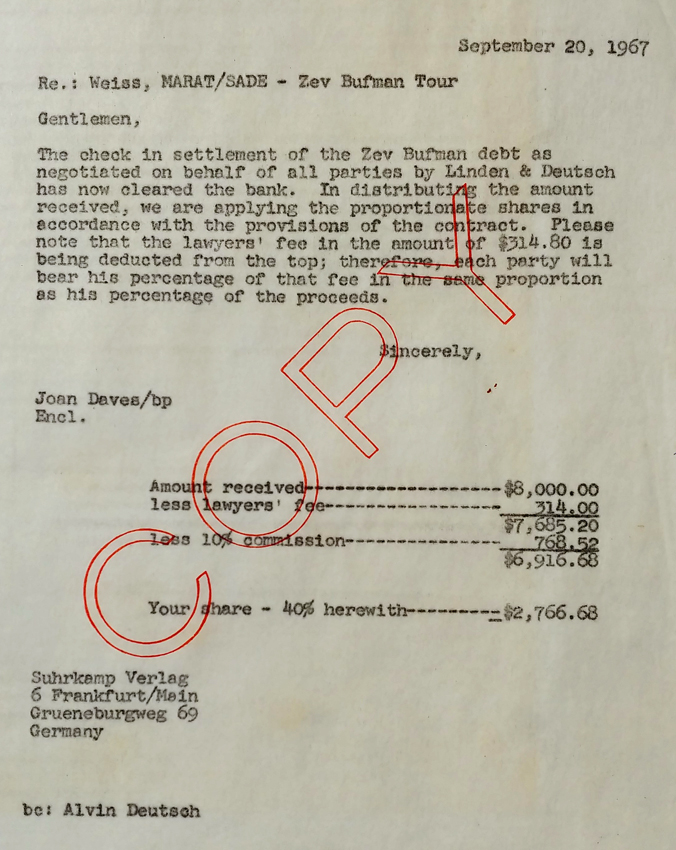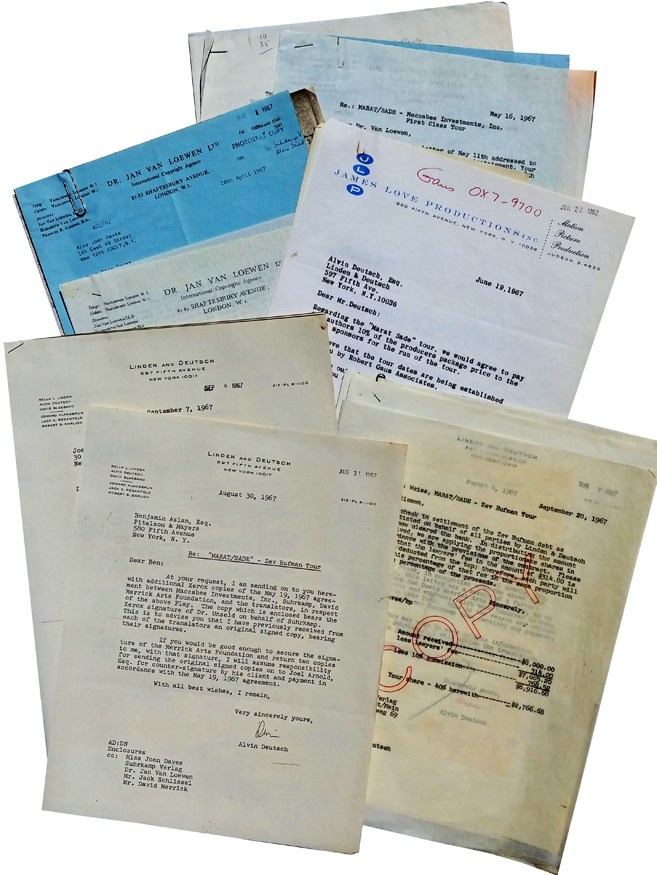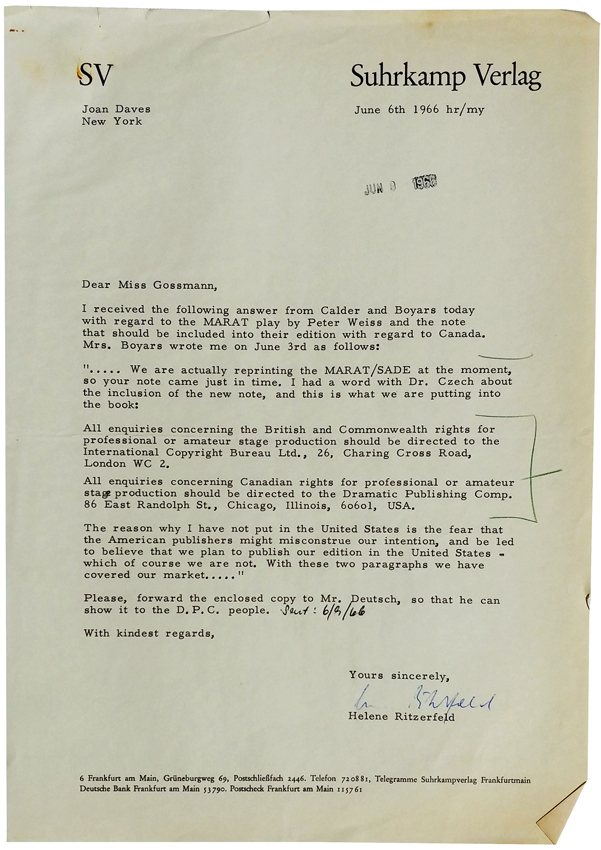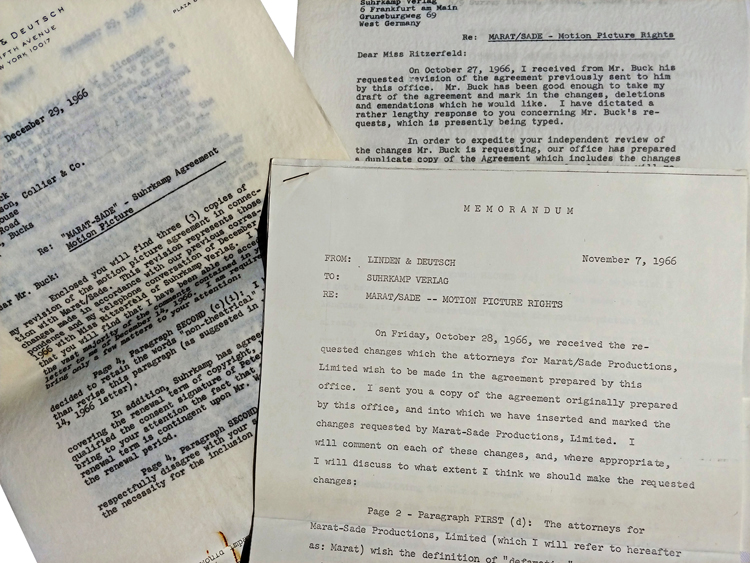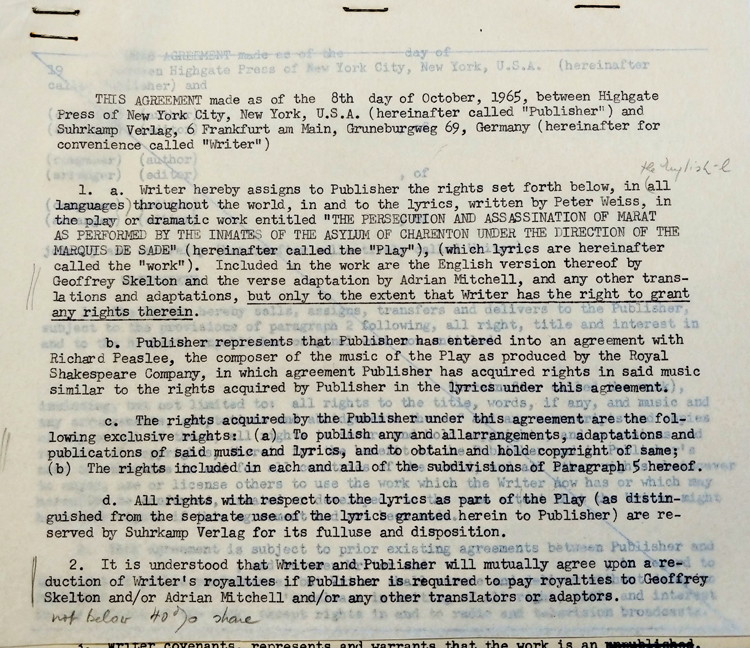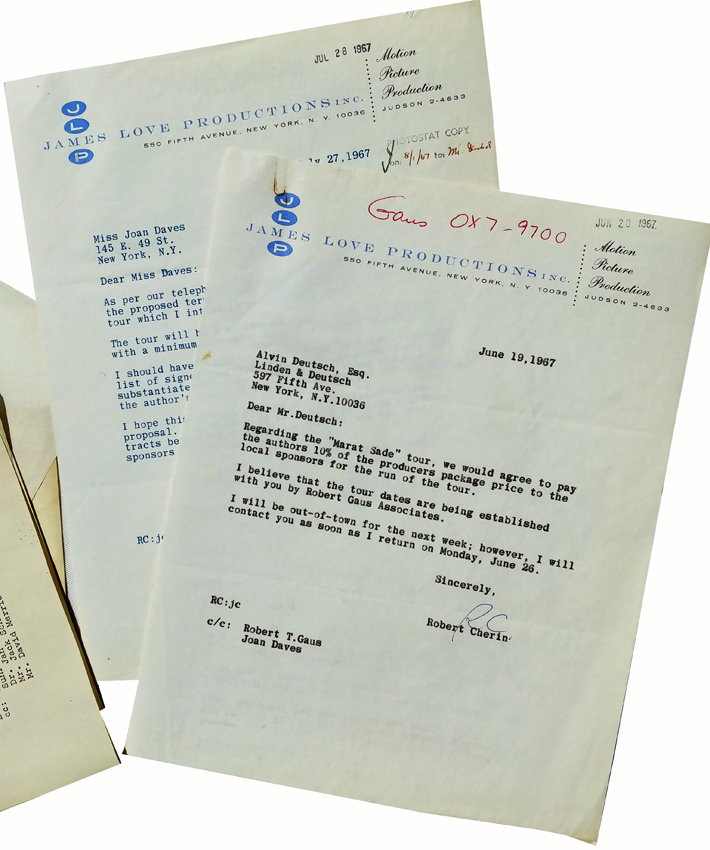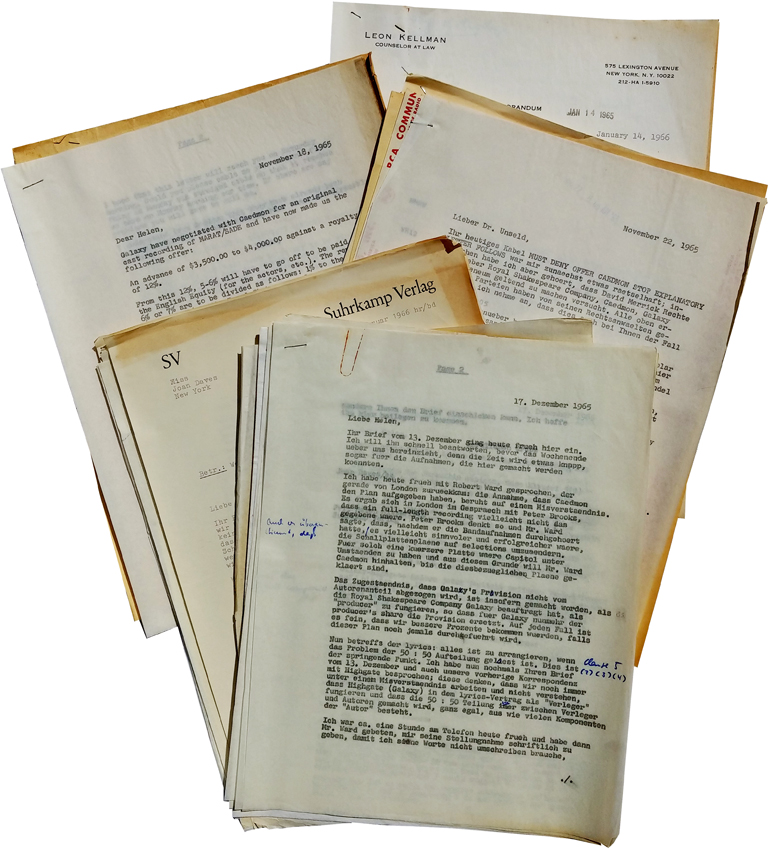 The archive further features the First and Complete Broadway Original Cast Recording for Marat/Sade produced in 3 LP Vinyl record sets, each present here in their original boxes, and with the original accompanying printed materials.
"The Persecution and Assassination of Jean Paul Marat as Performed by the Inmates of the Asylum of Charenton Under the Direction of Monsieur de Sade."
In 1964, the play was translated into English by Geoffrey Skelton, with lyric adaptation by Adrian Mitchell, and staged by the Royal Shakespeare Company. Peter Brook was Director. The cast included Ian Richardson as the herald, Clive Revill as Marat, Patrick Magee as de Sade and Glenda Jackson as Charlotte Corday. After two previews, the Broadway production opened on 27 December 1965 at the Martin Beck Theatre and ran for 145 performances. Richardson took over the role of Marat, while Magee and Jackson reprised the roles they had originated in London. In 1966, the play won the Tony Award for Best Play, and Brook was named Best Director. Additional awards went to Magee for Best Performance by a Featured Actor in a Play, and Gunilla Palmstierna-Weiss for her Costume Design. It also won the 1966 New York Drama Critics' Circle Award for Best Play.
Recordings of the songs were made by the cast of the original Royal Shakespeare Company production and film. The first recording of the show was a three-LP set released in 1964 by Caedmon Records. This was a complete audio recording of the original Broadway production. The box sets seen here were produced in 1966. A second release of the film score was later issued on a single soundtrack album LP, produced by Caedmon/United Artists Records.
The present archive includes the following box sets:
One rare set, publisher's item number TRS-312-M:
A complete set with three records, the 118-page book of play & music published in New York by Atheneum Books 1966, a large and beautifully illustrated 16-page insert containing biographies and play summary published by Caedman Records in 1966, 3 LP records in their original paper sleeves, and the factory inspection slip. This box contains a rare magazine of 50 pages containing the music scores of Marat/Sade (music by Richard Pealslee), published by Highgate Press Agents for Galaxy Music Corporation of New York and Galliard Limited of London, protected in a mylar wrap. All text is in English. This set in a clamshell style box with titled in gilt to spine. New and unused condition.
Two of the more common sets bearing item number TRS-312-S:
One of these is complete and includes the factory inspection slip. New and unused condition. The other lacks the book, but contains the biographical insert and the 3 records. The latter with small segment of box detached at the side, otherwise these two sets are in very good condition, text is in English.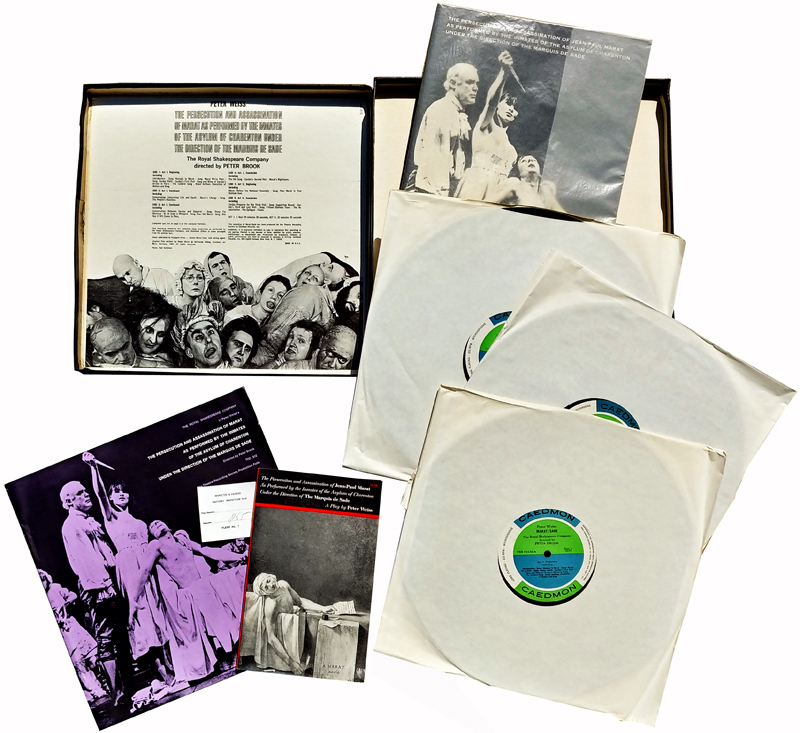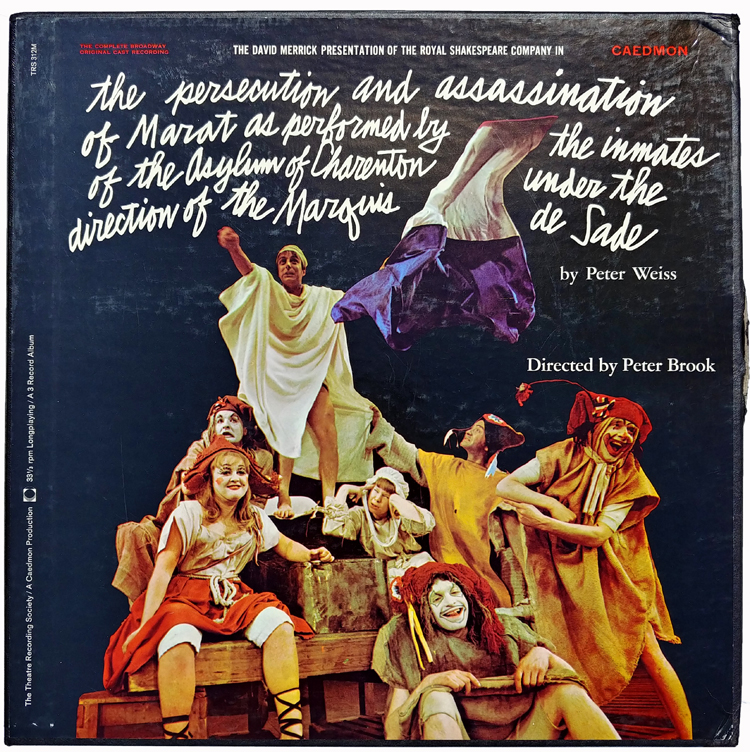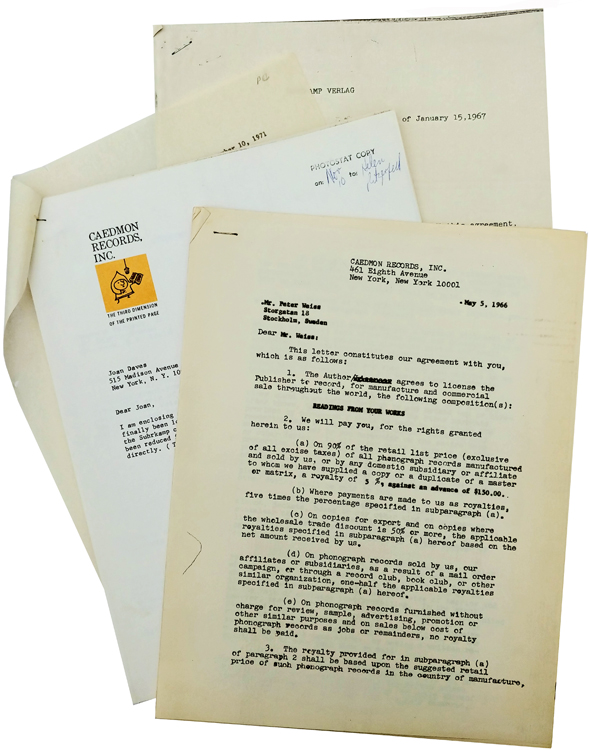 Several of Weiss' other works are represented here, in correspondence, agreements, translation works, reviews, and the like. These include The Tower, Lusitanian Bogey, Vietnam Discourse, Leavetaking, Vanishing Point, The Conversation of Three Wanderers.
About the above-named titles:
1949 – Der Turm (The Tower).
[A short radio play originally, and a dramatized psychoanalysis in the form of a metaphor, the work is founded on Freudian principles and illustrates a liberation process related to trauma. This works was translated into English in 1967 by Michael Benedikt and Michel Heine.]
1960 – Abschied von den Eltern (Leavetaking. aka Farewell to the Parents).
[Weiss' first autobiographical narrative and one of his main works. The reason for the text was the "realization of a completely unsuccessful attempt at living together, caused by the death of his mother in December 1958 and then his father in March 1959, after which the members of a family had spent a few decades together. The narrative begins with a report on the death of the parents, which is the occasion of doing so by the narrator. From earliest youth, the narrator has felt like an outsider. Above all, the father-son relationship proves to be significant, and ultimately paralyzes the activity of the dreamy, sensitive boy who wants to become an artist. After studying at the Academy of Art, he returns to the home of his parents, who had emigrated to Sweden. Finally after two or so years, he gets a vision to leave. Leavetaking was published in English in 1966, by Calder & Boyars, from the translation of Christopher Levenson.]
1961 – Fluchtpunkt (Vanishing Point).
[An autobiography. In terms of content, it ties in with Weiss' farewell narrative. Weiss traces the work of his early life as an emigrant in the years between 1940 and 1947, which were marked by the struggle for his existence as an artist. Vanishing Point, too, was published in English in 1966, by Calder & Boyars, from the translation of Christopher Levenson.]
1962 – Das Gespräch der drei Gehenden (The Conversation of Three Wanderers).
[A brilliant work of prose in modern German literature, and the first of this style of writing by Weiss, the three characters engage in a fascinating monologue, partly animated by memories, partly tormented by bizarre and disturbing visions, each feeling a disconnect to their own existence.]
1967 – Gesang vom Lusitanischen Popanz (Song of the Lusitanian Bogey)
[A play, being an indictment of Portuguese policies in Angola, Mozambique and Portuguese Guinea. It was performed in New York in 1968 as the first production of the new Negro Ensemble Company.]
1968 – Notizen zum kulturellen Leben der Demokratischen Republik Viet Nam. (Notes on the Cultural Life of the Democratic Republic of Vietnam.)
[This was a condemnation of American policy in Southeast Asia.]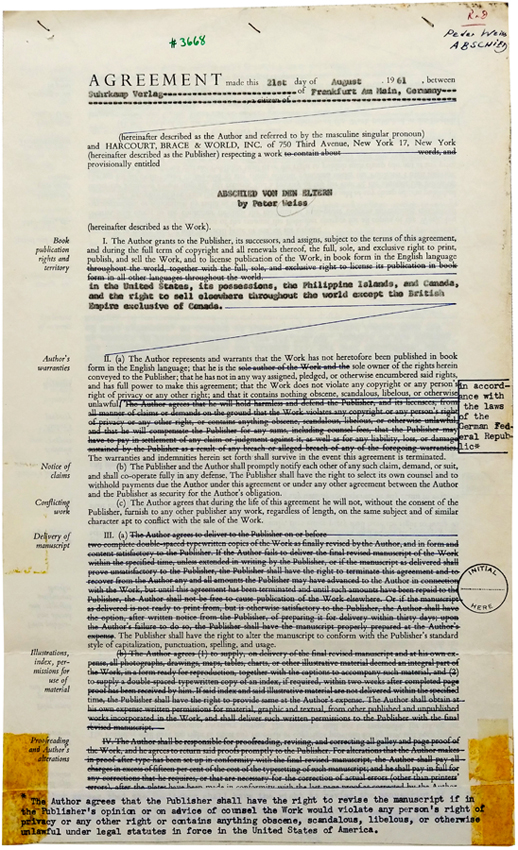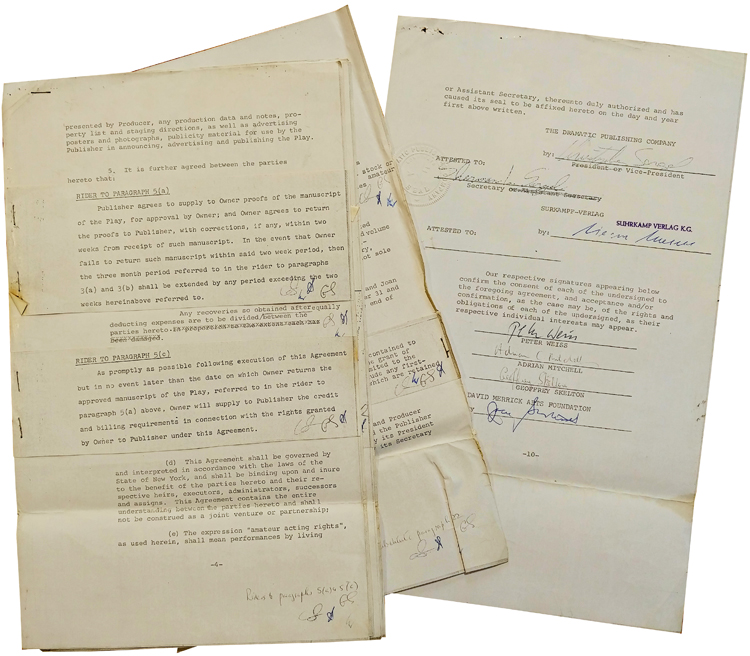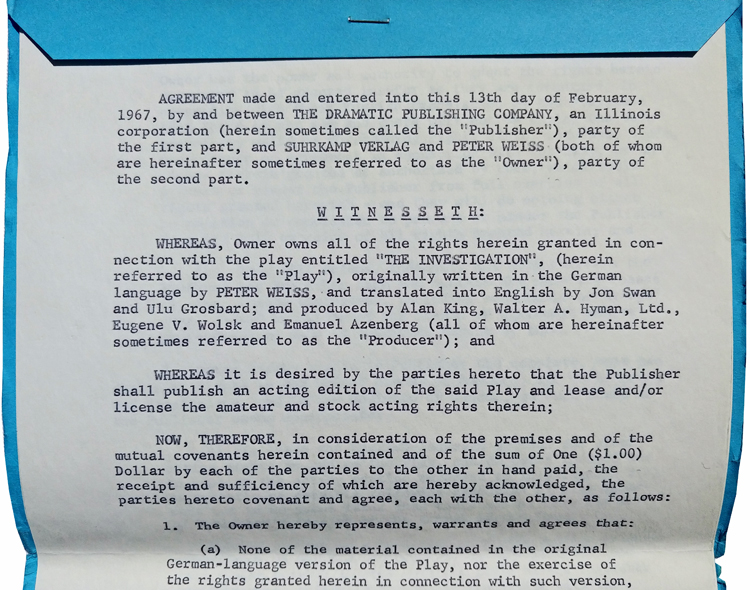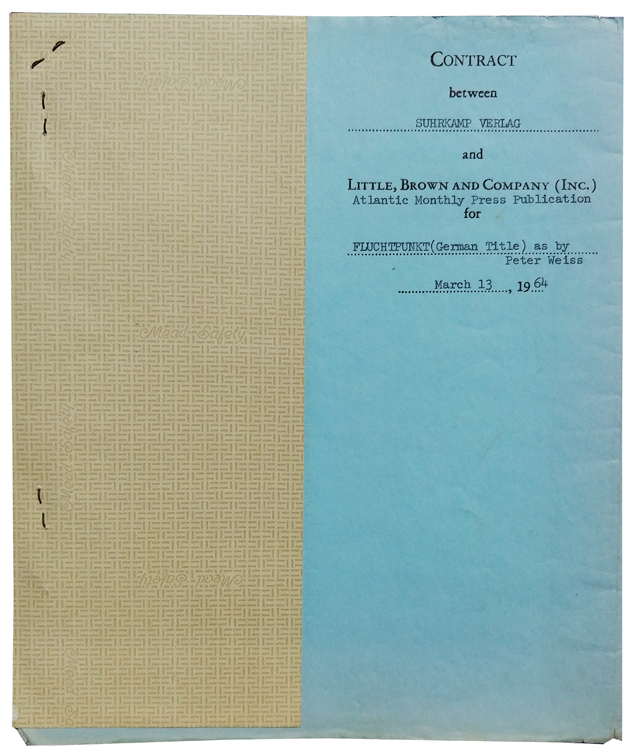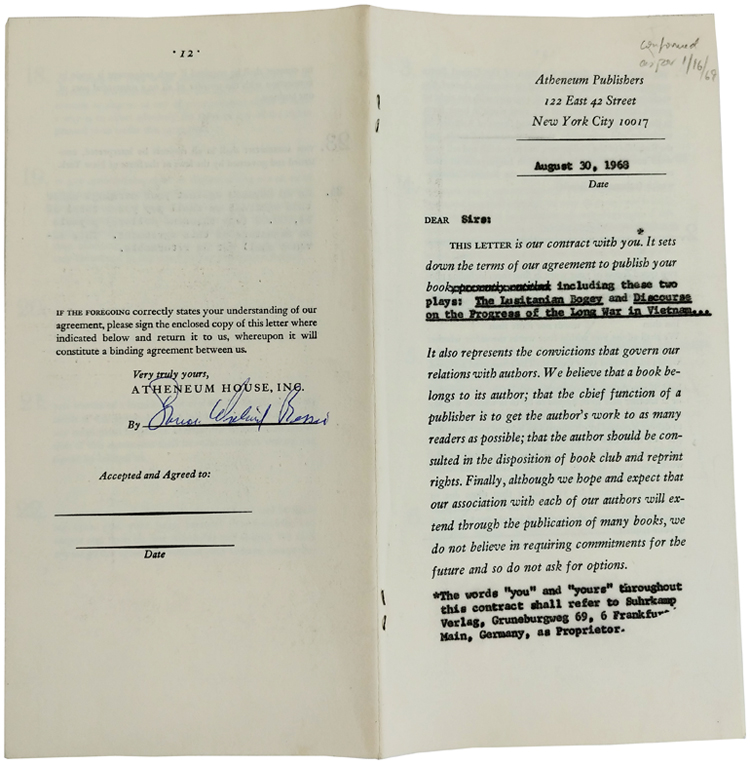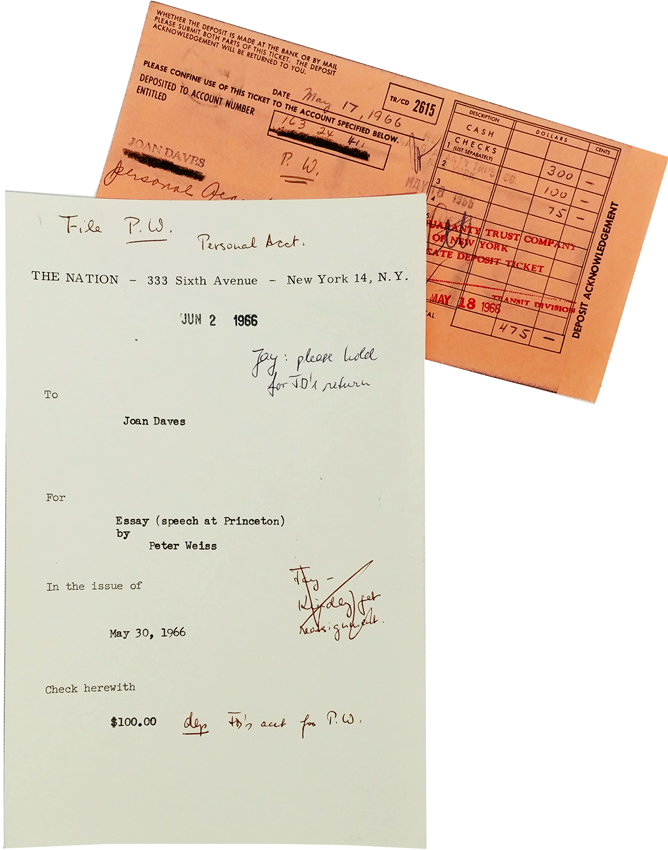 The archive is most relevant to Weiss's arrival and influence in America, as a leading writer and dramatist in the emergence of German-American literature. Together the documents reveal the process and politics involved in obtaining English translations, performance rights, the creation of play settings, planning a live tour, and much more.
Some of the American firms involved include the David Merrick Arts Foundation (film producer, Tony Award winner in 1968), New York City publishing house Atheneum Books established in 1959, Dramatic Publishing Company (DPC) of Chicago, Caedmon Records founded in New York in 1952 (now Caedmon Audio), James Love Productions which was producing Hasboro's toy commercial in this period, the partnership of Atlantic Monthly Press / Little Brown, the Negro Ensemble Company, and the Coconut Grove Playhouse theatre in Miami, Galaxy Music, NBC, TV, and more.
In addition to the voluminous lot of correspondence and contracts, we find occasional details of financial interest including agents' fees, legal costs, terms for royalties and deposits paid, and a few matters concerning Weiss' personal accounts. The archive also contains publicity and newspaper reviews, as well as some ephemeral items such as programmes.
There is much involvement between the German publishing firm Suhrkamp, literary agent Joan Daves, New York based publishers Atheneum Book, various American stage producers, film producers, directors, translators, and the like. At quick glance, we find original signatures of Siegfried Unseld, director of Suhrkamp Verlag of Frankfurt/Main, as well as that of Simon Michael Bessie, one of the two founders of Atheneum Books. [Suhrkamp Verlag is a German publishing house, established in 1950 and generally acknowledged as one of the leading European publishers of fine literature. Atheneum Books was a New York City publishing house established in 1959 by Alfred A. Knopf, Jr., Simon Michael Bessie and Hiram Haydn.]
At least five letters by Weiss, to his agent Joan Daves, are signed in the original by him, as well as one copy of a contract. Rather interesting is the signed and notarized Power of Attorney document, dated 5 May 1966, with which Weiss appoints his literary agent Miss Daves to handle his affairs post-mortem.
There are also letters to/from actor Joel Arnold, British translator Geoffrey Skelton, the International Copyright Agency of Jan Van Loewen who born in Berlin as Hans Lowenstein, was an actor and agent, and many others.
Following are some specific examples of the contents of the archive:
Two book publishing contracts between Suhrkamp Verlag of Frankfurt/Main and New York's Atheneum Publishers, for translated works of Mr. Weiss, both being signed in the original, made in 1964 and 1965, respectively. One of this pertains to Marat/Sade. To the earliest contract is affixed a receipt voucher for $1000 advance payment.
A 1967 draft contract, between Suhrkamp Verlag and Peter Weiss himself, for the publication of Abschied von den Eltern, heavily ruled in ink and appended with a footnote concerning content that may "violate any person's right of privacy… contains anything obscene, scandalous, libelous…" [The author, by this time, had become known for his controversial and provocative works.]
Official receipt from the Copyright Office of the United States of America, for Weiss' book "I Come Out of My Hiding Place" with small certificate affixed to front, signed and stamped in the original. This work was written in English by Weiss himself, first delivered as a speech at Princeton University on 25 April 1966 and copyrighted for publication on May 30th.
Agreements made between 1966 and 1969 which delineate the particulars for the English translation of "Das Gesprach der drei Gehenden" as well as the royalties paid to Weiss for the publishing of four of his literary works by Delacorte Press.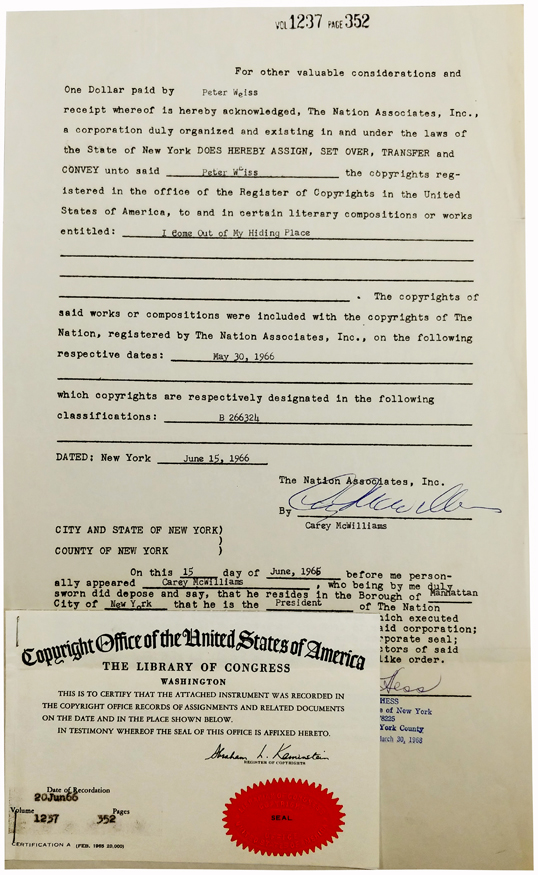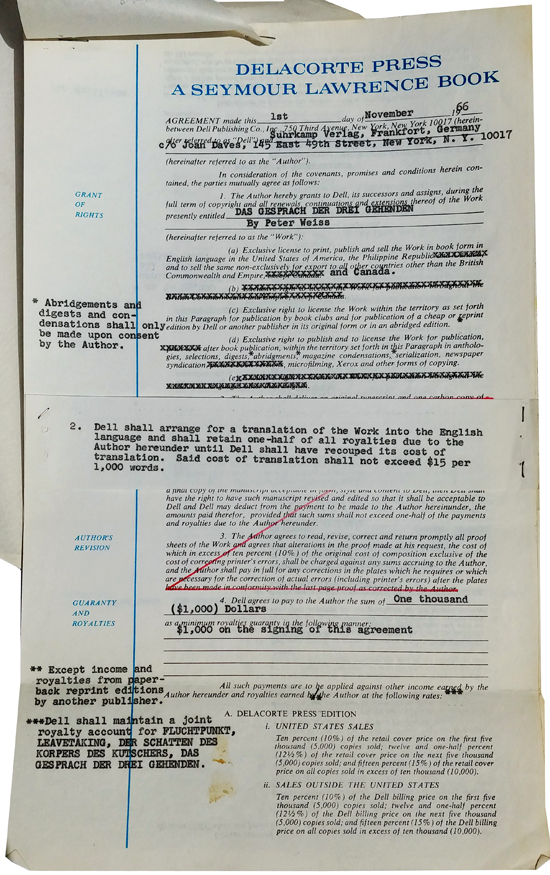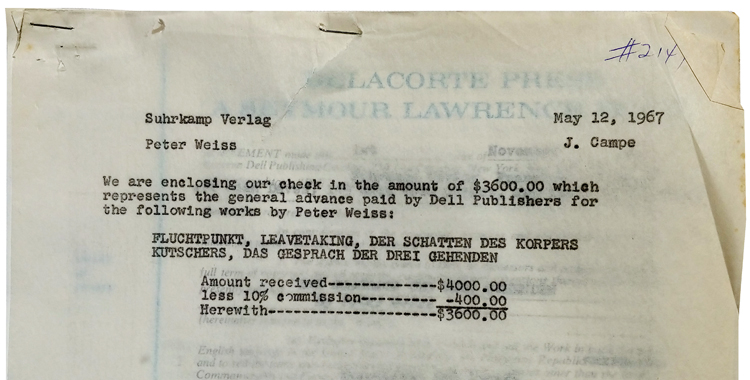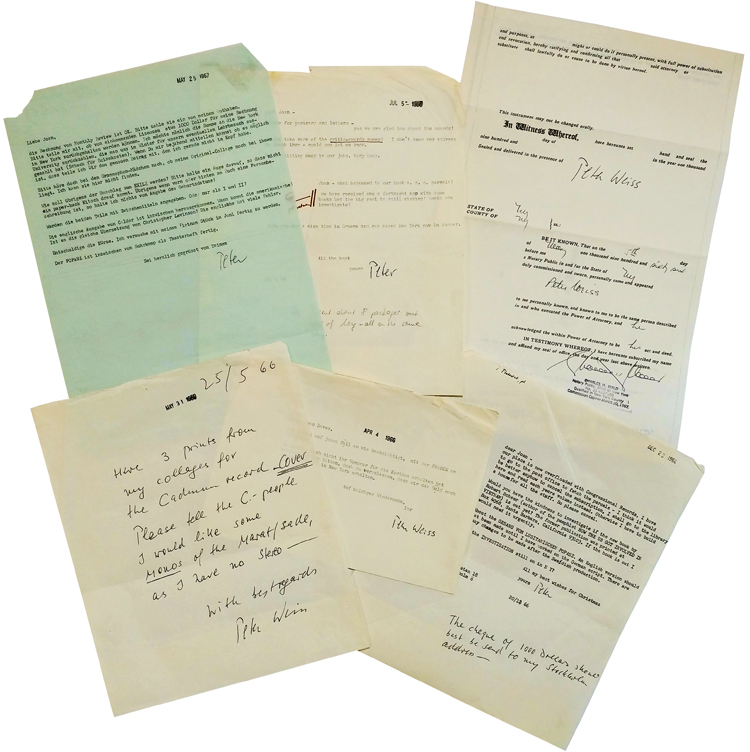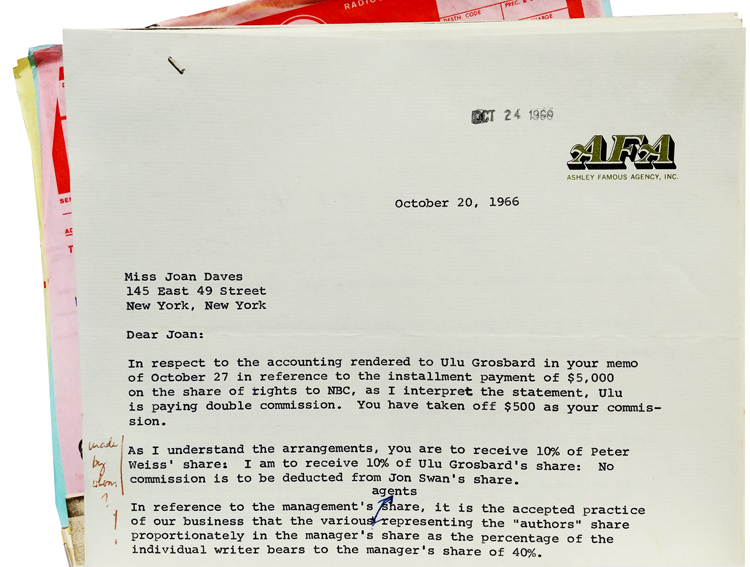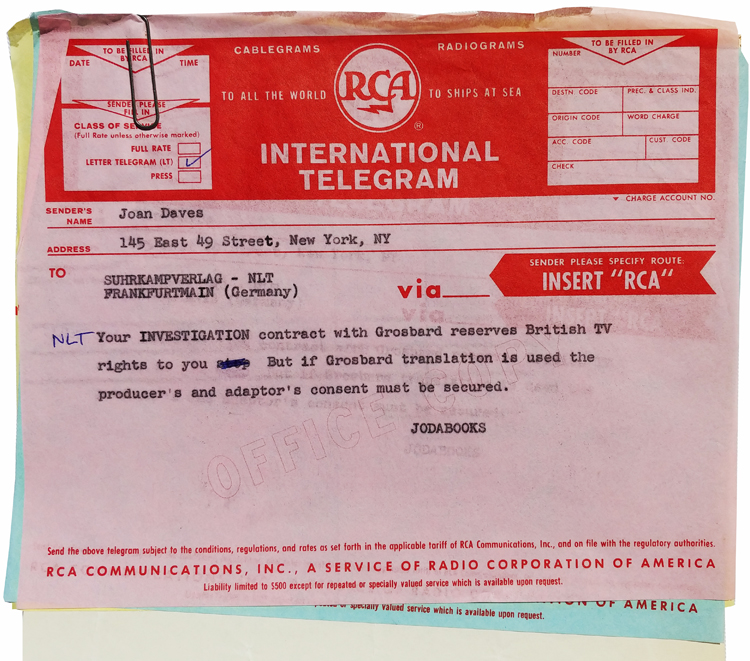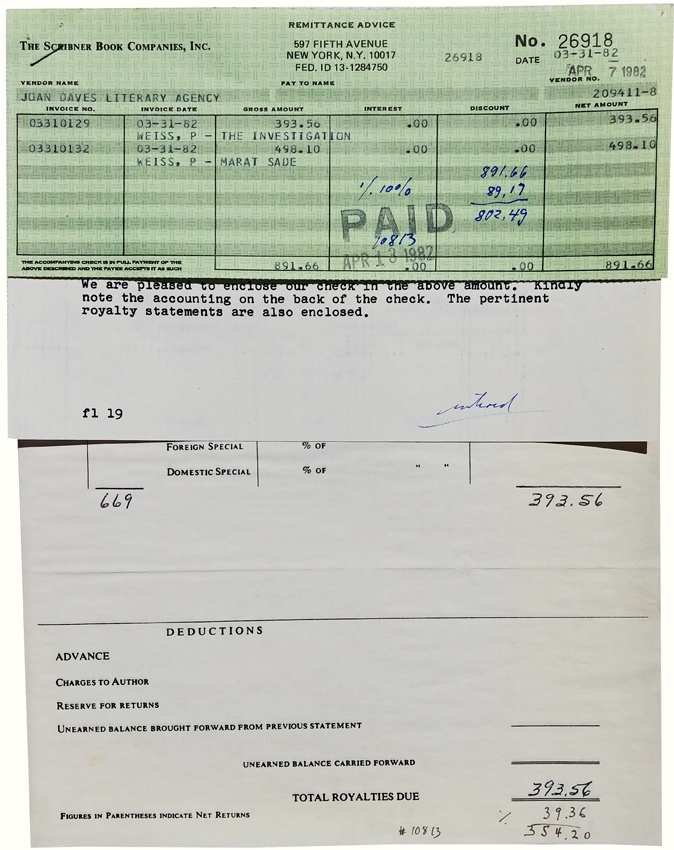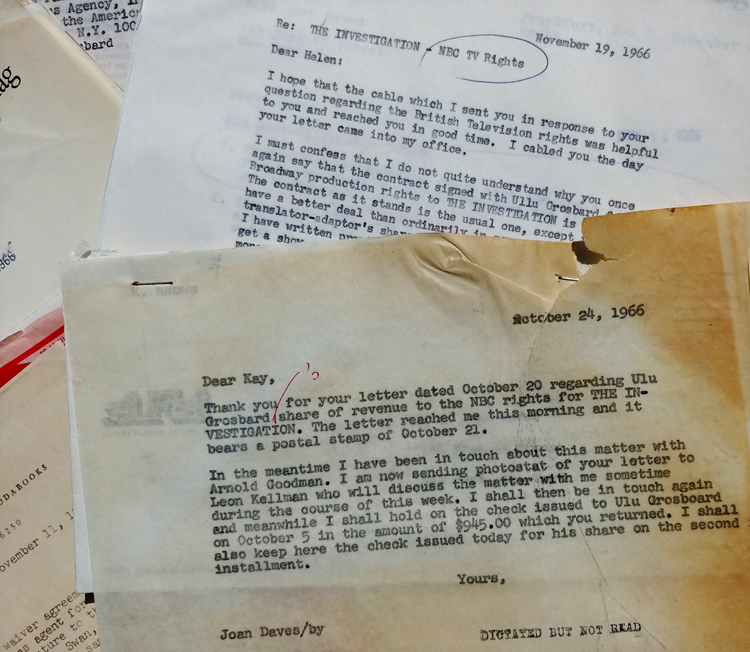 As well as New York Literary Agent Miss Joan Daves, several other notable persons are represented here. Among the documents are the following:
Marat Sade Productions Ltd. letter signed by the firm's co-director and film producer Lord Birkett, 31 May 1966, concerning a "new Sade monologue" for the upcoming film adaptation which would be released in 1967. [Lord Michael Birkett (1929-2015) was chairman of the British Film Academy in the 1960s and served at the National Theatre in the 70s.]
Typescript English translation by Ralph Manheim, one of the most acclaimed translators of the 20th century, of Weiss' lesser known short work titled "Gegen die Gesetze der Normalitä" [Against the Laws of Normality]. [Ralph Frederick Manheim (1907-1992) was an American translator of German and French literature, as well as occasional works from Dutch, Polish and Hungarian.]
Letters from Alvin Deutsch, New York attorney who specialized in intellectual property matters, representing authors, composers, lyricists, theatre and literary agencies, concerning copyright as well as the Broadway tour. [He was for 30 years senior member of Linden & Deutsch (subsequently Deutsch Klagsbrun & Blasband) which merged recently with McLaughlin and Stern.]
We also find correspondence with Robert T. Gaus Associates, tour management company, in relation to negotiations with Alvin Deutsch for prime-city and secondary-city tour options.
Several letters or correspondence in regards to a "Zef Bufman Tour of Marat/Sade" between Zef Bufman's agent, various theatre companies, attorneys, and more. [Zev Buffman is a Broadway producer and current President and CEO of Ruth Eckerd Hall in Clearwater, Florida. He has produced more than 40 Broadway shows. He partnered with Elizabeth Taylor to present her in her Broadway debut of The Little Foxes. He is credited with producing the 1967 Broadway show Marat Sade.]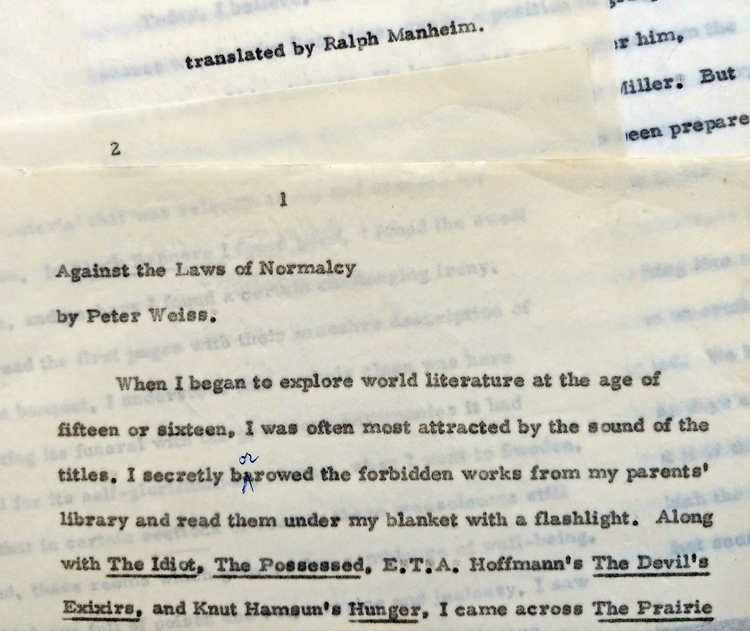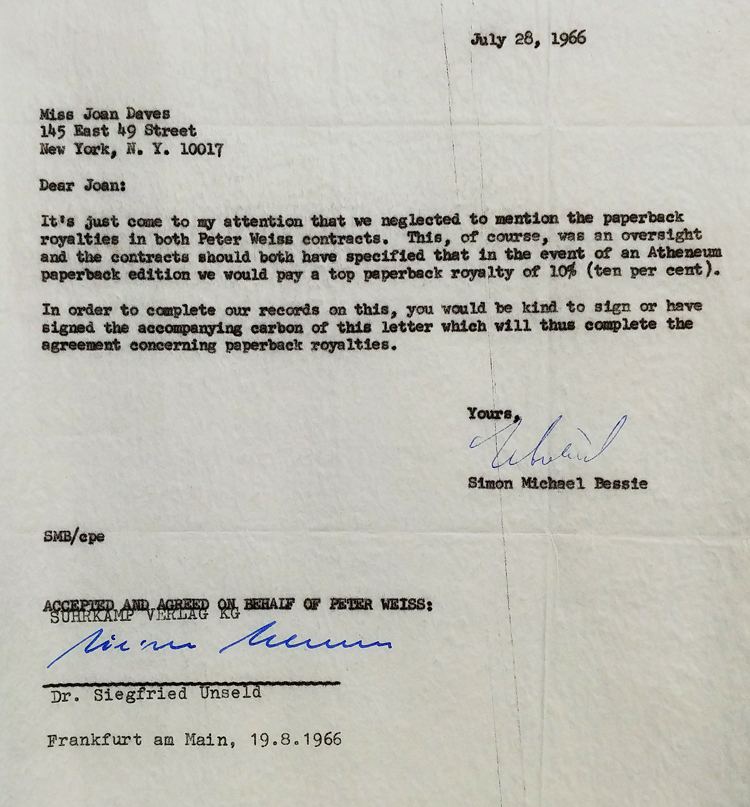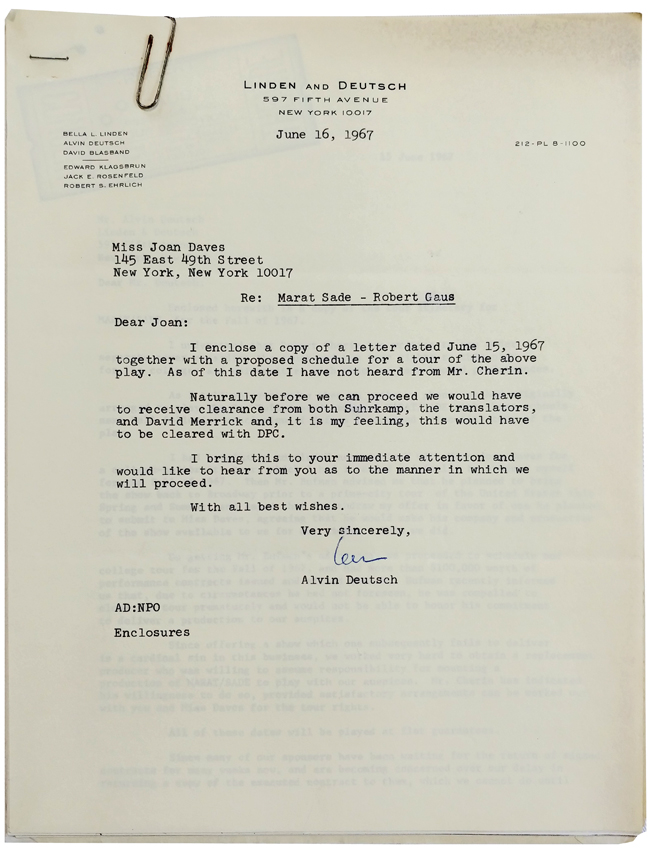 The lot of documents is contained in four binders
and accompanied by three records box sets: