Hong Kong Harbour
Rare Early Panorama Photograph
By William Pryor Floyd
Colonial China
1869

Hong Kong, 1869. Exceedingly scarce and large panoramic albumen photograph of the area known as "Central" in Hong Kong, produced by renowned nineteenth century photographer William Pryor Floyd. A very large photograph, measuring 56 x 22,5 cm, comprised of two photographs joined at the center and mounted to larger folding cardstock leaf, as issued by the photographer. Slight fading, more so to one side, otherwise in very good and original condition, rare and suitable for framing.
Floyd's surviving works provides an especially insightful and invaluable visual history of Hong Kong's colonial topography, Chinese architecture, and Western integration. His photographs are highly sought after today, not only for the historic aspect, but also for the skill and beauty with which he so elegantly captured each scene.
A rare and outstanding photograph, the center of colonial China is memorialized in this view, produced by renowned British photographer William Pryor Floyd at the height of his success.

The above photograph is large, measuring 56 x 22,5 cm (almost 2 feet long)
The view captures the early stages of British Colonial development in Hong Kong, showing foreign presence encroaching and settling into the newly acquired British colony, the Island of Hong Kong having been ceded to the United Kingdom less than thirty years prior, in 1842.
At the center is St. John's Cathedral piercing the well treed landscape. Administrative buildings and barracks stand with ample undeveloped grounds between them. The expanse of Hong Kong Harbour is faintly seen in the background, dotted with Chinese and foreign vessels. Government House, the official residence of the Governor was built in 1855. Various barracks, naval base and residence of Commander, Flagstaff House were built on the east end of the district. Between 1860 and 1880 the construction of City Hall, Theatre Royal and other financial structures turned 'Central' into the heart of Hong Kong.Following are close-up cropped views of the photograph: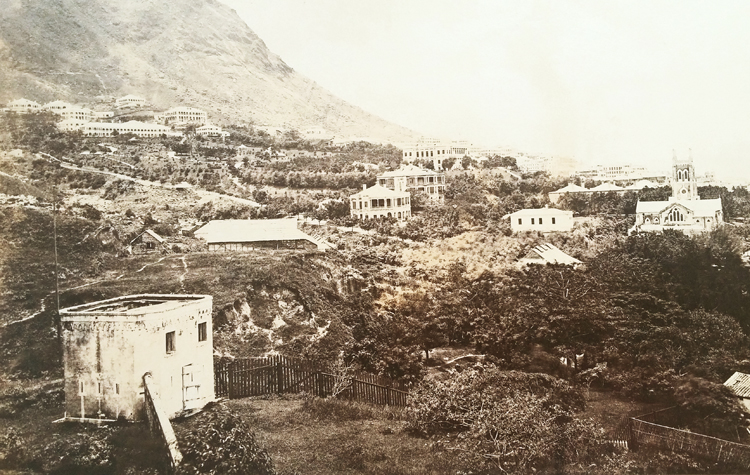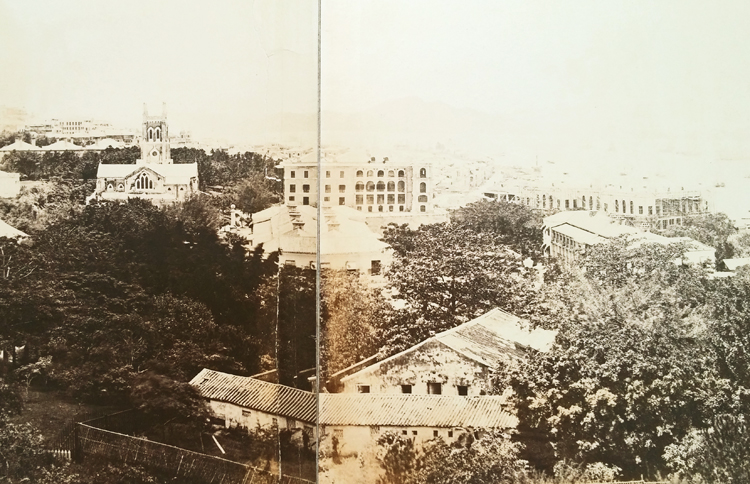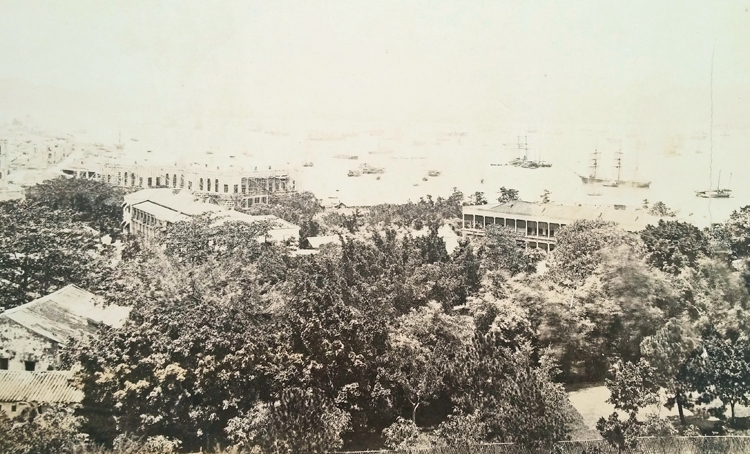 William Pryor Floyd (1834 – circa 1900) was a British photographer of high regard and superior skill active in China between 1865 and 1874, whose "Hong Kong studio was, for a time, one of the most successful commercial operations of its kind in the Far East." [described as such in Terry Bennett, History of Photography in China, Western Photographers 1861-1879]. Trading as Floyd & Co. as well as Victoria Photographic Gallery, his studio was at 62 Queen's Road Central, Hong Kong. In his own time, he was respected and accomplished in his trade. The China Mail issue of 8 August 1868 praised his "desire to obtain memorials of a locality in which some of the best years of our life have been passed."
Born Cornwall, England, the son of an innkeeper, at roughly thirty years of age, Floyd first appears in China as an assistant in the photography Shanghai studio of R. Shannon & Co, from 1863-64. He subsequently moved to Macau in 1865 to establish his own studio along the Praya Grande. In 1866 Floyd went to Hong Kong, there working jointly with the studio of Silveira & Co., being its operator from 1866-67, and purchasing the company in the early part of 1867. In 1868 he acquired a photographic company in Hong Kong known as 'The Firm'. It was not in fact a firm, but a collection of photographic negatives that had been put together since 1859 by various photographers, including his competitor John Thomson, as well as the renowned Felix Beato, Weed, Howard, Milton Miller, Dutton & Michaels, and S.W. Halsey. Floyd is known to have published the works of these former studios. [One of Beato's works is seen in the present album, evidently printed later by Floyd who now possessed the negative in his collection].
By 1870, the Hong Kong photographic market had become highly competitive. Several studios had failed or simply ceased to operate. Apart from the studios of John Thomson and William Floyd, a growing number of Chinese photographic establishments were opening, notably those of Pun Lun, Hing Qua John & Co. Ye Chung, Afong, and Lai Fong. In 1872 Thomson returned to Britain, selling his China negatives to Floyd. In 1874 Floyd too sold his portrait and topographical photography business and premises, the buyer being Emil Rusfeldt, and by 1875 Floyd had relocated to the Philippines.